Update 9/4/20 from Nick: Chase has sent an email indicating that this offer has been extended to 9/30/20. You still must activate by September 15, 2020 – so don't forget to do that.
Update 8/11/20 from Nick: Many people have been unable to register for these bonuses, but we received a report today in Frequent Miler Insiders that the following link is working for registration: chase.com/mybonus. I have personally been trying to register since this promotion began and have been regularly trying both that link and the one within this post with no success as recently as this past weekend. However, today I was suddenly able to register all of my cards. We've since had further success reported in Frequent Miler Insiders. If you were previously unable to register, it's worth trying that link today.
Original post follows.
~~
Chase Marriott and Ritz-Carlton cardholders can register to earn 10x on up to $3,500 of spend at gas stations and restaurants for the next couple of months.
The Deal
Earn 10x Marriott Bonvoy points per dollar at gas stations and restaurants when paying with the following credit cards:

Marriott Bonvoy Boundless Credit Card
Marriott Bonvoy Premier Plus Business Credit Card
The Ritz-Carlton Credit Card
Marriott Bonvoy Credit Card
Marriott Bonvoy Premier Credit Card
Marriott Bonvoy Business Credit Card
Key Terms
Offer valid July 15 to September 15, 2020.
Valid on up to $3,500 of spend.
Quick Thoughts
Note that unlike the recent 3x/5x grocery bonuses on many Chase credit cards where the bonus points were earned automatically, you have to register for this promotion. Chase announced this promotion a week or two ago, but Greg, Nick and I haven't had any success registering any of our Marriott or Ritz-Carlton credit cards since then. This isn't a targeted offer – all primary cardholders with accounts in good standing are eligible to register for this offer, so there seems to be some kind of issue on Chase's end. They're aware of this problem and advised us that it had been fixed, but we're still unable to register.
Chase has assured us that you can register any time up to September 15 and you'll earn bonus points retroactively on any eligible spend since July 15, so if you have the same issues registering right now, you should be fine using your Chase Marriott cards at restaurants and gas stations from today provided you remember to register by September 15. We believe Chase is still working on the registration issue, so we'll repost this post once it's fixed to remind you to try registering again.
In terms of the offer itself, 10x points at gas stations and restaurants is a great offer and means my Chase Marriott cards won't be leaving my wallet once they stop earning 6x at grocery stores at the end of this month. The restaurants category also includes food delivery like Grubhub and DoorDash, so it's not only restaurant-specific purchases which are eligible.
The spending limit is $3,500 per card, so if you have more than one eligible card for this offer, you can spend $3,500 at eligible locations on each card to earn 10x. That won't be applicable for many people, but if you have 7-Eleven stores that code as gas or Speedway gas stations near you, spending $3,500 per card might be more easily achievable.
If you wouldn't normally use Chase Marriott cards for dining spend, be sure to link those cards in apps like Dosh and also airline or hotel dining programs to make sure you don't miss out on earning additional cashback and/or bonus points and miles.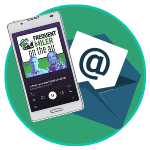 Want to learn more about miles and points?
Subscribe to email updates
 or check out 
our podcast
 on your favorite podcast platform.