One of the best ways of using the twice-yearly $200 credits that come with the Amex Business Platinum card has been to buy Xbox eGift cards on Dell.com. These eGift cards are often sold at 10% off and allow those pesky credits to be bankable up to $1000 on the Microsoft Store for larger items (or they can then be resold). See the full details here.
The problem is that Dell has has a bizarre and seemingly random hair-trigger for marking customers that order these gift cards as "re-sellers" and then cancelling the orders. It's been a long source of frustration in actually using the Dell credits, even for some folks ordering physical merchandise for their own use.
Now, Dell is finally sending these eGift cards far and wide…but to fulfill orders that have previously been cancelled. Multiple commenters on Doctor of Credit, Reddit and beyond have reported that cancelled Xbox eGift card orders have been showing up in Dell Digital Lockers (where codes for gift cards and software are deposited). Some of these fulfilled orders were cancelled months ago and most folks report that their cards haven't yet been charged.
This could create an issue in that it's anybody's guess as to how long it will take Dell to sort through what's happened and charge the appropriate cards, at which point who knows where that cardholder's cycle of Dell credits will be…or even if the card is still open. Some eGift card orders have been fulfilled which were purchased using credit cards that are now cancelled!
Quick Thoughts
This will undoubtedly be quite a knot for Dell to unravel. If you've had any orders for Xbox eGift cards from Dell get cancelled within the last few months, check your Dell Digital Locker to see if anything has been deposited. It's then up to you whether to use them up ASAP in case they're invalidated, to call Dell and ask them to process the charge or to hang tight and see what happens.
Regardles, it's obviously a glitch with Dell's notoriously bad IT. Doctor of Credit posits that it could be due to a loosening of the rules on order approvals and that these new rules were mistakenly applied to older orders. That would certainly be a silver lining to a yucky situation that seems like it will be a mess to resolve, regardless of whether Dell tries to charge cards retroactively or invalidates all of the card numbers that have recently shipped.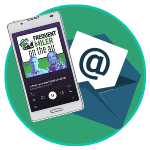 Want to learn more about miles and points?
Subscribe to email updates
 or check out 
our podcast
 on your favorite podcast platform.