Time after time we learn about new Delta award devaluations.  Not long ago, you could find round-trip business class awards from the US to Europe for 140,000 miles.  Today, you'll pay at least 210,000 miles for the same trip.  For quite a while, you could still get in on the old pricing by booking an award on one of Delta's partners, but Delta has killed that option too (for most, but not all routes).  There's no question that Delta miles are now worth less than ever before.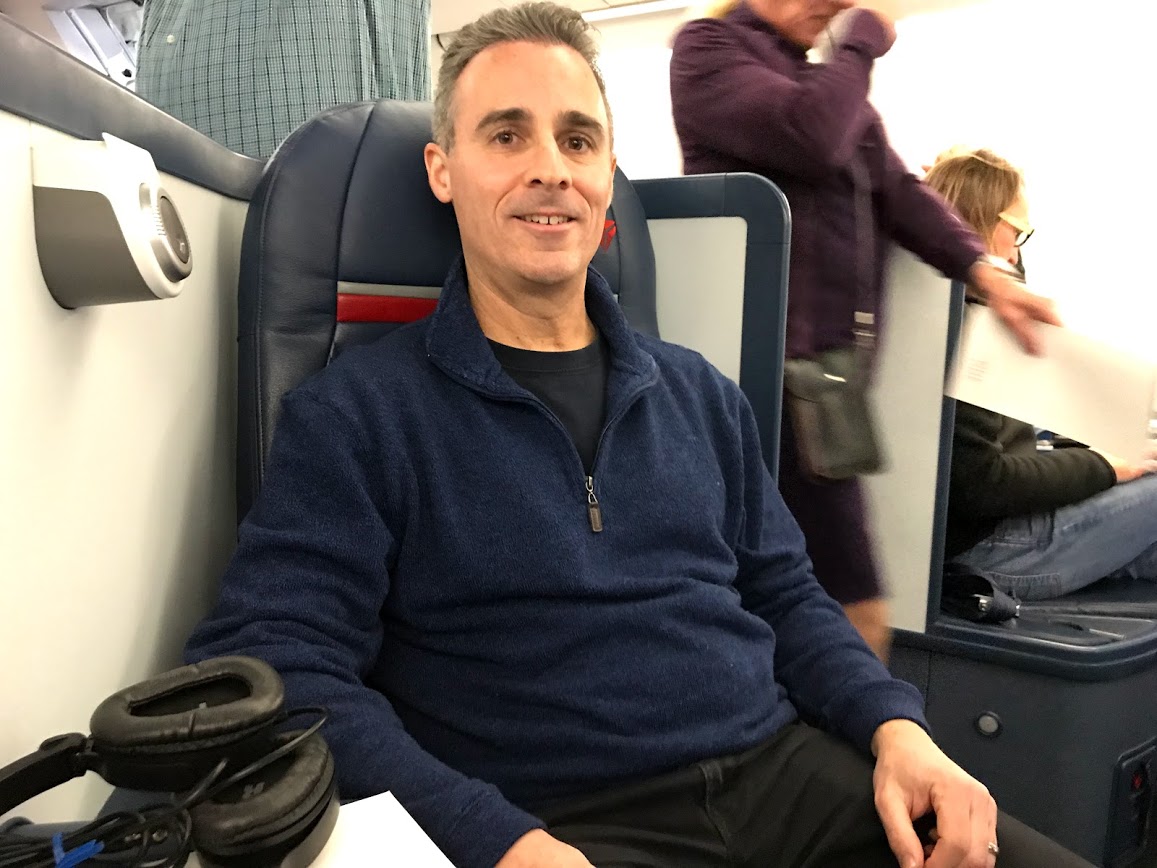 Worth less than the competition
American Airlines and United Airlines each charge far less than Delta for similar first and business class international flights.  For example, United currently charges between 120,000 and 154,000 miles for round-trip business class awards to Europe.  AA, meanwhile, still has an award chart.  Their chart shows that business class MileSAAver awards to Europe cost only 57,500 miles one-way (115,000 round-trip).  Plus, they often offer WebSpecial pricing for even less.  As you can see, Delta miles are worth far less than their primary competition for business class flights to Europe.  And, ironically, AA and United aren't the cheapest options!  You can get even better deals with ANA miles, Virgin Atlantic points, Iberia points, Turkish miles, and others.  Delta's award prices to much of the rest of the world are similarly overpriced compared to the competition.
Unfortunately, Delta doesn't acknowledge that their miles are worth less when setting earning rates.  For example, their credit cards continue to earn only 1 mile per dollar for most spend.  Meanwhile, airlines like Virgin Atlantic and Air France acknowledge that their miles are worth less by offering at least 1.5 miles per dollar with their credit cards.
Worth less but not worthless
I picked a random round-trip business class flight to Europe on Delta to compare paid and award prices.  Here's what I found:
Cash Price: $4,101.85
Award Price: 210,000 miles + $155.45
Compared to the cash price, Delta miles offer 1.9 cents per mile value for the flight I found.  That's a far cry from the value you can get with other miles or that you used to be able to get with Delta miles, but it still shows that Delta miles are not at all worthless.
Similarly, I checked a number of one-way domestic flights to compare main cabin paid and award prices.  I found that Delta miles ranged in value on these flights from 1.06 cents per mile to 1.5 cents per mile.  On average, I found that Delta miles are worth 1.31 cents per mile for domestic economy flights.
Delta credit cards
If you have a choice of earning Delta SkyMiles or some other point currency at the same earning rate, you're probably better off with that other currency.  Specifically, with credit card rewards, I always prefer earning transferrable points that transfer 1 to 1 to a variety of airlines such as Amex Membership Rewards, Chase Ultimate Rewards, and Citi ThankYou Rewards.  Each of those programs offer multiple ways to earn much more than 1 point per dollar for your spend.  Alternatively, consider using a cash back card that earns at least 2 percent back everywhere.  That way, you'll earn rewards that are worth more than Delta miles even if you use those rewards to purchase Delta flights.
Despite what I wrote above, it may make sense to have a Delta credit card even if you don't put any spend on it.  For example, the Gold card can pay for itself if you often make use of its free checked bag benefit.  Similarly, the Platinum card can pay for itself with free checked bags and an annual companion certificate.  And the Reserve card offers an annual first class companion certificate, lounge access, and other benefits.  If you value those perks more than the annual fee, then the card is a keeper even if you never spend a dime on the card.  In my opinion, the only good reason to put spend on Delta cards is to help you earn elite status (see: Manufacturing Delta elite status in 2020 and beyond).
Delta is about more than miles
When Nick posted about the latest Delta devaluation, he joked that it would be crazy for me to continue to put big spend on Delta cards in order to earn elite status.  But, I never did it for the miles.  I did it because Delta has an excellent elite program, excellent customer service, and it's a very well run airline.  Plus, and this is critical, I live near a Delta hub.  Due to the location, I inevitably fly Delta often.  Elite status makes those flights more comfortable.  Since the purpose of my credit card spend is for status rather than miles, I see earning miles along the way as a nice side-benefit.  The fact that I will likely average only about 1.3 cents per mile value is not a worry for me.
Bottom Line
Delta miles are worth less than before, and they're worth less than competing airline's miles.  Unlike competing programs, Delta offers very few opportunities to get far outsized value for your miles.  That said, you'll usually get a bit over 1 cent per mile value and so the miles are far from worthless.
If your primary goal is to earn rewards that can be used towards fantastic value, then Delta is the wrong program for you.  Similarly, if you want a solid return on your spend, then Delta credit cards are a poor choice.  As discussed above, there are good reasons to have Delta credit cards, and there are good reasons to put spend on Delta credit cards, but if earning miles is your primary goal, you can do much better elsewhere.