Preparing taxes is no fun.  No fun at all.  But paying taxes doesn't have to be painful.  In fact, paying federal taxes can be quite rewarding.  The key is to earn credit card rewards that more than offset tax payment fees.  Here's what you need to know…
Background
Here is some key information you'll need to know about paying taxes with credit or debit cards:
Credit card fee 1.87% to 1.99%: The IRS maintains a list of companies that accept credit and debit cards towards tax payments. You can find the current information by clicking here. Currently there are three separate payment processing companies on the list. At the time of this writing, debit card fees range from $2 to $2.59 per transaction and credit card fees range from 1.87% to 1.99%.  Alternatively, you can pay taxes via the Plastiq Bill Pay service, but that will cost you more: 2.5%.
Two payment limit (per processor): The IRS maintains a table of frequency limits for paying taxes via credit or debit card (found here). In general, they say you can make up to two payments per tax period per type of tax payment. For example, you can make 2 payments every quarter to your quarterly estimated taxes, and you can make 2 payments every year to your annual taxes. Important: In my experience, these limits are enforced per payment processing company. That means that you can really make up to 6 payments per tax period per type of tax payment. An IRS advisor I spoke with several years ago did not think that there would be any problem with making more than 2 payments by using different processors. Since then, I have made more than 2 payments per tax period many times and never had any issues. That is, of course, just my own personal experience. I can't guarantee that your outcome would be the same.
No cash advance fees: I'm often asked whether credit card companies charge cash advance fees when paying taxes by credit card. The answer is no. All three payment processors agree (via their FAQ pages) that the payment is treated as a purchase not a cash advance. You can find FAQ info here, here, and here.
Unlimited payments: If you're willing to incur slightly higher fees, you can make an unlimited number of tax payments via the Plastiq bill pay service.  Plastiq usually charges 2.5% to pay bills (including taxes) via credit card, but they occasionally offer lower fees via short term promotions.  For details, please see: Plastiq Bill Payment Service.
Fees may be deductible: The IRS says the following:
The fee is deductible for personal tax types as a miscellaneous itemized deduction. However, only those miscellaneous expenses that exceed 2 percent of the adjusted gross income can be deducted. For more information, refer to Publication 529, Miscellaneous Deductions.
For business tax types, the fee is a deductible business expense.
View tax payment history: Once you've made payments through online processors, you may want to see proof that the IRS received the amount you sent. You can view your past payments at any time by signing up with this government website: www.eftps.gov/eftps/. Full details of how to signup and view your past payments can be found here.
Reporting estimated payments: Estimated payments should be reported when filing your annual taxes on line 65 of Form 1040 or line 41 of Form 1040A. In my experience, if you make a mistake and forget to report some of these payments, the IRS will catch the error and refund the difference.
Top 5 reasons to pay federal taxes with a credit card or gift card
1. Profit
A number of credit cards earn cash rewards greater than 1.87%.The best of the best is the Discover It Miles card which earns 1.5% cash back and doubles all cash back earned during your first year of card membership. So, if you have the card and you're still in your first year of card membership, you'll make a profit by paying your taxes with your credit card. Since you'll earn 3% cash back on both the base tax payment and the processing fees, your profit should be approximately 1.186% of your tax payment.
Example:
$10,000 tax payment + 1.87% fee = $10,187
Cash back earned at 3% = $305.61
Profit = $305.61 – $187 = $118.61 (1.186% of $10K)
2. Meet minimum spend requirements
If you recently signed up for new credit cards, chances are good that you have to spend thousands of dollars in order to earn the associated signup bonuses. Paying taxes is a fairly cheap and easy way to accomplish that.
3. Buy miles cheaply
Several credit cards offer up to 1.5 miles per dollar for spend. In these cases, a 1.87% tax payment fee means that you can essentially buy miles for 1.22 cents per dollar.  Even better, the Amex Blue Business Plus credit card earns 2 Membership Rewards points per dollar.  In this case you can essentially buy miles for 0.92 cents per dollar.
2X Example:
$10,000 tax payment + 1.87% fee = $10,187
Miles earned at 2X = 20,374
Cost per mile = $187 / 20,374 = 0.92 cents per mile
1.5X Example:
$10,000 tax payment + 1.87% fee = $10,187
Miles earned at 1.5X = 15,281
Cost per mile = $187 / 15,281 = 1.22 cents per mile
Cards that offer 1.5X airline miles per dollar:
Chase Freedom Unlimited: Earns 1.5 Ultimate Rewards points per dollar for all spend. Pair with a premium card (e.g. Sapphire Reserve, Sapphire Preferred, Ink Business Preferred, etc.) to transfer points to several airline or hotel programs.
Amex EveryDay Preferred: Every billing period in which you use the card 30 or more times for purchases, you get 50% more points. So, even though you'll earn just 1X base points in paying taxes, you can earn a 50% bonus just by using the card frequently. Points can be transferred to a large number of airline programs.
The Business Platinum Card from American Express OPEN: Earn a 50% point bonus for each purchase of $5,000 or more.  If you pay $5,000 or more in taxes, you'll earn 1.5 points per dollar. Points can be transferred to a large number of airline programs.  Note: With this card you won't earn 1.5X on the payment fees (since they'll be less than $5,000), so the cost per mile will be slightly less.
Chase MileagePlus Club: Earns 1.5 United miles per dollar for non United airlines spend.
BOA Virgin Atlantic World Elite: Earns 1.5 Virgin Atlantic miles per dollar for non Virgin Atlantic spend.
Cards that offer 2X airline miles per dollar:
4. Earn valuable big spend bonuses: elite status, free nights, companion pass, etc.
Many credit cards offer bonuses for meeting high spend thresholds. You can find a comprehensive list here: Best big spend bonuses. Here are a few examples:
Amex Delta Reserve or Delta Reserve Business: Spend $30,000, get 15,000 bonus miles plus 15,000 Medallion Qualifying Miles (towards elite status). At $60,000 spend, get another 15,000 bonus miles and 15,000 Medallion Qualifying Miles.
Amex Delta Platinum or Delta Platinum Business: Spend $25,000, get 10,000 bonus miles plus 10,000 Medallion Qualifying Miles (towards elite status). At $50,000 spend, get another 10,000 bonus miles and 10,000 Medallion Qualifying Miles.
Southwest Plus, Southwest Premier, or Southwest Business: With Southwest, when you earn 110,000 points in a calendar year (including points earned from credit card spend) you get a companion pass good for an unlimited number of flights for the rest of that year and all of the next calendar year.
Chase Ritz Carlton Rewards Visa: Earn Platinum status with $75,000 in annual spend.
Barclaycard JetBlue Plus, or JetBlue Business: Spend $50,000 and get Mosaic status which offers free changes and cancellations; free checked bags; expedited security; early boarding; free drinks; enhanced point earnings; and 15,000 bonus points upon qualifying.
5. Liquidate Visa/MasterCard gift cards cheaply
Visa and MasterCard gift cards are debit cards. As such, they qualify for low flat fees for debit tax payments: $2.25, $2.59, or $2.65 (depending upon the tax processor you use). In other words, your cost to liquidate $500 gift cards will be approximately half a percent (0.5% to 0.54%). That's pretty cheap.
If you use $500 Visa/MasterCard gift cards, then you can pay the following amounts:
PayUSAtax.com ($2.58 fee): Make a $497.42 payment.
Pay1040.com ($2.59 fee): Make a $497.41 payment.
OfficialPayments.com ($2 fee): Make a $498 payment.
The biggest problem with this is the IRS imposed 2 payments per processor limit. Online, this means that you can liquidate no more than 6 gift cards per type of tax payment. Via phone, though, you may find a tax processor willing to accept multiple debit cards for a single overall payment. Specifically, OfficialPayments is known to accept multiple gift cards via phone. When you make multiple payments over the phone, you do pay the $2.25 fee for each gift card.  Unfortunately, OfficialPayments no longer works with Visa gift cards.  Some Mastercard gift cards work, though (see below)
Which gift cards work?
Visa gift card issued by Metabank via PayUSAtax online
Visa gift card issued by Metabank via Pay1040 online
Mastercard gift cards from Giftcards.com work with all three processors
Which gift cards don't work?
Visa gift cards via OfficialPayments do not work
Some Mastercard gift cards via OfficialPayments process as credit cards rather than debit cards (one known example are the US Bank Mastercards typically bought at grocery stores).
See also: Best options for buying Visa and MasterCard gift cards.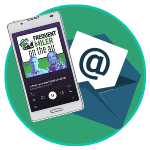 Want to learn more about miles and points?
Subscribe to email updates
 or check out 
our podcast
 on your favorite podcast platform.