The Dosh app has been around for a few years now and we've published many posts about deals in the app. We'd never published an in-depth look at the app though, so here's a guide for how Dosh works and why it's worth linking your cards in the app.
What Is Dosh?
As a Brit, I appreciate the app's name. That's because Dosh is British slang for money, so it shouldn't come as a surprise that Dosh is an app that can earn you cashback.
How Does Dosh Work?
Dosh is, for a large part, a card-linked app. After downloading the app and registering, you link as many credit and debit cards as you want – the more the better if you want to ensure the app captures all your eligible spending, but that obviously means they get access to even more of your financial information, so it's up to you how much data you want them to have access to.
When you use your payment card(s) to make purchases at Dosh's retail partners, you earn cashback in your Dosh account. For example, let's say they offer 6% cashback at H&M. If you spend $100 in clothing there, you'll have $6 added to your Dosh account.
Who Owns Dosh
Dosh was an independent company when launching in 2016. In 2021 they were acquired by Cardlytics, a marketing company that also powers card-linked offers for some bank programs like Chase Offers, BankAmeriDeals, etc.
How To Join Dosh
You can download the app from the Play Store and App Store, but if you sign up using a referral link you get bonus cashback.
If you're new to Dosh, feel free to sign up using one of our referral links. We'll earn $10 when you sign up, connect and verify your first card and make a purchase with a Dosh merchant. However, I'm not entirely sure what you'll receive as a signup bonus. It used to be $5, then they reduced it to $1, but I'm not sure if it's gone back up now or not.
How To Link Credit/Debit Cards
To link one or more credit or debit cards to your Dosh account, tap the 'Wallet' tab in the menu bar at the bottom of the app, then tap 'Add Card' in the top-right corner.
You'll then be prompted to add your card number, expiry date, CVV and zip code before tapping 'Add Card & Agree'. That card is then registered, so you can go ahead and register more cards if you want.
It's worth trying to remember to register new cards whenever you apply for new ones so that you'll capture cashback that you'd otherwise miss out on, especially if you'll be paying with your new card(s) when dining out.
Something that's important to be aware of – it can take 24 hours after registering cards in the Dosh app for transactions to track. If you know ahead of time that you'll be making a purchase at a retailer or restaurant listed in the app, it's therefore best to ensure whichever card you want to pay with is linked in the app at least the day before.
Offers
When opening the app, you'll start on their 'Offers' tab which is the home page of the app. At the top of that page there's an image scrollbar displaying featured offers:
As you scroll down, you'll sometimes see special offers that you have to activate in order to earn the higher rate of cashback.
For example, at the time of writing this post you could earn 10% cashback at Guess and Carter's. If you haven't activated an offer, it'll look like this:
Once you've tapped on the offer, it'll activate the promotion and it'll advise how much longer the rate will be valid for. In the case of Carter's, I'd have 43 days to redeem this offer.
As you keep scrolling down, there are other sections that you might see. Some Dosh offers are targeted, so your home screen might look different to mine. Here are the main sections currently showing up for me:
Offers You Might Like
Categories (e.g. grocery, restaurants & bars, shopping, etc.)
Trending Offers
Online Offers
Local Delivery & Takeout
Most of these sections have a 'See All' link to click to view all offers under that section. For example, I currently have 9 offers I might like, 6 trending offers and 137 online offers.
Notable Offers
Some offers in the Dosh app offer very high rates of cashback. For example, at the time of publishing this post new Uber Eats and Postmates users can earn 48% cashback on their first order, a new Uber rider can earn $12 on their first trip and paying for a $45 Sam's Club membership in-store will earn you $35 cashback.
There are many other retailers that could be of interest. There's an offer for 2% cashback at Office Depot/OfficeMax with a limit of $10 cashback per day, meaning you'll max that out when spending $500 per day. There have been reports of people having cashback clawed back or accounts suspended/shut down when they've identified what they regard as excessive gift card purchases, so if you'll be buying Visa or Mastercard gift cards when Office Depot/OfficeMax is giving $15 off when spending $300 on those, it'd be worth adding at least one extra item to your transaction so that it doesn't track as a $398.90 purchase.
Other notable retailers include Uber Eats and Postmates for existing users (albeit at a lower rate than for new customers), Staples online (but not in-store like Office Depot/OfficeMax), 15% cashback at Maurices and more.
Local Offers
Many in-store offers are localized, so while you might see an offer for Outback Steakhouse near your home, if you visited another city with an Outback Steakhouse, it might not show up in the app.
To see eligible retailers and restaurants near you, scroll down the home page until you reach the section that's headed 'What's Nearby'.
Something to be aware of is that the map seen above might look more sparse than all the offers you actually have available to you.
For example, I'm currently visiting Palm Springs and that map makes it look like there are only half a dozen offers near me. That's not true though – by scrolling down a little further I can see that there 50+ retailers and restaurants within a 20 mile radius.
In fact, Dosh displays all retailers participating in card-linked in-store offers within 50 miles of your location.
If you want to check which retailers and restaurants will be available in an area you're planning on visiting, tap on 'View Map', move the map to the location you want to check out and press 'Search Here'. That'll display partners on the map.
Another option is to use the search bar at the top of the app.
Tap on that bar and two entry fields will be displayed. The first is optional in case there's something specific you want to look for (e.g. pizza, tacos). If you simply want to view everything in a given area, just leave that blank.
The second box is where you enter a location. You can type in a zip code or a city – either works. This is where things get a little goofy though.
Let's say you want to search by zip code. Entering a zip code of where I used to live displays the city along with some other locations overseas:
It's not those overseas locations that are goofy though. It's that when choosing '23704 – Portsmouth, Virginia', it doesn't seem to have selected it – it only displays the zip code I'd already typed in.
Tapping on 'Search' in the top-right corner does nothing, nor does pressing 'Cancel'. That makes it look like this search functionality doesn't work, but it does in a weird way. To get the results to display, tap the 'Back' button on your phone. On my Google Pixel 4a 5G it's a triangle pointing to the left; your phone might be different.
Sure enough, scrolling down to the Local Offers displays a bunch of restaurants in Portsmouth, VA and just across the Elizabeth River in Norfolk.
Important: Check Offer Details
It's important to check the terms of any offer that you want to take advantage of. Some offers are in-store only, others are only available online while others can be used both in-store and online.
For example, the special offer for Carter's mentioned earlier gives 10% cashback on both in-store and online purchases.
Not only do you need to know if an offer is valid online, in-store or both, but there will usually be additional terms such as a limit on how much cashback you can earn. Using this same Carter's offer as an example, you can earn 10% cashback with a limit of $9 cashback, meaning you'd max it out when spending $90. This particular offer also has a limit of one use, so you couldn't earn up to $9 cashback again and again.
Offers that can be redeemed both in-store and online sometimes have different terms and/or limits depending on whether you're buying in-person or online, so keep an eye out for those differences too.
Most online offers in the Dosh app state that you have to tap the 'Shop' button in the app. That suggests Dosh is tracking your transaction more as a shopping portal by using cookies than by tracking the spending on your linked card, but they might well match up both. Sometimes when the terms state you have to tap the 'Shop' button online purchases track even if you used a different shopping portal, but other times that requirement does get enforced.
How To View Dosh Cashback
To view how much cashback you've earned in the app and/or how much is pending, tap the 'Wallet' button in the menu at the bottom of the app. It'll display your current cashback balance, your lifetime cashback, pending transactions and recent (i.e. credited) transactions.
How To Redeem Dosh Cashback
To redeem the cashback you've earned in the Dosh app, you can either donate some or all of it using the 'Donate' button on the 'Wallet' page, or you can withdraw it to one of your own accounts by using the 'Transfer' button.
If choosing to donate some of your cashback, there's a list of featured charities. You're not restricted to only those charities though – using the search box above that list will display other options.
When it comes to transferring money to one of your own accounts, you have a few options – PayPal, ACH to a bank account and Venmo. After selecting your cashout method, Dosh allows you to choose how much of your cashback you want to withdraw.
Hotels
In addition to offering cashback at retailers and restaurants, Dosh offers cashback when booking hotel accommodation through the app. The cashback rates can be generous – 20% or more at times – but it does come with downsides.
Booking through Dosh is like booking via any other kind of OTA (Online Travel Agency), so you won't earn hotel points, receive elite night credits, status benefits, etc. Booking hotels through the app could therefore be a better option in circumstances such as when booking an independent property, a chain that offers free breakfast to all guests automatically, a chain where you have no status or interest in earning their points, etc.
Keep an eye out for occasional promotions too. Dosh sometimes offers bonus cashback (e.g. an extra $15) on your first hotel booking in the app. For a one night stay, the $15 bonus plus the standard cashback rate could come to a decent amount.
Dosh Missing Cashback – How To File A Claim
If you use the Dosh app a lot, there'll likely come a time when you make a purchase and it won't track. This is the case with all shopping portals and card-linked programs as tracking doesn't work 100% of the time.
Submitting a missing cashback claim in the Dosh app is fairly easy. Tap the menu button in the top-left corner of the app and select 'Support & Help'. At the bottom of the app is a button stating 'I Still Need Help', so tap that.
There are then a couple of different missing cashback options – one for 'Nearby' transactions (i.e. in-store/in-restaurant card-linked purchases) and one for 'Online' purchases, so select whichever one is applicable. Note that both types of transactions require that you upload a copy of your receipt, so you'll want to make sure you have that available. That could prove to be a pain if you've tossed your restaurant receipt from dinner last week, so it's worth trying to remember to keep receipts or taking photos of them when purchasing in-store or dining in-restaurant at locations you know are in the Dosh app.
Stacking Dosh With Other Offers To Save More
One of the great things with Dosh is that it'll sometimes stack with other card-linked offers. For example, let's say there's an H&M Amex Offer giving $25 back when spending $100. Dosh often offers 6% cashback on in-store purchases at H&M, so linking the Amex card you have the Amex Offer added to in the Dosh app means spending $100 will earn you both the $25 statement credit from the H&M Amex Offer and $6 cashback from Dosh.
The same goes for bonused spend opportunities. The Chase Ink Cash and Ink Plus cards earn 5%/5x at office supply stores. Linking those cards in the Dosh app means you earn earn 2% cashback on in-store and online purchases with Office Depot/OfficeMax and online purchases with Staples on top of the 5%/5x from the card's earning category. If that card also has a 5% or 10% Chase Offer for Office Depot/OfficeMax or Staples – even better!
It might be possible to earn cashback/rewards from other card-linked programs too. For example, RCLON (Rakuten Card-Linked Offer Network) powers the tracking for Rakuten in-store offers, in-store offers for the United and Alaska Airlines shopping portals, Google Pay and more (see the full list here). I think Dosh's tracking runs on a different network run by Cardlytics. However, I've noticed many of the same retailers cropping up on both Dosh and RCLON-tracked sites/apps, so I'm no longer 100% certain that they'll stack. If they do run on different networks though, you should be able to double up on your cashback/rewards.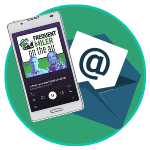 Want to learn more about miles and points?
Subscribe to email updates
 or check out 
our podcast
 on your favorite podcast platform.