Doctor of Credit reported this morning that some Dosh app users have had their accounts suspended for making many gift card purchases. This is really unfortunate and isn't a particularly customer-friendly way for Dosh to have handled this.
Dosh is a popular cash back app for card-linked offers. You sync your credit cards (Dosh encourages you to sync multiple) and then automatically get cash back when you shop at participating retailers. For example, I've "accidentally" gotten cash back at places like Advance Auto Parts and Dunkin' without even realizing that they had offers available. Unlike Amex Offers or Chase Offers (or some Rakuten in-store offers), there is no intentional opting in or out of Dosh offers, Dosh just monitors your account for qualifying purchases and pays out cash back.
Dosh has long offered cash back at some retailers that sell gift cards. For example, they have offered cash back at Office Max for a long time now. While Dosh prohibits earning cash back on gift card purchases, they don't provide a mechanism to turn their cash back on or off, so I guess users are supposed to either unlink and re-link cards before and after they intend to buy gift cards and/or not link credit cards that they might use for gift card purchases? There really isn't a customer-friendly mechanism for handling this.
Unfortunately, rather than just claw back or void out cash back earned from gift card purchases, Dosh has suspended accounts of people they feel have abused the system. To be clear, not everyone who purchased gift cards has been suspended, but some have been. The word on the street is that you need at least the majority of your transactions to be non-gift-card purchases in order to be safe from suspension. I have no idea whether that's true.
While Dosh does have this covered in their terms and it is certainly their prerogative to do business as they wish, I'm surprised they didn't instead just either block gift card cash back or stop offering 2% at places where they see a lot of gift card purchases (or stop offering it at those stores for those people who are obviously buying a lot of gift cards, etc). There are a lot of ways to have solved this without suspending people who may have otherwise still been happy to use the app.
A key takeaway here is that it's always a good idea to periodically cash out your cash back. I've been doing a better job of making a habit of that from the various cash back apps and shopping portals so that I don't lose out if a company goes out of business or there is a freeze like this one.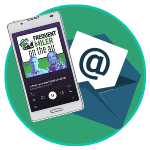 Want to learn more about miles and points?
Subscribe to email updates
 or check out 
our podcast
 on your favorite podcast platform.