For the 3 Cards, 3 Continents Challenge, Maisie (the Culinary Concierge) and I traveled around the world in business class.  Our trip themes were luxury travel, great food from around the world, and exploring waterways.  In this series of posts titled "Greg & Maisie's Great Adventure," I detail highlights from our travel, food, and water experiences.  Our route in a nutshell: San Francisco to Tokyo to Vietnam; Vietnam to Doha, Qatar; Doha to Sofia, Bulgaria; Sofia to Istanbul; Istanbul to Stockholm; Stockholm to Bergen; Bergen to Toronto (via Newark); Toronto to Detroit (home!)
What is 3 Cards, 3 Continents?
Frequent Miler loves creating fun and competitive team challenges. This year Greg, Nick, and Stephen are competing to
book the most amazing 3-continent dream-trip using 3 credit card welcome bonuses.
Qatar Adventures (Thursday evening to Friday morning)
At the end of our Vietnam adventures (see Vietnam) we returned to the Ho Chi Minh airport and attempted to check in for our flight to Doha, Qatar.  After examining our negative COVID test results, the check-in agents each said that our tests weren't within the required 48 hours.  Uh oh!
In preparation for our flight to Qatar, we had taken COVID tests at the San Francisco airport.  Qatar requires a PCR test taken within 48 hours of departure of the flight to Qatar.  For us that meant that our COVID tests had to be within 48 hours of our flight from Vietnam to Doha.  And they were.  I had done the date/time/time-zone math multiple times to make sure.  Our tests were taken approximately 47 hours before departure to Qatar.
The problem at the check-in desk was that time-zone math is hard.  If you ignored the time zone where we got tested and simply compared the date and time of the test to the current date and time in Vietnam, it looked like we took the test more than 48 hours prior.  Fortunately… Maisie.  She has proven time and again to be great at convincing people to change their minds.  After about 15 minutes of back and forth, somehow she explained the situation in a way that finally clicked in the supervisor's mind.  We were cleared to go!
We flew Qatar Airways business class from Saigon to Doha, Qatar on their Boeing 787-8.  This was not Qatar's vaunted Qsuites cabin, but it was still spectacular.  While the physical layout of the seats and cabin were nice, they weren't what made the flight so special.  Instead, it was the amazing service and great accompaniments like plush blankets, soft pajamas, candlelit dinner service, and so on.  While Maisie had flown business class before (including our flights from San Francisco to Tokyo, and then from Tokyo to Saigon), she had never before experienced anything like this.  It was really fun for me to see her excitement.
When we arrived at the airport in Doha, Qatar, we discovered that they had a special arrivals lounge for business and first class passengers.  This was a great opportunity to get some coffee, fill up our water bottles, and use the restroom before heading out to see Doha.  The lounge even has its own passport control and so entry into the country was as painless as can be.
We had hired a tour guide to pick us up at the airport to show us around Doha.  We had roughly a 9 hour layover and we didn't want to waste it by sitting in the airport lounge.  The guide took us first to the Souq Waqif market.  It was late at night local time (and who knows what time our bodies though it was — it felt like morning to me since I slept on the plane) and so the market shops were closed, but it was still fun to see it.  And I doubt that daytime visitors can ever get photos like this without a crowd of people in the shot:
One thing that I found fascinating was how many bird shops were in the market.  Apparently it's very common for locals to own lots of birds.  Our guide said that he had 16 of them!
In addition to seeing the market, our mission was to sample local food.  This proved to be a challenge in the middle of the night, but when we found one place that had just closed, Maisie used her incredible powers of persuasion (AKA her culinary magic wand) to convince them to to fire things back up just for us!
Next up, we went to the waterfront to take a short cruise around the harbor…
A group of tourists from Bangladesh were dancing and invited me to join them.  So I did!  It was incredibly fun!
After the cruise we went to see a few other things around Doha, like these pigeon houses (remember how much they like birds here!):
Finally, we returned to the airport.  Our business class tickets meant that we could go through Qatar Airways' premium check-in:
And we had access to Qatar's Al Mourjan Business Lounge.  This lounge was spectacular.  It's massive and offers two separate dining areas with table service, quiet rooms, shower rooms, semi private recliners, and more.
After showering and breakfasting, we were then on our way on another Qatar Airways business class flight.  This one was a 5 hour flight to Sofia, Bulgaria on a single aisle jet.  While the plane was physically a far cry from the previous flight, it was still terrific.  We had big plush seats that reclined far, truly excellent service, and catering that nearly matched what was available on the previous flight.
When I first booked the Qatar Airways flights from Vietnam to Sofia, I was excited about the flights, but I didn't expect to actually see Doha at all.  Maisie, though, insisted that we could cram in local food and experiences and she was right!  We had a great time!
Stay tuned for chapter 3 where Maisie and I enjoy Sofia's culinary delights and we learn about UNESCO bread…
Prefer video?  Want to see me dance?  Want to know how to pronounce "Qatar"?  Check these out: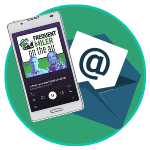 Want to learn more about miles and points?
Subscribe to email updates
 or check out 
our podcast
 on your favorite podcast platform.