For the 3 Cards, 3 Continents Challenge, Maisie (the Culinary Concierge) and I traveled around the world in business class.  Our trip themes were luxury travel, great food from around the world, and exploring waterways.  In this series of posts titled "Greg & Maisie's Great Adventure," I detail highlights from our travel, food, and water experiences.  Our route in a nutshell: San Francisco to Tokyo to Vietnam; Vietnam to Doha, Qatar; Doha to Sofia, Bulgaria; Sofia to Istanbul; Istanbul to Stockholm; Stockholm to Bergen; Bergen to Toronto (via Newark); Toronto to Detroit (home!)
What is 3 Cards, 3 Continents?
Frequent Miler loves creating fun and competitive team challenges. This year Greg, Nick, and Stephen are competing to
book the most amazing 3-continent dream-trip using 3 credit card welcome bonuses.
Bergen: Love at first site
After our visit to Stockholm, Maisie and I took a very short SAS flight to Bergen, Norway.  The pilot seemed confident that he had landed us in Bergen, but a hill beside the airport seemed unsure:
Bergen has a very easy to use light rail system that takes about 40 minutes to get to the center of town from the airport.
I didn't know much about Bergen before this trip.  All I knew was that it was a decent launching pad for visiting the fjords of Norway.  But, guess what?  We arrived in town and discovered that Bergen is absolutely gorgeous.  Bergen is known to be the rainiest city in Norway, but we lucked out with glorious weather.
Funicular to Fløyen
Immediately after checking into our hotel, we walked to the Fløibanen Funicular which was only a few blocks away.  We rode it to the top and were blown away by the beautiful views only minutes from town!
In addition to great views, the mountain has walking trails.  And trolls.  After troll hunting, Maisie rode the funicular back to town, and I hiked down.  On future visits (and yes, I already expect to come back!), I plan to walk up from town and maybe ride the funicular down if I'm tired.
Here's a short video of the funicular and the view from the top:
And here's a video of our troll hunting:
Hotel No13
I converted 12,000 Citi ThankYou points into 24,000 Choice Privileges points in order to book Nordic Choice Hotel No13 for two nights.  The hotel was quirky, modern, and comfortable; and perfectly located in the center of town.  Plus, the staff we interacted with were very friendly and helpful.
The hotel also offered a terrific breakfast buffet, which was included with the room.
My only complaint about Hotel No13 is that my room had very little space to unpack, and it didn't have a comfortable chair to relax in.  It worked out great for this trip, but if I was with my wife I think we'd be falling over each other's stuff.
Lysverket Restaurant
After exploring Bergen, we made our way to dinner.  Lysverket is one of two Michelin starred restaurants in town.  This was our biggest dinner splurge.  We did the full 10 course menu, plus drinks.  The total came to $442.  Was it worth it?  It certainly was a fantastic dinner!  Almost every course was startlingly good.  There was one exception where Maisie and I agreed that the dish was overwhelmed by its sauce.  There was also another course that I thought was just OK, but Maisie thought it was great.  That just shows how impossible it is for a restaurant to please everyone.  The dessert was incredible.  I think Maisie said that it was the best she'd ever had.  Unfortunately I couldn't find a good photo of it.
Here's a video about our dinner:
Nærøyfjord Norway
On our second day in Bergen, we joined a small group tour to Nærøyfjord (which means narrow fjord), which is widely considered to be one of the most beautiful fjords in Norway.  The tour guide drove us to one end of the fjord and picked us up at the other end.  In between, a battery powered cruise boat (which is both quiet and environmentally friendly) took us the length of fjord — about a 2 hour ride.  Every moment was stunning.  I (and most others) spent the entire time muttering brilliant observations such as "beautiful!" or "ooh!" or the really inspired "wow!"  I've long wanted to visit the Norwegian fjords and so I was thrilled when the pieces came together to make this stop work out!  While I had already had a fantastic time on this trip and we'd done amazing things, the fjord cruise was my favorite adventure of all.
OK, enough chit chat.  I'll let the pictures do the talking…
Here's a short video showing our fjord adventure:
Restaurant 1877
That evening, after the fjord trip, we ate a 5 course meal at the highly regarded Restaurant 1877.  We had an excellent meal, and its presentation was very good, but our meal at Lysverket the evening before was even better.
Videos
Here are a couple more videos about our time in Bergen and the fjord that we shared on Instagram.  Click through below to watch each one: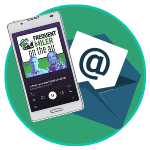 Want to learn more about miles and points?
Subscribe to email updates
 or check out 
our podcast
 on your favorite podcast platform.