While I've been all over Instagram this past week, I haven't had much opportunity for proper blog updates on my travels. I intend to (hopefully) post several such updates over the next couple of days, so be on the lookout for other such posts.
After a ~16hr layover in Egypt (from about 4:30am to 8:30pm) that gave me a chance to visit the Sphinx and Pyramids of Giza along with Memphis and Saqqara, I flew onward to Istanbul, Turkey for the night. My flight from Cairo landed around midnight Sunday night / Monday early AM hours and I left Istanbul at 4:50pm on Monday, giving me enough time to enjoy a little sleep in my (upgraded) room at the Crowne Plaza Harbiye before heading down to the Bosphorus Strait for a yacht cruise that brought me from the European side of Istanbul to the Asian side — completing my goal of 3 continents in just two days (which really could have been done with just 1 card since the Amex Platinum would provide plenty of points to get from the US to Cairo to Turkey!). In this post, I'll recap my visit to Istanbul — from visa on arrival to my junior suite at the Crowne Plaza and my cruise on the Bosphorus.
Arrival in Istanbul: Cheaper Visa on Arrival and cost of airport taxi
Turkey Visa on arrival for American citizens
One of my biggest surprises in planning for our 3 Cards 3 Continents trip is that Americans need a visa to visit Turkey. Having traveled to much of Europe and never having needed to arrange a visa prior to arrival in Europe, I was particularly surprised by this requirement.
I initially had difficulty determining the exact price, but then eventually landed on the official eVisa site where Americans can apply online and receive an electronic visa to visit Turkey. At the time of writing, it costs $50 to get your eVisa online. However, I paid much less. It is also worth noting that the Turkey eVisa website seemed to be down for days/weeks at a time — it certainly wasn't functioning smoothly. Even when it worked, I often had to refresh pages a few times to get them to load.
While Greg, Stephen, and I did not share our actual itineraries with one another prior to the trip, we did have some limited internal discussion in our planning stages — like when Greg ran into his problems with his un-booked ANA award, we heard about that before he published a post (but he didn't share details of his airlines). Somehow discussion of Turkey and its visa cost came up in our chat thread. I mentioned being surprised about it requiring a visa and that it cost $50, but then Greg mentioned visa on arrival. I hadn't heard about that, but Greg pointed me to two posts from Live and Let's Fly about the cost and process:
That second post in particular was excellent as it provided pictures showing that there is indeed a dedicated visa on arrival counter and that they list countries eligible and prices for each in three different currencies.
Of course, policies change, so I was nervous about the prospect of relying on a visa on arrival. What would I do if the check-in agent in Cairo asked for proof of my electronic visa and he or she wasn't a Live and Let's Fly reader and therefore didn't know I could get one on arrival?
After a lot of searching around and combing through comments on Live and Let's fly, I ended up feeling comfortable with the decision to wait and try to get the visa at the airport. I saw positive data points from 2022 in the blog post comments and I found this page on the website of the Turkey eVisa program that confirmed the existence of visa on arrival for US citizens.
That was enough for me to try to save twenty bucks. I had no issue at check-in in Egypt (which in hindsight shouldn't have been a concern since my stop there was technically a layover — the check-in agent in Cairo wouldn't need to confirm entry requirements to Turkey anyway since my ticket was really for transit).
Upon landing at Istanbul airport, I headed toward the Arrivals / Immigration area and I was glad to see signs pointing to the visa desk.
It was no trouble to find — the desk was right before immigration coming from my flight (if you're facing the immigration counters, it is to the left). I strolled up to the desk and took a quick pic of the prices.
There was only one agent, but there was no line at all. I paid my $30 and the agent scanned my passport. You don't receive any sort of physical receipt (the sign says that the picture page of your passport is your receipt, but I tried to submit that with my expense report and Greg wasn't buying it :-). I continued on to immigration and the officer there stamped my passport without question. Then, as I started to walk away, he asked if I had a visa. I said that I had just paid for it at the visa on arrival counter and he indicated that I was good to go. Thanks to Matthew Klint at Live and Let's Fly (and Greg), I saved $20 that I would put to use getting to my hotel.
Taxi from Istanbul International Airport to Crowne Plaza Harbiye
Having traveled to many countries, one thing I universally hate and try to avoid is taking taxis. While I'm sure that the vast majority of taxi drivers are honest people trying to make a living, I've had a few too many arguments with the less scrupulous ones and I prefer to avoid that fun altogether by using Uber or similar services.
At the airport, Uber only listed prices for taxis. However, there was a sign estimating taxi fare to various neighborhoods and it was a bit less than the prices being quoted in the Uber app at the time.
It ended up costing 300 lira to get to my hotel near Taksim Square ($16.50).
I had original planned to take a bus into Istanbul from the airport (for about $3.70), but I opted for the taxi rather than the bus because the bus time was an estimated 90 minutes and it only left at 15 minutes past each hour. My flight had landed past midnight. If I had hurried, I might have made the 1:15am bus, but then I'd have been looking at getting to the bus stop around 2:45am and I still would have needed to either walk several blocks at 3am or take a taxi for that part of the journey. As it turned out, I wouldn't have gotten there in time for that 1:15am unless I hustled, so it would have been more likely the 2:15am bus with a 3:45am arrival. We had an ask us anything scheduled at what would be 3am, so I opted for a ~37-minute taxi ride instead, getting me to my room in time to shower up before we went life. I took the bus on the way back to the airport (see that section further down).
Crowne Plaza Harbiye: Upgrade to Junior Suite with Platinum status
The Crowne Plaza Harbiye seemed like a pretty ordinary Crowne Plaza. To be clear, I mean an international Crowne Plaza. Within the US, Crowne Plaza can be very hit or miss, but overseas I tend to find them quite consistently nicer than a Holiday Inn.
I booked the Crowne Plaza Harbiye with 10,000 IHG points. As a reminder, I cashed out some of my points from the challenge to buy IHG points on sale. This redemption was part of the reason why I bought IHG points. The average nightly rate was going around $150 at the time I booked it, so buying enough points for a free night stay for $57.50 was a solid deal.
To my surprise, I got upgraded to a junior suite. It wasn't amazing, but it had an extra sofa area space and a TV on a pole that I imagine pivoted to the couch area (I actually didn't try to use it as I rarely use the TV in a hotel room).
The bathroom looked pretty nice and featured a double vanity. The tub had jacuzzi jets, but unfortunately it also had the bane of my existence, the half-door. This one pivoted and I have no idea why – I just about slipped when I went to get out and grabbed it without thinking, only to have it pivot outward on me.
Finally, as an IHG Platinum member, I received a fruit platter as a welcome amenity. That was a nice and unexpected touch that came in handy because I was hungry when I arrived and when we finished our ask us anything live stream.
Overall, the Crowne Plaza Harbiye was a solid "decent". I didn't try breakfast at their restaurant nor did I use any of the hotel's other services. When I asked for a 2pm checkout, they noted my Platinum status and readily agreed. The suite upgrade certainly was nice as was the value for points given that 10K IHG point bought a room that would have otherwise cost around $150 a night. I'd stay again at that price.
Yacht cruise on the Bosphorus Strait
I only really had time for one activity in Istanbul, so I made the most of it by booking a cruise along the Bosphorus. I specifically wanted to choose one that crossed the strait because that strait is what separates Europe from Asia. I found one on Viator for a reasonable price (about $45 – I booked this one) that would stop for coffee and/or a snack on the Asian side of the river. The timing was perfect as I could depart at 10:30am (late enough to get a little sleep after our Ask Us Anything live) and return at 1pm (plenty of time to go back to my hotel and pack up / freshen up before heading to the airport). As noted above, I had gotten a 2pm late checkout at the Crowne Plaza, which certainly made things easier as I didn't need to carry everything with me to the cruise.
The cruise itself was very enjoyable. There are some very impressive palaces (and palatial homes!) along the Bosphorus on both sides and our guide gave an entertaining tour in terms of both "old" history (including the evolution of the name of the city from Constantinople to Istanbul) and more modern history (like which home was recently purchased for $38 million by a Saudi prince).
The boat definitely felt like a yacht as you can see in the Instagram reel below. I sat on the top deck and there were probably 10 or 12 others on the deck with enough space for all of us to be under cover when was raining at the beginning and all of us to sit comfortably without cover when it stopped raining. I didn't spend any time on the deck below, so I'm not sure how many other guests were on the boat, but nothing felt cramped.
View this post on Instagram
Return to the airport on the cheap: Havaist bus
I mentioned above that I took a taxi rather than a bus from Istanbul airport to my hotel. On the way back to the airport, I took the havaist bus from Taksim square (click here for a link to the bus website). This bus goes directly to the airport and it cost 67 Turkish lira (about $3.70). I was able to pay with my credit card via tap to pay on the driver's payment terminal without issue or surcharge.
The bus was perfectly clean and comfortable. I fell asleep as I was still pretty tired, but the journey only took about 45 minutes. The bus really did fill up — I don't know how far in advance you should plan to arrive to be sure you get a seat, but I got there about 10 minutes before we left and had no problem.
Do note that there is no food or drink allowed on the bus — the driver made me get rid of some leftover pastries I had (though I'd already sampled what I could eat).
While I did need to walk up a steep hill initially on my way from the Crowne Plaza to Taksim square, the walk was otherwise pretty easy (it took less than 15 minutes). I would definitely consider the bus again in the future (though if you are averse to walking uphill, you may want to book a hotel closer to the drop-off point). There are other stops for this bus, but I didn't notice us stopping on the way to the airport.
Bottom line
My trip to Istanbul was quite short, but I got the chance to get some fresh baked goods, cruise down and cross the Bosphorus to get to Asia and back, and enjoy a local specialty on the Asian side (homemade yogurt topped with powdered sugar, which is delicious for the record). Then it was back to the Istanbul airport, where I very much enjoyed the Turkish business class lounge before continuing on to Oman (which was quite a surprising stop – more to come on that!).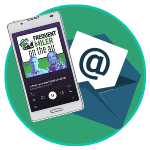 Want to learn more about miles and points?
Subscribe to email updates
 or check out 
our podcast
 on your favorite podcast platform.