"It's impossible sir. You can't take this flight"  An hour before our final 3 Cards 3 Continents flight was scheduled to depart, Maisie was comfortably resting in the airport lounge past security while I was sweating buckets and pleading with Air Canada agents to let me check in.  To explain how I got into this predicament, I need to back up…
What is 3 Cards, 3 Continents?
Frequent Miler loves creating fun and competitive team challenges. This year Greg, Nick, and Stephen are competing to
book the most amazing 3-continent dream-trip using 3 credit card welcome bonuses.
For the 3 Cards, 3 Continents Challenge, Maisie (the Culinary Concierge) and I traveled around the world in luxurious business class.  I was proud to have been able to find and book business class flights not just for one person, but for two.  That was an achievement!  The only segment where Maisie and I weren't booked on the same flight from the get-go was the final leg of our entire trip: the one hour economy-only flight from Toronto to Detroit.
When I booked our ANA Round the World awards for 90,000 ANA points each (transferred from Amex Membership Rewards), there were two award seats open on the day we wanted to return.  One was at 8:20am and the other at 4pm.  Knowing that ANA allows free changes to different times and different dates for the same route, I had them put me on the 8:20 flight and Maisie on the 4pm flight.  I then set up an alert in Expert Flyer to let me know when another seat opened on the 4pm flight.  The plan was to wait for that to happen and then to call ANA to change me to that flight for free.  Sure, we could have done the final leg separately, but we had fun plans for Friday that I didn't want to miss (see details about our fun day here).
Finding award availability for the 4PM flight…
After watching award availability on this route for a while, I discovered a pattern.  Air Canada releases tons of award space once the flight is within 10 days of departure.  I have no idea if that's true of other Air Canada flights, but it was definitely a pattern with this one.  This meant that award space would open up on the first day of our Round the World trip.  And it did!
Our first flight of the trip was San Francisco to Tokyo Haneda.  When we arrived in Haneda I checked award availability for that 4pm flight and there it was!  As it happened I didn't have time to ask ANA to update my ticket until we reached Vietnam.  This was a bit ironic since our layover in Tokyo had me in ANA's home turf and theoretically I could have talked with someone in-person to make the change.
Late that night I called ANA from my hotel room at Le Meridien Saigon.  The friendly agent (they're all friendly at ANA by the way!) understood what I wanted to do, verified that the award was available and said that I should get my revised itinerary by email within the next 40 minutes.  Woohoo!  It was done!  Or so I thought…
The same agent called me back in half an hour or so.  They couldn't change my flight from Toronto to Detroit because it had been booked together with my flight from Newark to Toronto.  My Air Canada ticket was booked as Newark to Detroit with a layover in Toronto rather than as two independent segments.  In order to change the Toronto to Detroit piece they had to rebook the Newark to Toronto piece as well, but there was no longer any award availability from Newark!  The ANA agent had already called Air Canada to try to force the change through, but without success.  She then promised that she would keep trying to go up the chain at Air Canada in the hopes that a manager could fix this.  Unfortunately she never succeeded.  I suggested a number of other options, but each one was blocked by Air Canada's inflexible rules.
Important: Please don't conclude from my experience that ANA Round the World Awards are bad or inflexible.  My trip was artificially constrained in time (we each agreed to get done in less than two weeks), but with a real world trip you'll hopefully stay more than one night at most stops and then you won't have the issue I did where multiple segments were married together.
During the rest of the trip, I regularly checked for award space to open up on the Newark to Toronto leg, but it never did.
Attempting to change my flight at the airport…
As a back-up I had booked a 6:20pm Delta award flight from Toronto to Detroit in case I couldn't get moved to the 4pm Air Canada flight.  That would have put me way over budget, but at least we would have been able to enjoy our day in Canada.  I also considered doing a one-way car rental from Toronto to Detroit (it's a 4 hour drive without traffic), but I couldn't find a price that would keep me under budget.
When we arrived at the Newark airport (EWR) from Bergen on Thursday afternoon, we discovered that our flight to Toronto was going to be delayed.  I tried using that as an excuse for Air Canada to move me on Friday from the 8:20am to the 4pm flight.  The Air Canada agents I spoke with at EWR tried to help, but both said that the computer wouldn't let them make the change from there.  I would have to ask agents in Canada.
When we finally arrived in Canada late at night, I should have gone to a ticket counter to try to get this resolved, but I was too tired.  Instead, we went right to the hotel.  The next morning I should have gone early to the counter, but my mind was on the day ahead and we left the airport without my doing so.  My bad.  I finally tried calling Air Canada but never got through to a human.
After a great day at Niagara Falls and Pearl Morissette we returned to the airport, returned our rental car, and got to the terminal by 1:40PM — more than 2 hours before the 4PM flight.  Maisie checked in and went through security while I pleaded my case at the ticket counter.
I was hoping that since I missed my earlier flight they would be able to put me on standby for the 4pm flight.  "Impossible" I was told.  "You booked through United, you'll have to ask them." I was told.  "Actually, I booked through ANA" I said.  And after explaining what an ANA was, I was told to contact them.  "Maybe they can help."  Thanks Air Canada.  You're charming.
I called ANA.  The agent who answered was every bit as nice as every other ANA agent I've dealt with, but she wasn't able to help.
Last minute booking pushes me overbudget
Having run out of options for getting moved to the 4pm flight for free, I looked instead for the cheapest way to book the 4PM award flight, which was miraculously still available.  Air Canada wanted something like 19,000 points + $50-ish in taxes and fees.  United wanted 15,000 miles + $51.83.  Avianca LifeMiles wanted only 6,500 miles plus $72.69 in fees.  Sold.  At least, that's what I used for accounting purposes.  As we all did for this competition, we accounted for award prices based on points available in our 3 Cards budgets, and we made sure the awards were available from those programs, but we often used other miles for the actual bookings.  I booked with United miles because I had a lot more confidence in United than in LifeMiles for booking this flight last minute.  But for accounting purposes, I transferred 2,000 Amex points into 2,300 Avianca LifeMiles (thanks to a current 15% transfer bonus) plus I transferred 5,000 Citi points to Avianca LifeMiles 1 to 1.  That gave me a total of 7,300 LifeMiles, which was more than I needed for the 6,500 point award.
Until this last minute award booking, I was comfortably under budget in this competition.  With this new booking, though, I had gone $61 over budget.  Bummer!
Fighting the 90 minute check-in rule
So, now I had a booking for the 4PM flight, but I couldn't check in online.  My United email receipt shows that I booked the award 70 minutes before the flight, but Air Canada requires checking in at least 90 minutes before any international flights… and they really mean it.  I tried checking in at an airport kiosk.  No luck.  I tried with two ticket counter agents.  Again, no luck.  They said that it was impossible to check in within 90 minutes.  They said that I would have to rebook on a later flight.
I then found a desk with a sign that said something like "special circumstances."  I pled my case there.  At first the response was the same.  "The computer system won't allow you to check in this close to departure."  The agent followed up with something like "even if I could override this, you wouldn't be able to make it through security in time."  Hmmm, that sounded to me like an opening!  "I have Global Entry, so I can get through quickly" I informed him.  He asked to see my Global Entry card (which I luckily had with me because I keep it at all times in my travel wallet which is always in my go-everywhere backpack).  And then he did some magic to override the system and he checked me in!
Of course, since I was in a hurry, both my backpack and my carry-on bag were pulled aside at security for additional screening.  And then, of course, the Global Entry machine didn't recognize me and so I had to go to a TSA officer for passport control.  But still, with all of that, I made it to the gate with time to spare.
Finally, I called Delta to cancel my 6:20PM back-up flight. Within moments the friendly Delta agent said that my points had been returned and that I will get a refund of the taxes and fees in 5 days or less.  After my unpleasant dealings with Air Canada personnel, it was such a pleasure speaking with Delta!  And, yes, after all that, I made it to the 4PM flight after all.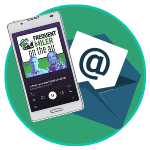 Want to learn more about miles and points?
Subscribe to email updates
 or check out 
our podcast
 on your favorite podcast platform.