Yesterday I booked an around the world business class award for two!  It wasn't easy, but it's done!  But… I made a few mistakes along the way.  In this post I'll offer up some lessons learned while they're still fresh on my mind…
Background
For the 3 Cards, 3 Continents Challenge, the goal is to build as amazing of a 3-Continent trip as possible with the welcome bonuses from 3 cards (which we picked in an online draft).
While the Challenge is challenging enough as stated, I decided to make it a bit tougher for myself.  I decided to go all the way around the world using ANA's fantastic Star Alliance Round the World award.   And, despite this being the "Summer Of Non-Existent Airline Award Seats," I decided to make the challenge even harder by booking a round the world trip for two.  Adding a second person made the task much harder because I had to find award availability for 2 instead of just 1.  That said, points and cash needed to book my travel companion did not come out of my 3 Cards, 3 Continents budget.
As a reminder, in our Credit Card Draft, we started with a $1,000 budget and I selected the following cards: Amex Gold Card ($250 annual fee, 90K bonus); Citi Premier Card ($95 annual fee, 80K bonus), and the Marriott Bonvoy Boundless Card ($95 annual fee, 5 free night bonus).  After "paying" the first year annual fees, my cash budget was down to $560, but I had lots of points and free night certificates to work with.
Since our starting and ending points were slightly different, I booked two separate Round the World awards: one for me and one for my travel companion.  For my booking, I transferred* 90K Membership Rewards points to ANA.  Taxes and fees for this booking came to $454.17.  This used up most of my remaining cash budget.  Separately I also transferred* Citi ThankYou points to Avios in order to book some key filler flights (see this post for some background).
* Note that I didn't really transfer the points as described above.  For the challenge, we are accounting for transfers as if they're real, but we let the contestants use miles and points that they already have to book the awards.  In one case, I even used AA miles rather than Avios to book an award, but the amount that I would have been charged in Avios and fees is the amount that was subtracted from my budget.
Lesson 1: Search thoroughly, book quickly
One of the hardest challenges with booking a Round the World business class award is finding award availability across both the Atlantic and Pacific oceans.  After many hours of award searches, I found several good 2-person options for both ocean crossings.  Then I took more than a week to figure out the rest of the plan: Where exactly would we go and when?  This was necessary because ANA doesn't allow route changes once the award is booked.  All you can change is the date or time of a flight or you can move up to business class if you were booked in economy as part of a business class Round the World award.
The downside to spending so much time nailing down the specifics was that our preferred ocean crossing awards disappeared (likely gobbled up by others — Nick? Stephen?).  Luckily I managed to find alternatives that were arguably just as good, but by then the pickens were thin.
Lesson learned: As soon as you find good awards for the hardest-to-get segments, book the Round the World award quickly.  ANA only charges 3,000 points to cancel an award and so the downside of booking quickly isn't extreme.
Lesson 2: Award holds are precarious
Mid-week last week I had ANA put an itinerary on hold for us.  The agent told me that I had 72 hours to call back and book it.  As the 72 hour hold expiry neared, I called back, made a few changes, and then agreed to move forward with booking the award.  This included giving them my credit card information to pay for taxes.  The award request then was sent to the ticketing desk to book it.  Unfortunately, the ticketing desk didn't get to it right away.
ANA called me the next day — about 24 hours after I thought I had the award all set.  The agent told me that by the time the ticketing desk got around to doing the ticketing thing that they do, one of the ocean crossing award seats had disappeared.  I think that the hold expired before the ticketing desk got to it.  I was out at dinner at the time of the call so I couldn't research options readily, but luckily I remembered that an equally good flight had award availability.  Unfortunately, only 1 seat was available in business class and none in economy.  I took the 1 seat.  The result is that we will still be fine, but the two of us won't be able fly together on this segment as originally planned.
This turned out to be only a minor setback, but it could have been disastrous.
Lesson learned: If working with an award on hold, try to call back to book it at least 24 hours before the hold expires.
Lesson 3: Check & double check the itinerary
Since there is no way to book a Round the World award online, you're at the mercy of the phone agent getting all of the details right.  I've found that ANA agents have been very good, but they do sometimes make mistakes (I do too!).  Before putting an award on hold and especially before booking the award, ask the agent to go over the entire itinerary step by step.  I caught a couple of mistakes this way while on the phone.  These were easy to immediately correct.  Once I was emailed the held itinerary, I noticed another mistake (a flight that was booked for a day later than intended) and was able to fix it when the agent called to tell me that one of our award seats was no longer available (as described in the section above).
Lesson learned: Check the details many times. It's very easy to make mistakes with complicated itineraries!
Lesson 4: United does impose fuel surcharges (on some routes)
Throughout my planning, I had in my mind the idea that United flights wouldn't add materially to the taxes & fees in the award.  I thought that United's own flights never have fuel surcharges.  I was wrong.  I had forgotten something that I read years ago: United does impose fuel surcharges on their flights from or to Japan and Hong Kong.  They even have a dedicated page that says so: www.united.com/ual/en/us/fly/fuel-surcharges.html.
While there's no easy way to check the fuel surcharges for each segment in a Round the World Award, after booking I finally thought to check the taxes and fees imposed on round trip flights between the US and Japan.  I found that fees were almost exactly the same regardless of whether flying United or ANA.  In other words, both impose fuel surcharges.  Here are some examples:
LAX to Tokyo Round Trip Business Class:

Fees flying United: JPY 101,860 (~$749)
Fees flying ANA: JPY 102,570 (~$754)

Tokyo to LAX Round Trip Business Class:

Fees flying United: JPY 85,730 (~$630)
Fees flying ANA: JPY 87,930 (~$646)
It's reasonable to assume that fees for a business class United flight to Japan would cost roughly half of the amounts shown above (e.g. somewhere between $300 and $375).  In my case, since my entire fee was only $454, I think that the United segment cost much less than $300, but it's hard to tell from the receipt.  Fees are listed, but without specifying which segment of the trip each fee is from.  I think that I dodged a bullet by booking my flight through Japan without a stopover.
Lesson learned: Be careful about adding international United flights to ANA awards when flying to Japan or Hong Kong.  A better solution for crossing the Pacific (and likely a much better flying experience) would be to book EVA Air if you can find their elusive award space.  EVA Air doesn't impose fuel surcharges and is known to offer a fantastic business class.
Also note a potential issue crossing the Atlantic eastward…  With regular round-trip awards ANA doesn't pass along surcharges on United flights (other than those from/to Japan or Hong Kong).  However, a member of our Frequent Miler Insider's Group on Facebook has found that all eastbound international flights crossing the Atlantic that she priced out recently as part of her Round the World award (including on United and TAP Air) added huge fees to her Round the World itinerary.  She found that economy flights added about $200 in fees while business class added over $700 in fees.  I've never heard this reported before, so my guess is that this is new.  Is it intentional or a bug?  My guess is the latter.
More About ANA Round the World Awards
For more details about ANA's Star Alliance Round the World Awards and other sweet spots, see these posts: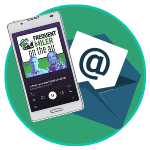 Want to learn more about miles and points?
Subscribe to email updates
 or check out 
our podcast
 on your favorite podcast platform.