One of the hardest things about travelling the 40K to Far Away Challenge is finding time to write.  Most of the time I've either been on the go or too tired to think.  Or both.  But now I'm on a 27 hour train journey to Cape Town, I've slept well, and so I'm ready to write.  Let me catch you up on some of my journey so far…
What went before
The journey started Wednesday when I flew to West Virginia and back, toured the Library of Congress, Megabused to NYC, and flew Norwegian Air to Madrid, Spain.  I detailed the first day in this post:  Greg's first day of #40K to Far Away adventures.
Madrid, Spain
In Madrid, I bought a one day tourist travel pass for 8.40 Euros which gave me unlimited metro (subway), bus, and train rides within Madrid and from/to the airport.  I took the metro to downtown and went into a WeWork office where I had reserved a hot desk.  This was free thanks to my Business Platinum card (which offers 1 year of WeWork for free Update: This benefit is no longer available for registration as of 1/1/20).
At WeWork, I made the most of free drinks and food (I was lucky to be there when a local restaurant brought in sandwiches!).  My first priority was to try to find a place to sleep that night.  I logged into CouchSurfing to see if anyone had answered my last minute request for Madrid surfers needing hosts.  Not only was the answer no, but my request wasn't there!  While CouchSurfing is awesome in many ways, their tech leaves a lot to be desired.  I quickly posted a new request and started looking up alternatives.  I searched to find the cheapest hostel and the cheapest AirBnB options.  There were some dirt cheap options, but they didn't look pleasant.  I also looked for midnight movies.  Maybe I could find a reclining seat and a really long late night movie?  Lord of the Rings trilogy anyone?  Anyone?
I lucked out.  No, not with the movie.  My last minute CouchSurfing request was answered by a guy named José who had more references (all positive) than I'd seen in all of my searches.  He said that another fellow was staying in his guest room, but I was welcome to sleep on his sofa.  I skimmed through most of the glowing references and quickly accepted.  Score!
The bad news was that a free walking tour I had booked for that evening cancelled on me since I was the only one who had signed up (I blame you, Julian).  José came to my rescue again by detailing a 4 hour self guided walking tour.  I followed about half of it before getting too tired.  Here are a few photos from my tour:
Once I tuckered out, I took the metro over to Josés house where his other guest just happened to arrive at the exact same time.
José whipped up a delicious Spanish meal for the three of us, and his other guest shared a bottle of wine.  I contributed in a small way by sharing treats I had grabbed in the Air France lounge at JFK.
I've never been to Madrid before, but I'll be back.  I loved it from the get-go.  The metro was super clean and reliable, and the city itself was charming and vibrant (at least the parts of the city I visited).
I left José's house at about 4:30 am so that I could catch an early flight.  He actually got up early to make me coffee and toast!  Unfortunately my one-day tourist card didn't work in the morning.  Apparently it's "calendar day" not "24 hour day".  Oops.  I spent 5 Euros to get back to the airport.  That was OK budget-wise because my plan had been to tip exactly that much to the tour guide (remember the free tour that was cancelled?).  Normally I'd tip more than that, but hey I'm on a tight budget!
Dakar, Senegal
For my visit to Dakar, I found a CouchSurfing host well in advance.  Penelope is originally from Canada but now lives in Ngor, Dakar running a family business.
Transportation in Dakar was harder to plan than anywhere else on my itinerary.  Google Maps knows nothing about Dakar's bus system and there are no trains or subways.  Web search results for transportation to and from the airport are sparse.  Penelope suggested that I take a bus from the airport to Yoff and then take a taxi from there to her place.
The bus ride was simple enough.  It took about an hour.  Then I found a taxi or, rather, a taxi driver found me and I negotiated a price based on Penelope's recommendation (2,500 CFA).  Once we were on our way, things got rough.  The driver pretended that he didn't realize how far I was going and he demanded 5,000 CFA (about $8.40).  Language was a serious barrier since I don't speak french, but I kept saying "no! D'accord 2,500" which was my pigeon-french version of "We agreed to 2,500 and I expect you to keep to that agreement."  He understood, but kept arguing for the rest of the drive.  When we arrived, I gave him 3,000 CFA since I didn't have change.  He was then happy as a clam that he had scammed more than 2,500 from me.  I was miserable.  I wasn't upset about paying 3,000.  I was upset with how confrontational the taxi ride was.
Things perked up tremendously inside Penelope's home.  She and her two employees were delightful.  They brought in a traditional Senegalese dish which we all shared.  Penelope sat and talked for quite a while (she's the only one of the three that speaks fluent English).  And the bedroom I stayed in was comfortable and beautiful.
That afternoon, Penelope had to do work and then go to her MBA class, so I set out on my own.  I had overly ambitious plans to go both to Ngor Island and to the African Renaissance Monument and to a scenic spot near the monument.
I had underestimated how long I would spend on the island and I had overestimated my stamina.  By the time I got back from the island I was beat.  I returned to Penelope's place, made a little video (click here to view), and went to sleep.  I'd have to get up at 3:30am to return to the airport.
The taxi driver on the return was even worse than the previous day's driver.  This one tried to trick me into having him drive me all the way to the airport.  He pretended he didn't understand that I wanted to go to the bus station.  I kept insisting and of course he knew exactly where I wanted to go and eventually dropped me there.  In this case, I paid only the negotiated rate (2,000 CFA) because I had exact change.  I had actually planned in advance to give him 3,000, but he pissed me off so I didn't.
Overall, I'm glad I visited Dakar, but honestly I wouldn't be interested in returning.  The taxis were the worst, but there's also an overall chaos that doesn't appeal to me.  And, not-surprisingly, it was uncomfortably hot.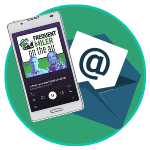 Want to learn more about miles and points?
Subscribe to email updates
 or check out 
our podcast
 on your favorite podcast platform.