Southwest scared us in the beginning of the month by making hotel point transfers Companion Pass ineligible, but they quickly backed off and gave us a 3 month grace period.  Now many of us are scrambling to get our Companion Passes while we still can.  Meanwhile, January was the last online gasp for two huge 100K signup offers, but there's still a trace of hope for both.  And two great hotel credit card offers met a similar fate…
Loyalty Program News
The single best ongoing travel deal is undoubtedly the Southwest Companion Pass.  If you earn 110,000 qualifying points within a calendar year, you get a companion pass good for an unlimited number of flights for the rest of the current calendar year, and all of the next.  The easiest way to get the pass is by signing up for two Southwest credit cards, each with 50K or better signup bonuses.  For example, as I write this, one could sign up for the 60K Southwest Business card offer and either the 50K Southwest Premier card offer or the 50K Southwest Plus card offer.  Unfortunately, these cards are governed by Chase's 5/24 rule.  That means that those who have opened 5 or more personal cards, with any bank, in the past 24 months are unlikely to get approved.
A terrific alternative to signing up for Southwest credit cards has been to book a Marriott Travel Package for 270,000 Marriott points (or 90,000 SPG points).  These Travel Packages offer a certificate for a 7 night stay plus 120,000 airline miles.  If you choose to get Southwest points, you can earn the Southwest Companion Pass in one fell swoop.  Unfortunately, as of April 1st, Southwest will stop counting points transferred from hotel programs as Companion Pass eligible.  So, if you want to get in on this deal, you'll have to do it soon. I wrote about my own experience with this, here: Secured Southwest Companion Pass and 7 Night Stay. Now where should we go?  To help you decide whether or not to do this deal, please see: Should you use Marriott points to get a Southwest Companion Pass? Introducing the Marriott Travel Package MakeUpYourMinder.
To learn more about Marriott Travel packages, please see: 12 things you need to know about Marriott Travel Packages.
Credit Card News
The two big 100K signup offers are now gone… Sort of.  The Chase Sapphire Reserve 100K offer is still available in-branch until March 12th.  Online, you can only get 50K.  And the Amex Business Platinum 100K offer really is gone (and was replaced with a much worse 75K offer).  That said, Amex often has better limited time offers and targeted offers for this card.  See: 8 ways to get the best targeted Amex signup bonus offers.
Another great offer that has disappeared is the Fairmont credit card which offered two free nights and a number of other great benefits.  Congratulations to those who jumped on this offer before it was too late!  See: Fairmont Visa Working Link Found! [The other Chase card you should consider today]
Meanwhile the 3 Free Night offer for the Ritz Carlton credit card is hanging by a thread.  Most public links show the new 2 Free Night offer instead.  If you want to get in on the 3 night offer, do it immediately.  You'll find a (hopefully) working link and more info here: Ritz offer dropping from 3 to 2 free nights.
Portal News
During my first couple of years of blogging, big portal offers were fairly common.  I wrote about offers for 10 to 15 miles per dollar regularly.  In the past few years, though, these offers have been scarce.  The great news is that they appear to be back.  In quick succession last week, we saw 15X offers from a variety of retails first through the Alaska Mileage Plan portal and then through the United MileagePlus portal.
The bad news is that merchants are beginning to crack down on double-dips (where you go through the portal to buy gift cards and then go through the portal again to use the gift cards).  First Sears stopped offering portal rewards when reloading gift cards, and then Neiman Marcus stopped offering portal rewards when buying e-gift cards.
Best of Frequent Miler
Don't miss these Frequent Miler posts from January 2017!
Miscellaneous
With Julian no longer writing for me, and Shawn devoting full time to his own blog, I needed help.  After I posted "Help Wanted," I soon received 95 applications!  It was really tough picking just one "winner", but I finally announced my new employee: Help Found! Introducing Nick Reyes.
This is the last day You only have a few more days left to lock in AwardWallet Plus for $10 per year (it will be going up to $30 per year).  See: Should you lock in AwardWallet Plus for $10 per year?
Credit Cards
Can you game the World of Hyatt with your Citi Prestige card? – Can you use the 4th night free benefit to generate elite status at a lower cost?
Curing 5/24 – With the recent great offers from Chase and the promise of even more new cards to come, is it time to surrender to 5/24?
Results of my end of year application spree – An over the top round of applications yielded great results.
Manufacture Spend / Meet Minimum Spend Requirements
Increase credit card spend (and get most of it back). What still works January 2017? – What methods of increasing spend work and which ones have disappeared?
Complete guide to paying taxes via credit card, 2017 edition – Everything you need to know about paying your taxes with a credit card.
Credit cards with better than 2% rewards for non-bonus spend – If a simple credit card strategy is your aim, then getting a better than 2% card is probably the best way to go.
Miles, Points, and Travel
My 2017 Airline Elite Status Plans: Delta Double Diamond, United Silver, and a possible Companion Pass – With a new year comes new strategies for elite status.
22% off Hotels.com gift cards with Amex Offer and portal rebate, but is it a good deal?  Thanks to a new Amex Offer, it should be possible to get Hotels.com gift cards for 22% off.  In my analysis, this really amounts to only 15% savings.  That's still pretty good, though!
How to avoid basic economy when paying with points — If you pay with points for flights, you might unknowingly end up with a Basic Economy fare (no advanced seat assignments, no changes, etc.). Here's how to avoid that fate.
Necker Island award same price, but harder to get – A week for two on Necker Island still requires 1.2 million Virgin Atlantic miles, but now you have to have elite status too.  Here's how to get it.
Huge value from Hyatt: Andaz Peninsula Papagayo Costa Rica – A great hotel and a fantastic value when booking with points.
With Hyatt, you don't have to have elite status to get upgraded to the club lounge or to a suite.  Hyatt charges just 3,000 points per night to upgrade a regular paid stay to include club access, or 6,000 points per night to upgrade to a suite (when available).  More details can be found on Hyatt's website, here.  Premium Chase Ultimate Rewards cards (Sapphire Reserve, Sapphire Preferred, Ink Business Preferred, Ink Plus, etc.) allow you to transfer points instantly 1 to 1 to Hyatt.
Best current credit card offers
All of the above offers and many more can be found on our Best Offers Page.
More Deals worth checking out
Bonus Points:
Travel deals:
Miscellaneous:
About Month In Review
Once per month we publish a round up of miles and points related news, highlights of our best posts of the month, and a list of the best ongoing deals. For those who subscribe to our monthly newsletter, this is it. Those who subscribe weekly will find this post listed in the Week in Review section. Those who subscribe to the daily or instant newsletter will receive this post directly, just like any other.
How to Fix Your email Subscription
If you find that you are receiving duplicate emails or would like to change the frequency of your emails, please do the following:
Find the "click here to safely unsubscribe" link at the very bottom of the email. Click the link to unsubscribe.
Visit our Subscribe to Frequent Miler page to subscribe to instant, daily, weekly, or monthly newsletters.
Long term readers who prefer the old style "Quick Deals Only" emails should visit our Advanced Options subscriptions page.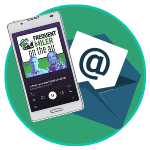 Want to learn more about miles and points?
Subscribe to email updates
 or check out 
our podcast
 on your favorite podcast platform.