I don't know about you, but this happens to me all the time.  When my wife or I decide to buy something, I wonder if an Amex Offer can help make it cheaper.  I could log into our Amex accounts and look through the Amex Offers for You section, but that would take quite a while.  Across our primary and authorized user cards, my wife and I have a very large number of Amex cards.  And it's not enough to look at just one to see if an offer is available.  Many offers are targeted just to certain cards.
Here's a solution.  Visit our new page: Current Amex Offers.  On that page we've done our best to assemble all of the currently active Amex Offers into one searchable table.  For example, suppose you're planning to stay at a Hilton hotel.  In that case, you can type "Hilton" in the search box to filter to the offers that have Hilton anywhere in the name.  There you'll see multiple opportunities to save up to 20% at Hilton properties:
Currently the table contains only offers found on my (or my wife's) cards, but over time we'll add offers that readers find on their own cards when they're not already listed.  If you find an offer like that, please post the details in the comments of the Current Amex Offers page.
Over time, we also plan to add notes about key offers to help people figure out how best to use them.  In some cases the note may simply be a link to a relevant post, or it might be a quick tip such as "Use promo code XYZ to get an additional 15% off".
Keep in mind that if an offer appears on the Current Amex Offers page, it does not mean that you have that offer on any of your cards.  Instead, it means that you might have the offer and if it's a good one that you can use, you'll know to go hunting for it.
What do you think? Will this be a useful tool going forward?  Please let me know!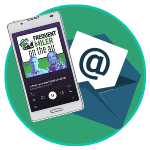 Want to learn more about miles and points?
Subscribe to email updates
 or check out 
our podcast
 on your favorite podcast platform.