Update 11/11/20: The hits keep coming. As per Dan's comment below, there are several data points on FlyerTalk today suggesting the reduced $400 limit has now also gone the way of the dodo. In its place there appears to be a newly reduced limit of $99 $49.99 or $50. That's the limit placed on Vanilla Visa gift cards at Walmart which makes it seem like it's something which has been implemented by Walmart rather than MetaBank.
Having said that, there were reports of issues liquidating cards at the Kroger and Albertsons families of stores recently too. That initially made it seem like a MetaBank issue rather than it being some kind of coordinated effort by all these grocery chains/superstores.
Either way, this clearly isn't a positive development.
~
Last week there were an increasing number of cases where people were having issues liquidating MetaBank Visa gift cards at Walmart, Kroger and its affiliate stores and Albertsons and its affiliate stores.
There were haphazard data points as some people weren't having any issues at all, but there was a significant number of people around the country reporting that transactions were being declined, particularly when liquidating $1,000 Visa gift cards purchased from Simon Mall.
There are now an increasing number of data points suggesting that MetaBank Visa gift cards are being limited to $400 per swipe at Walmart. Mike gave us a heads up in the comments of the previous post, with several data points on FlyerTalk suggesting that swipes of exactly $400 or less are fine, but anything larger than that will likely get declined.
If this change holds, that'll reduce the appeal of $1,000 Visa gift cards purchased from Simon Mall because it'll mean that each card will require three swipes to liquidate rather than one. That therefore increases the hassle of each card, as well as the liquidation cost.
While this is a disappointing development, it isn't as bad as it could've been. When reports of problems with Visa gift cards increased a week or two ago, many of the reports were from people simply unable to buy a Money Order. That didn't bode well at all, especially if you were sitting on a large pile of Simon Mall cards purchased with one of their recent promo codes. At least now we know – for now – that you can still use the cards at Walmart; you're just limited to $400 per swipe. There's therefore no need to scramble for a new liquidation method, but it will take a little more patience and time and fees to do so. Having said that, it's always worth having multiple liquidation options just in case further changes are brought in.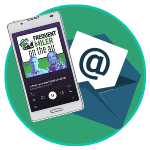 Want to learn more about miles and points?
Subscribe to email updates
 or check out 
our podcast
 on your favorite podcast platform.