Well, Marriott told us it would happen in April and it did. Barely.
Dust off those neglected free night certs, the long-awaited ability to top-off Bonvoy Free Night Certificates with up to 15,000 additional points is now live and ready to book.  Marriott will be working tonight and tomorrow to make sure that it functions as expected, so don't be surprised by some Bonvoys…err, glitches…over the next 24 hours. It appears to only be working on the website right now, but should be up and running on the app shortly.
The Deal
At long last, Marriott Free Night Certificates can be topped with up to 15,000 additional points in order to reserve a more expensive property. These include the 35K, 40K, 50K and 85K certificates.
The Marriott site or app will automatically see that you have a certificate that is within 15,000 points and give you the choice of the cert/point combo or just points.
Members have the flexibility to add points to each eligible free night award including those used to book a multi-night stay.
Members will still be able apply to a Suite Night award a redemption reservation, regardless of whether that redemption is made using standard points, PointSavers or free night awards.
Should a member choose to modify a reservation in any way, it may impact the points needed to redeem for the stay, which may go up or down depending on the dates.
Top-ups DO NOT appear possible on rooms that include a cash upgrade.
Quick Thoughts
Better late than never. Marriott originally announced the ability to top off certificates last October when they revealed significant changes to their award program (which have since taken effect) and then announced an April live date when they made the change to dynamic pricing. Well, Stephen Pepper's birthday was today and I guess it provided the perfect opportunity to finally roll it out.
This will be a win for everyone in terms of certificate flexibility. My wife and I have been making Summer reservations, including for a trip to Europe next month, and have been banging our heads against properties that are just out of reach of our certificates (37K, 43K, etc). There's no hiding now, sneaky Bonvoy properties, we're coming for you.
While I wish they would go the IHG route and not put a maximum limit on the amount of top-up points you can use, and the fact that they still charge resort fees when redeeming them is a blemish when compared to other programs. It's also disappointing, although not unexpected, that it doesn't seem to work on rooms that have an upgrade component, which could make it trickier at some higher-end properties.
Still, I'm thrilled at the additional flexibility the top-ups will provide. The 35K certs, in particular, will be vastly more usable. It's good to hear that functionality will be in place to top-up as part of a multi-night stay as well…although I could see that having some hiccups in the beginning.
See Also: Best Uses for a Marriott Free Night Certificate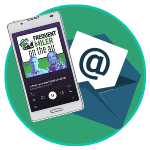 Want to learn more about miles and points?
Subscribe to email updates
 or check out 
our podcast
 on your favorite podcast platform.