Marriott has a huge number of hotels worldwide.  For this post, I've collected suggestions for the best hotels that are bookable with Marriott free night certificates.  Marriott offers annual 35K and 50K free night certificates to cardholders of various Marriott credit cards.  When booking a free night, you can now "top off" the certificate with up to 15,000 points.  This means that 35K free night certificates can be used at properties costing up to 50K points and 50K certs can be used at properties costing up to 65K points.  Unfortunately, Marriott no longer publishes an award chart and so it's not easy to know which hotels are definitively bookable with 35K or 50K free night certificates, but the hotels listed below should usually be within range…
This post has been re-published several times.  Its origin and the vast majority of updates were driven by reader recommendations.  Readers have commented to tell us which Marriott hotels within range of free night certificates they liked most, or they reviewed properties on this list (for better or worse).  But we're not done (we'll never be done with a list like this!).  I'd love to get more recommendations.  Marriott has a huge portfolio of hotels and I have no doubt that there are many more amazing places to stay.  Please comment below if you have recommendations.
Updates
This post was last published March 28th 2022.  Since then, I've updated the post with some reader recommendations plus new finds of my own. Icons next to each hotel name indicate whether the hotel has been newly added to this post, or has been updated with additional information:
🆕 = Hotel newly added to this post
✍ = Hotel updated with new reader review(s)
About Free Night Certificates
Marriott's 35K and 50K free night certificates are given to cardholders each year on your card's anniversary.  Each certificate is good for one year from issuance and travel must be completed (not just booked) before expiry.  It is now possible to top off free night certificates with points in order to book free nights that cost up to 15,000 points more than the certificate value.
More about free night certificates:
You cannot use free night certificates on cash+points bookings.
You cannot use free night certificates on nights booked into upgraded rooms.  Sometimes hotels offer upgraded rooms for a higher point price or for a combination of points + cash. Either way, you cannot use your certs for these.
5th night free doesn't work as expected: Marriott's Stay for 5, Pay for 4 awards don't work as expected with free night certificates.  That is, if you try to apply even one free night certificate to a 5 night award stay, you won't get this benefit.  That said, you can apply certificates to longer stays.  For example, if you want a seven night stay, you can apply two certificates and then you'll be charged for only 4 nights in points.
Each certificate is good for one year from issuance, but can also be extended for another year by calling (see: Marriott Rules for extending free nights).
You can add up to 15,000 points to book a hotel which costs more than your certificate's top value.  For example, it's possible to book a night that costs 65,000 points with a 50K certificate plus 15,000 points.
These credit cards offer a 35K free night certificate each year upon renewal:
These credit cards offer a 50K free night certificate each year upon renewal:
Best Uses for 35K Free Night Certificates in the U.S.
The hotels in this section have historically been priced "around" 35K points and so are likely bookable with 35K certificates.
Arizona
Kathy says: "Can confirm after a stay in September that the Adero Scottsdale is a great use of 35k certs! Would say set your expectations to "pandemic staff shortage" — it seems a lot of people are still in training and some of the service didn't totally match what you would expect at a resort type property. But that may just be growing pains/sign of the times and the property itself is great and excellent value for 35k."
Pam says: "I haven't stayed at the Adero, but rather at a small boutique just down the road. That Eagle Mountain area has some of the absolute best views in the Valley. Magic at night the stars over the hills. The area is a little off the beaten path, so I think combining a stay with some of the others mentioned is ideal."
This one didn't originally come from reader recommendations, but I thought it looked really nice!  Here's how the hotel is described on Marriott's website:
ADERO Scottsdale, perched high above the Sonoran Desert, is the only Autograph Collection® destination in a certified Dark Sky Community. The AAA Four Diamond Resort was also named to the prestigious T + L "It List" and Condé Nast Traveler's "Hot List" for 2021. All 177 spacious rooms (including 16 oversized suites) feature a private balcony for guests to enjoy unrivaled starry skies and sweeping views. An idyllic setting for intimate celebrations and gatherings, ADERO offers guests endless opportunities to indulge in the great outdoors. An elevated escape with a world-class fitness club, luxurious desert-inspired spa, farm-to-table cuisine, poolside oasis, on-site trailheads for hiking and mountain biking, access to neighboring SunRidge Canyon Golf Club, nightly stargazing, and 17-acres of wonderous desert setting to host your next meeting or event. ADERO invigorates the mind and stirs the spirit for getaways that are true adventures for the soul.
Arkansas
Little Rock Marriott is a great point/cert redemption. Tho Cat 3, you can often find rooms for 15k/17k MRs. It is formerly a Peabody Hotel (like the duck hotel in Memphis) that has gone thru a major transformation

The on-site restaurant, Heritage Grille, has some of the best steaks you will ever eat. The river views from the elevator to your room floor are spectacular (reminds me of those old Hyatt Regency elevators). Good about huge suite upgrades, rooms very comfy. They even have those thoughtful motion lights at the base of the beds for when you get in/out. All about service as is attached to the convention center. It is also located next to historic bldgs with plenty to walk around & see.

Across the street is the Capitol Hotel. Go inside for a peek at the elaborate lobby & the balcony above. Or the extea large elevator built for horses in the day. Is an iPrefer prop bookable with their points. Considered best hotel in Arkansas.

You can walk or bike across the "Big Dam Bridge," the longest pedestrian and bike bridge in the US, spanning over 4,000 feet across the Arkansas River.

From March-June you can tour
P. Allen Smith's Moss Mountain Farm, an epicenter for the local food movement. About a 30-45 min drive north of LR. Absolutely gorgeous property & a really fun day.
California
Adventure NML says: "I love the Avenue of the Arts in Costa Mesa. Just 2.5 miles from SNA Airport, situated on a pretty water feature, convenient location…the rooms are great; the staff is gracious, and it's only category 4! Rare to find a cat 4 with such quality in California, especially in such a good location. I think this is one case where getting less than your "points worth" on a certificate can still mean getting a better value in "dollars worth" and overall experience."
John writes: "Hotel Republic in San Diego is a category 5 Autograph Collection property. Great use of a 35K cert. Easy access from the airport using clean public transportation. Located between Little Italy and Gaslamp Quarter it's an easy walk or tram ride to anywhere you'd like to be as a tourist."
Florida
Budd Cann says: "We stayed at Celebration Bohemian several years ago prior to checking in to timeshare. My most vivid memory is watching an osprey catch a fish in the lake, then seeing a bald eagle take it away in mid air! Neat little community, started as Disney planned community."
Diane says: "I've stayed at the Art Ovation in Sarasota recently and loved it. Staff super friendly, free breakfast, bikes, beach chairs. In a great spot downtown near restaurants. So I checked out the reviews for the Sarasota Modern. They were horrible. Think I will stick with the Art Ovation."
JW in Georgia says: "The Art Ovation in Sarasota is nicer than (and way more fun and not nearly as dated as) the Ritz in Sarasota. Great piano people sometimes play. Love the hotel."
GatorLitigator says: " Instead if the Art Ovation, which is less impressive than the website would make you think, stay at The Sarasota Modern, which is Tribute Portfolio vs. Autograph, but still a category 5. My wife and I like it much better. As a Titanium, you'll get free breakfast off the menu and can probably get an upgrade to one of those great large suites on the top floor with a Tub and Shower out on the balcony (you still have an indoor shower if you prefer). It's a great hotel with a nice relaxing pool and you can still walk a couple blocks over to view the artwork in the lobby and 'gallery' at Art Ovation."
Illinois
Hotel Chicago, Autograph Collection
Michigan
The Inn at Bay Harbor is a long-time favorite of mine.  The best time to visit is in the summer, but you'll have to book way in advance to snag a summer room.  Start looking in September or October for the following summer.  Often, the hotel requires booking 2 nights at a time or 3 nights for weekend arrivals, and so searches for 1 night stays may not result in any availability.  To use your free night certificates here, you'll likely have better luck booking a fall or spring getaway.
Missouri
Kirby says: "Also in St. Louis is an Autograph Collection Marriott Cat. 5… the Hotel St. Louis gets great reviews and is in a bit nicer location than the Last Hotel. Have reservations for later this summer."
New York
Ava says: "The Courtyard Lake Placid (NY) is a nice Cat 5 option. It looks like it's pricing at 40K points per night for most of the summer, but in Sept drops back down to 35K. Cash rates are consistently $200+ per night. We stayed there in March using 35K certs. It has a fun "mountain lodge" feel and two hot tubs at the indoor pool."
Ohio
This one looks super cool! It has a bar named "The Vault" which appears to be made out of an actual bank vault.
Gino says: "I've stayed at the 9 in Cleveland a couple times and it is an excellent hotel – definitely good for a trip for two given the bathroom setup in the standard rooms. They have an excellent rooftop bar and a good restaurant as well.  If you can find a night that's not peak-priced, it's an excellent use of a Marriott FNA. They've priced almost every weekend night at peak through the end of the year."
Oklahoma
Pam says: "Start at the Ambassador Hotel downtown OK City – historical, interesting, & redone. Autograph Collection Cat 5. Tour the bombing memorial & museum. Especially the outdoor chairs lit at night, you'll never forget. Exceptionally well done, & you feel in a small way you were a part of that awful day."
Lynn says: "Another standout we recently visited was the Ambassador Hotel in Tulsa, Oklahoma. Historic hotel with beautiful and large rooms, great restaurant and friendly and helpful staff. Category 5."
Kelly Grounds says: "The Ellison that just opened in Oklahoma City will for sure make the top of the list in Oklahoma. We are here now. Just opened in Dec 2021.  They are willing to upgrade with any status at The Ellison. They have 4 rooms called 'the writer suites' that are great rooms."
Pennsylvania
I added this one because it offers both indoor and outdoor pools, and beautiful lake views.
Many Courtyards are ok. Some, not so much. This one is a cut above your average Courtyard.

I used a 35K certificate at this place back in 2018 on a road trip headed to New York's Finger Lakes. As Titanium, I was upgraded to a room with a balcony overlooking a gorgeous Lake Erie sunset. I had a Lake Erie Monster burger for dinner which was pretty tasty. Sadly, I couldn't eat it all.

Our room was clean. Service was friendly. I'd make a point of staying there again if I found myself in the area. You'll pay for onsite parking as there really is no other convenient place to park. Don't remember the price.

They got the $10 F&B credit wrong and only applied it to me rather than applying it for my wife as well. I wasn't familiar with the bizarre Marriott breakfast rules at the time, so I never brought it to their attention.

That's the quick rundown anyway. I'd give it a thumb's up.
Dee says: "The Oaklander Autograph Collection in Pittsburgh is in Oakland, not downtown. The new AC is downtown, but I haven't seen it yet. Oakland is home to Univ. of Pitt, CMU, Carnegie Museums, Phipps Conservatory and Schenley Park. So, lots to do. Good restaurants in two adjacent neighborhoods – Shady Side & Squirrel Hill. I live in Sq Hill and have eaten at the hotel restaurant, which is good and has nice views since it is on the top floor."
New hotel, no reviews yet
Becky writes: "Downtown Pittsburgh is a really fun getaway."
Puerto Rico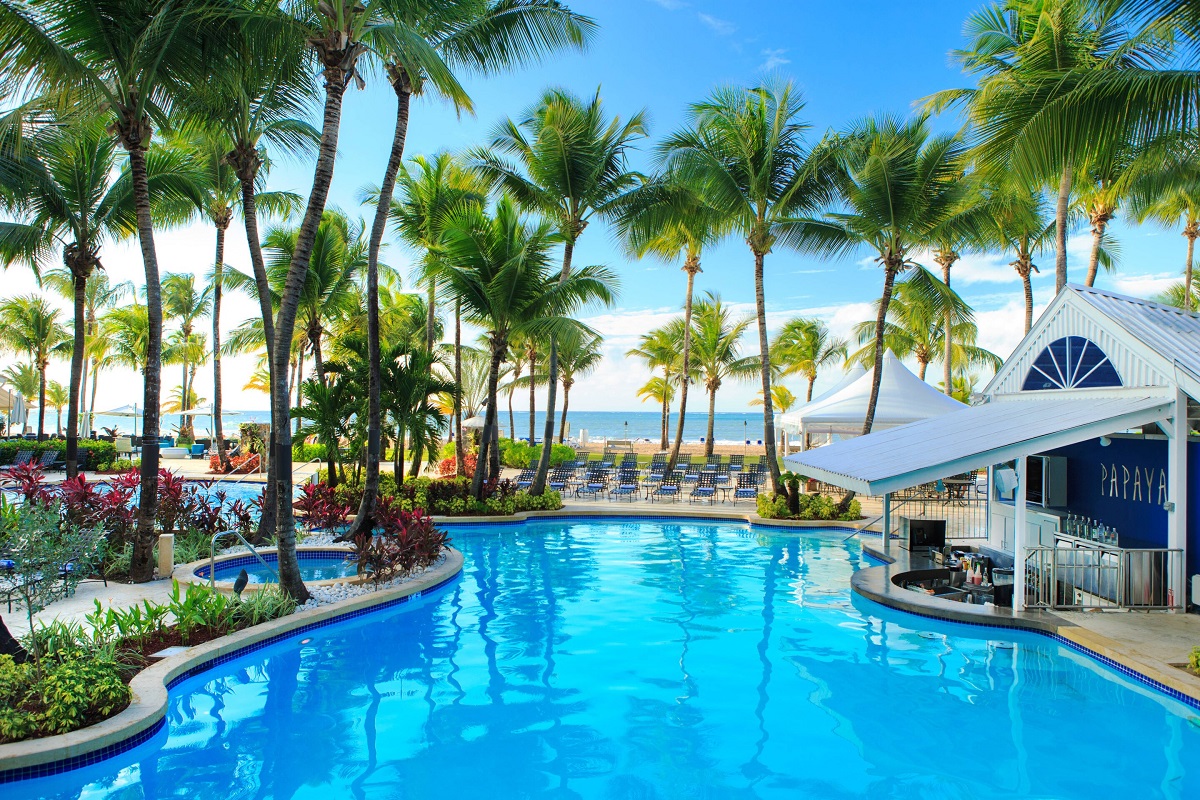 Ava says (Via Frequent Miler Insiders on Facebook): "I stayed here in 2019 and enjoyed it. Nice beach and pool. It's close to the airport and I saw some reviews online about plane noise, but we didn't have a problem."
Texas
This is a brand new hotel and so we do not yet have any reader recommendations for the hotel itself.
Pam says: "A visit to the Palo Duro Canyon is a must. It is the second largest canyon in North America, the Grand Canyon of Texas. Even if you choose not to eat there (but actually pretty good), pay a visit to the Big Texan Steak Ranch."
GatorLitigator says: "I just stayed at the Adolphus a few months ago and it is a top notch choice."
My new favorite use of 35k certs is also a new property that opened in 2021 – Hotel Drover Autograph Collection in Fort Worth.

This is new boutique build in a completely redesigned & renovated area in the Stockyards (about a 10-minute drive into downtown). The builders describe it as "Swanky Rustic" & "Western Elegance," but you will just sit back & say "Yippee!"

The 200 rooms are each unique with just the right proportion of cowboy decor to modern. It reminds me a lot of the Hotel Emma in San Antonio (its that good) with its unrelenting attention to detail and design, but the Drover can easily be had on most given days for 35k points (vs $500, though I guess that will soon be changing). Meanwhile my 35k certs all posted this month, and I'm hitching them each up to the Drover!

Marine Creek runs along the back of the property. You can follow it for a short 5-minute walk to Tim Love's (celebrity chef) new Mexican restaurant, Paloma Suerte, his flagship Lonesome Dove, burgers at Love Shack, or whatever else you could want right on Mule Alley, including a custom Stetson hat or Leddy's boots.

Full Globalist breakfast (gasp!) at the in-house restaurant, 97 West. Breakfast was great, but I would look elsewhere (above) for other meals – though beautiful their food is the weakest part of the property.

I applied a SNA for a VP Suite, huge & gorgeous with its own fireplace. Wonderful hotel outdoor pool & hot tub overlooking the creek. Lots of sitting areas to take a drink & enjoy the foot traffic on Mule Alley from the front perch on the 2nd floor or peaceful creek views from the back.

10-minute walk to Billy Bob's, 5-minutes to the new John Wayne Experience (a must do even if you don't like him or westerns, is very Americana with modern effects, so well done).

GO – no better use of 35k MRs in the US that I've found!
Trent Peng says: "One place that comes to mind is Gaylord Texan Resort in Dallas (technically, Grapevine, TX). It's an all-indoor resort with beautiful fountains, a faux Riverwalk, lots of kid-friendly activities, several restaurants, nice rooms with balconies, and a shuttle taking you to the waterpark next door. I'd gladly take my 35K FN there. Oh and it's close to the DFW airport too."
PeterSFO says: "I was there for a conference, the hotel itself is huge and amazing although I seem to remember the area around it being pretty dead. I don't think we ever left the hotel although that might have had something to do with the company sending us to Dallas in February…"
Dee says: " I stayed at the Gaylord TX for conventions several times. My industry loved Gaylords for conventions. There are more of them, but I think TX is the oldest. Denver might be the newest. They are huge indoor resorts often quite a distance from a city. The "pretending you're outside when you're not" thing is not my bag, but Gaylords are a wonder."
Pam says: "The Hotel Vin is a new Autograph Collection several miles from the airport (Dallas Fort Worth). Cat 5 & very nice. Good suite upgrades. Steps from charming Grapevine Main St with lots of restaurants & shops. Hotel has an attached Food Hall, probably nicest ever seen. Right off the Vintage Railroad you can take into Ft Worth."
U.S. Virgin Islands, St. Croix
Suggested by Brian (Via Frequent Miler Insiders Group on Facebook).
Note from Greg: There are quite a few very negative recent reviews.  Make sure to read up on recent reviews before committing to a trip here.
Virginia
GatorLitigator says: "Instead of the Morrison House, consider The Alexandrian, also a category 5 Autograph Property. It is located right on King Street, just down from the Waterfront. There is great walking, shops and restaurants all around downtown Alexandria and you are close enough to walk to the George Washington Masonic Memorial. As a bonus, since you seem to be a Kimpton fan, the Alexandrian was a Kimpton hotel called the Hotel Monaco, Alexandria until about 2015. I stayed there both before and since the changeover and the hotel retains the Kimpton vibe and a solid breakfast at the restaurant as well as an afternoon complimentary wine hour in the lobby, although I don't know if COVID cancelled that."
Dee says:"We stayed at the Alexandrian in Old Town Alexandria a couple of years ago during cherry blossoms. Lovely place. Excellent location right in Old Town. We took the water taxi at the end of the block across to DC."
Wendy says: "If you haven't been, the Morrison House in Alexandria is a favorite of ours. Lovely property and great location in a quaint city."
Washington
Wendy says: "The Historic Davenport in Spokane is another great choice."
We enjoyed the Davenport in Spokane. One of the prettiest lobbies & ballrooms of any hotel I have ever seen. The Doge & Marie Antoinette ballrooms esp beautiful.

The Davenport was the first hotel w a/c & inventor of the Crab Louie, named for the owner Louis Davenport. You can still order the original salad at the Palm Court restaurant. Rich history commemorated throughout the stunning public areas. Bing Crosby performed there. Spend a coupla hrs to walk around & take in all the memorabilia.

Where all the glamor somewhat falls apart are the rooms themselves. I'll lv it at "historic." We had a jr suite upgrade, but the Circus Room #708 is the one to book if you're not creeped out by painted circus animals circling your bed! It is the only surviving original guestroom. The layout is weird with 2 KS beds but ask the front desk to see it if you go, it's one of a kind.

Nice 4th fl rooftop bar. Soft peanut brittle was invented at the hotel, & you can purchase at the lobby shop for gifts to take home. As for the other Marriott choices, Lussa is boutique and across from the Davenport. It is newer & certainly may be a better room option (though small), just make sure to chk out the Davenport public areas & restaurants/bars.

The Tower is one block over. No idea about its rooms, but its African themed lobby is interesting. The Grand is across town. It was built for the convention crowd with a Las Vegas bent. It's nice enough but completely different from any of the other Marriotts described.

About 30 min to Coeur d'Alene ID. The resort can be booked with Choice or iPrefer points. Charming town, the lake reminds me of Lake Tahoe. Beautiful in the fall. If you are still feeling adventurous, the northern 4 hr drive to Whitefish MT on 2 thru Libby is not to be missed. One of the best road trips in the US.
Best International Uses for 35K Free Night Certificates
Americas
I added this one because it gets decent reviews and there aren't many good points options in Belize.
Our writer, Tim Steinke, had a great stay here.  See: Delta Hotels Toronto Downtown: Bottom Line Review.
Isavethings says: "The Delta in downtown Toronto is a fantastic hotel, directly across the street from the CN Tower and a few blocks from the water. One of the best cat 5 hotels I've stayed in."
JW in Georgia says: "Delta Hotel Toronto also has a great view especially from the club lounge on top. Love to watch the prop planes land at the small Toronto city airport."
This resort gets excellent reviews online.
From the hotel's website: "For over a century, The Algonquin Resort St. Andrews by-the-Sea, Autograph Collection has offered travelers an exquisite stay in New Brunswick. Our year-round resort invites you to enjoy family time in our indoor heated pool with three story waterslide, pamper yourself at our spa, or spend the day on our spectacular award winning golf course with friends."
Julie says: "I stayed at the JW Marriott on Copacabana Beach in Rio during Carnival and enjoyed it very much. I enjoyed the rooftop pool, and the club/lounge had excellent food in the morning and evening including full entrees and sides."
Michael Tarlow says: "Curacao is a relatively hidden gem in the ABC Islands where you can safely travel in the Caribbean during hurricane season. There are two cat 5 properties. The Renaissance Wind Creek is conveniently located close to downtown and has a man made lagoon. The Curacao Marriott Beach Resort is only a few years old but not as conveniently located. IMO Curacao has 2 of the most beautiful beaches in the Caribbean however they are 30 to 45 min from the resort area so you will need a car. Still relatively undiscovered, prices in restaurants are very reasonable. One word of caution, if booking the Renaissance there are actually some rooms with no windows!"
Michael Tarlow says: "Curacao is a relatively hidden gem in the ABC Islands where you can safely travel in the Caribbean during hurricane season. There are two cat 5 properties. The Renaissance Wind Creek is conveniently located close to downtown and has a man made lagoon. The Curacao Marriott Beach Resort is only a few years old but not as conveniently located. IMO Curacao has 2 of the most beautiful beaches in the Caribbean however they are 30 to 45 min from the resort area so you will need a car. Still relatively undiscovered, prices in restaurants are very reasonable. One word of caution, if booking the Renaissance there are actually some rooms with no windows!"
I added this one because it looks very nice and gets very good reviews.
I added this one because it looks very nice and gets very good reviews.
This Marriott Luxury Collection resort in Peru was ranked #11 in Travel & Leisure's Top 100 Hotels of the World for 2021.
Via Frequent Miler Insiders, a group member wrote: "Hotel Paracas is amazing. They have a free boat that takes you to the islands (they call them the mini Galapagos) and you get your own cottage. Great food too."
Asia
S&S says: "ITC Grand Chola, Luxury Collection, Chennai.  Has a palace like feel. Very regal. From the princely welcome to the historic interiors, the hotel is just wow.  One of the most elaborate, delicious and authentic South Indian breakfasts we've eaten anywhere in India.  ITC is known for hospitality by the book.  They didn't disappoint us one bit.  They even safe guarded a fitbit I had forgotten there and arranged for it to be handed over to a contact."
Vik says: "JW Marriott Mussoorie Walnut Grove Resort & Spa is a nice Cat 5 option in India."
Dave A Chakrabarti says: "I'd definitely compare cash rates for anything in Thailand; the country has absolutely *stunning* hotels for very low cash rates, making it a poor use of a cert or points in dollar terms a lot of the time.  The JW Marriott in Bangkok is a good example; great hotel, usually in the $100-$125 range pre-apocalypse. 35k points."
This resort gets great reviews and looks stunning.
Europe
NK3 says: "Last summer we used a couple 35K certs at the Sheraton Dubrovnik Riviera. It was a great value–rooms were about 400 euros a night when we stayed. The hotel is 15-20 minute drive from the main tourist sites, but Uber works well there and was cheap (like $10 a ride or so). We preferred staying in the quieter but beautiful area. The hotel is only a few years old. The partial sea view room we were upgraded to felt more like a junior suite, and had great views."
Le Méridien Etoile, Paris, France
PointsForFamilyTravel says: "Another option for the 35k annual cert is the Le Meridien Etoile in Paris. We always stay in the hotel across the street for Eiffel Tower views, but we would definitely use our stack of 35k certs in Paris at the Etoile is a great deal!"
Hotel am Steinplatz, Berlin, Germany
Euro says: "I stayed at the "Hotel am Steinplatz" in Berlin 2 years ago. First Autograph Collection hotel that I stayed at and it made me a fan of the brand ever since. Large, elegant rooms with small hints of personality just here and there. Understated luxury, great breakfast and wonderful staff. Located in a quiet neighborhood."
cbt says: "We had a 5 night stay at Roomers in Munich and I was very impressed. Extremely stylish, great staff, and an incredible breakfast. It seemed like a place to see and be seen."
L T says: "Hotel Bristol in Old Town Warsaw is a real luxury hotel at Cat 5 standard"
Penha Longa Resort is a Ritz-Carlton property in Sintra Portugal.  It was featured in Travel & Leisure's The Top 100 Hotels in the World for 2021.
This hotel looks incredible to me.  I can't wait to try it out.
From the hotel's website: "At Torre de Palma Wine Hotel in Portugal's Alentejo region, first-time hoteliers Ana and Paulo Rebelo pay homage to the adage "to live like Romans". The former pharmacists have all the ingredients that make for good living: elegant interiors in perfect harmony with nature, wine tastings from the hotel's own 14th century vineyard and winery, an indulgent spa, and a restaurant that serves Alentejo's best delicacies as well as offering culinary workshops. Ride a Lusitano horse, have a picnic in the vineyards or surrounding nature, swim indoors or outdoors, or run through the property's orchard . . . whatever you do, this is glorious isolation at its best and you couldn't be in better hands."
Kris says: "The Courtyard Basel (Switzerland) is only a Category 3 but the cash rates can easily top $200 per night. So it might be better value with points than a cert, but I've used both. Basel is home to a very charming Christmas market that I love – my sister and her family lived in Basel for several years which meant several Christmas seasons in Switzerland. While the hotel is outside the city proper, it is within walking distance of the excellent tram (free with hotel stay), and they have a serviceable breakfast buffet that is free for Marriott elites."
Middle East
Our own Stephen Pepper has been to this one and he loved it!  Read his review here: Marriott Mena House, Cairo: Amazing Pyramid Views!
Also, TravelPenguin says: "Marriott Mena House in Cairo is very nice and RIGHT by the pyramids."
South Pacific
Jamal says: "The Marriott Resort Momi Bay (Cat 5) is one of my favorite hotels in the world…friendly Fijian Bula at every turn, off the beaten path so not tourist heavy, great food, and service is TOP-NOTCH (albeit with the island life sense of urgency). I also stayed at both the Westin and Sheraton in Fiji (also Cat 5s) but never published the reviews. Don't worry, they weren't good."  Jamal's in-depth review can be found here.
Best Uses for 50K Free Night Certificates in the U.S.
Alabama
Jamon says: "The Grand Hotel Golf Resort & Spa, Autograph Collection. I stayed at the property when it was a category 5 so I was able to use 35K certificates but it is now classified as Category 6 (50K Certificate for standard nights). The resort is beautiful and it was voted in the top two as Alabama's best hotel. Delightful property. Relaxing atmosphere. Good breakfast. Popular among couples. Located on the beachfront in Point Clear, Grand Hotel Marriott Resort, Golf Club features 7 restaurants and lounges. This Southern-style resort features a private beach along Mobile Bay along with two 18-hole golf courses and a luxurious spa with beauty and massage therapies.
And Points Adventure replied: "Wow, I literally was going to say the same thing! Except I stayed when it was just 30k. Beautiful property, a former plantation I believe. I loved the location right on Mobile Bay; it was serene in the winter. Made use of the free bikes around town. When I stayed, there was pretty much zero skin color diversity among the guests, so just keep that in mind if you're not white. For me it felt like a different world (not in a bad way)."
Arizona
I've personally stayed here, and loved it.  See my review: Ritz Carlton Dove Mountain Tucson. Bottom Line Review.
California
BL-K says: "For 50k certs in California, Hotel Trio in Healdsburg is category 6. In wine country you're paying for the location. Healdsburg is a great launching pad for different Sonoma wine regions. This property is a residence inn, so don't expect a luxury property. It's a newer though and our room was very nice. The other Marriott properties near wine country that are worth staying at are category 7, so off peak availability would be a possible use of 50k certs. I would skip the all the category 5 properties in near wine country."
Vince says: "The Vespara Resort at Pismo Beach, California, has been a good use of 50K certs. Very nice property right on the beach, and boardwalk. Walking distance to all of Pismo, including the pier. Rooms and entire property are updated. Nice restaurant with good breakfast benefit, and also given drink coupons as well upon check in (not sure if that was for Platinum or not). But it shines for its location and views. Wonderful beachfront property in an authentic California beach town."
Colorado
Sam says: "100% would put the Viewline Resort in Snowmass to this list (formerly the Westin Snowmass). Just opened in December – Nights are 50-60k and cash rates consistently north of $800 in ski season. Resort is ski in/ski out."
Florida
Jerry says (written before Marriott increased award rates here): ""The Ben" in West Palm Beach is also a terrific use of the cat 5 cert. Rates are regularly above $300 a night. They seem to also price weekends at the peak price quite often, which is of course frustrating when you want burn a cert."
This Courtyard hotel gets excellent reviews.  If you're looking to stay in the Florida Keys with a free night cert, this may be your best bet.
Hawaii
Most Marriott high end resorts in Hawaii are priced out of range of 50K certs, but this one gets good reviews and is usually bookable for under 65K points.
But Pam says: "The Westin Hapuna can't even begin to compare with the Mauna Kea just down the road. Cat 7, but off-peak 50k point rates are plentiful enough if you are persistent. Built & furnished by a Rockefeller, it exudes refinement & good taste. I prefer the Beach Tower OV. At least drop by for an on-site art tour if you stay anywhere near that end of the island, the history is fascinating. Best beach on the island & one of the best in HI. Easy to understand how the hotel site was picked for the beach alone when the island was still largely untamed so many decades ago."
Kentucky
This one gets phenomenal guest reviews (average 4.9).  The following description is copied from the Marriott website: "Hotel Distil is for those who thirst for new experiences. It's an authentic hotel in a historic location on Louisville's Whiskey Row. It's a home for connoisseurs of the finest comforts and gracious service. It's a space with intriguing juxtapositions where you'll pass through a historic façade to enjoy modern amenities. Hotel Distil is setting the standard for luxury in Louisville hospitality."
Ohio
This new hotel in Cincinnati gets amazing guest reviews (average 4.9).  The following description is copied from the Marriott website: "Situated within a classic 1909 building, The Lytle Park Hotel, Autograph Collection beckons guests to stay at Lytle Park's newly transformed crown jewel. Our brand-new hotel honors its refined roots in the Lytle Park Historic District in Cincinnati, all the while providing a refreshing hospitality experience. Meet the beautiful outdoor setting inside our hotel, offering guests an elegant oasis in the city with park-inspired designs. Dine on Northern Italian fare in our fine dining restaurant, Subito, share cocktails in a lively lobby bar or experience our multi-functional Marketplace. For business trips or social gatherings in Cincinnati, Ohio, our event venues boast diversity, flexibility and style, including the rooftop space, featuring a fully retractable cover that is perfect for indoor and outdoor events. Inspired by an elegant past with contemporary touches, our hotel invites you to encounter the exhilarating side of Cincinnati. Discover a new getaway between park and city at The Lytle Park Hotel."
Jess says: "The Lytle Hotel is fantastic! We stayed there last Oct and got free breakfast off the menu up to $30/person for being Titanium. They did a great job on the renovation! We live 1-1/2 hours away and it is a great getaway."
South Carolina
Bob says: "Hotel Bella Grace in Charleston, SC. Technically a Residence Inn, it has it's own style and unique design. Free breakfast is in an adjacent restaurant. It's in downtown Charleston, a very difficult city (rated by Conde Nast as the #1 most desirable small city vacation) in which to get downtown with only a 50k cert. A Cat 6, you can get a room (outside of weekends) for 40k a night (off-peak). Good use of the Titanium bonus free night cert or even the 50k cert . . ."
Utah
It's a bit strange to have a SpringHill Suites in this post at all, let alone within the 50K certificate section, but there you go.  This one appears to be an absolute gem.  And, in my opinion, any excuse to return to Zion National Park is worth considering.
Isavethings says: "I stayed at the Springhill next to Zion a few nights last summer. It is a Springhill, but only because it doesn't have a bar/restaurant. Excellent hotel and really nice rooms. This hotel is a lot of fun. It is expensive, but the location and quality of the facilities make it worth the points."
Jess says: "The Springhill Suites Springdale, UT (Zion) was also fantastic for our stay in Sept 2019. There aren't many pools with a better view. And they have a great outdoor firepit area. It is an easy walk to the Springdale shuttle stop that takes you around town and to the Zion NP entrance. Considering how tight parking is in Springdale, their free parking is a deal!"
Can also vouch for the Springhill Suites Zion. Have stayed there twice in the past 9 months and it's a great property. They are back to offering a full buffet breakfast and the pool and firepit areas have great views. There are also public balcony areas scattered around on the second floor that most people seem to not know about.

Don't sweat it if you don't get a room on the back side of the property that backs up to the river and rock faces. Views from the front side are great too.

Couple of tips for the area:
Restaurants get crowded. Make reservations or go early or late. Bit & Spur right across the street from the hotel has a great outdoor dining space.

We've taken the shuttle into the park and also rented e-bikes. I would recommend the e-bike route if your budget allows. Great fun and better than waiting with the masses for the shuttle buses. Book shuttle bus tickets in advance if you go that route. Only way into the park is shuttle bus, on foot, or on bike.

There's a liquor store next to the hotel, across the parking lot. With Utah alcohol laws being what they are, thought this would be useful for some.
JW in Georgia says: "The Springdale Spring Hill Suites is also a surprise. One of the few hotels where I would choose to go outside of a National Park (granted Springdale is adjacent to Zion). Great view of the red rock from the fire pit."
PointsForFamilyTravel says: "We loved our stay stay the Springhill Suites in Springdale, Utah (Zion National Park). We got upgraded to a two room suite with patio. Great free breakfast, heated pool. Short walk to free shuttle stop to Zion."
Vermont
Best International Uses for 50K Free Night Certificates
Americas
I stumbled upon this one and thought it looked great.  Reviews are very good.
This hotel gets mostly glowing reviews but some complain about the long, steep climb through the rainforest to and from the beach.  As someone who loves to hike, I see that as a positive, not a negative!  There's no resort fee here and yet they many activities are included: "art/cooking/monkey safaris and more."
Paul writes: "Punta Islita is a very cool place – was there with my family in 2019. I'm sad to hear that the resort now has a charge for many of the popular activities now, but the property is still worth a visit. The breakfast is very good, and you can go into the ocean at the beach area. The waves were medium sized when we were there. Also, do not sleep on the restaurant in Punta Islita town — Don Ramiro. It's a cool change of pace, with local flair, and the owner is an entertaining guy (used to work as a cook at the resort)."
DSK writes: "We were at Punta Islita for three nights immediately pre-COVID (mid-February 2020) and absolutely loved it. Beautiful views of the ocean from virtually everywhere in the resort. As far as the "long, steep climb through the rainforest", you will have absolutely no issue (we normally walked down the hill to the beach and took the free van up the hill, which will come on demand, but we walked up the hill too). We were there on points and got upgraded to a very nice room with a hammock like the one in the picture and a private pool. Food was so good at the restaurant that we ate there all three nights, which is something we almost never do. The zip lining was a lot of fun, the horseback riding (including on the beach) was great, and the monkey walk was was OK (learned a lot, but didn't see many monkeys). If you go, Liberia is closer–we wanted to stay at another absolutely awesome property in San Jose not on your list (Marriott Hacienda Belen–seriously, take a look) and it is a four hour car ride between the two resorts (which can be arranged through Punta Islita in advance)."
Devin writes: "Punta Islita's great reviews come primarily from what they offered pre-covid. The real value at this property came from the free zip lining, horseback riding, and kayaking to the ocean. Those were amazing free activities that all now have a charge. The remaining free activities, while fun, are only a small shell of what was previously offered (and resulted in great reviews). Those activities are still offered but at a significant cost (especially if traveling as a family, and even more so if you want to do the activities multiple times)."
Pam says: "The JW in Cabo is beautifully designed. The grounds & outdoor sculpture really pack a visual punch juxtaposed with the ocean. Shoot for an upgrade to the Griffin Club, a boutique hotel within the main property. The multiple food offerings, hospitality, & entertainment provided make it hard to leave just that area!"
Eric G says: "Just used my 50k certs for 4 consecutive off-peak nights at Solaz, Luxury Collection, Cabo (Cat 7). Such an amazing property!"
This resort features a private train station for easy access to trains to Machu Pichu!
Amy says: "Tambo del Inka is great — spent 5 nights there in 2018 and again in 2019. Rooms are enormous, staff is great, and the breakfast is incredible — one of the best hotel breakfasts I've ever had. Great use of points/certificates."
Via Frequent Miler Insiders, one group member wrote "Tambo del Inka is exquisite. Highly recommend!" and another wrote "Tambo del Inka (SPG luxury collection) in Urubamba, is one of my favorites spg hotels that I have ever been to" (this stay apparently happened before Marriott took over SPG).
This hotel gets amazing reviews. I can't wait to give it a try!
Asia
PeterSFO says: "The Osaka Marriott Miyako is 50k certificate eligible and quite a hotel with a fabulous view in every direction."
This one often prices around 65,000 points per night and so expect to add up to 15,000 points per night to your 50K certs to book it.  Based on images and reviews, this resort looks to be worth it… and then some.
Check out these trip reports from other blogs:
Le Meridien Maldives is an awesome resort on its own island in the Maldives.  Nick and I visited this resort in September 2021 and we loved it.  Details here: Le Meridien Maldives Resort & Spa: Guide & Review.
Europe
Greg says: "I stayed at the Hotel Bristol in Vienna frequently from 2006-2008. What I loved about the hotel was how every room was different making it a fun surprise after check-in. The rooms themselves were each spectacular and I look forward to going back one day."
Who wouldn't want to stay in a castle?
I added this one because online reviews are absolutely gushing.  Looks like a fabulous place to stay in Budapest.
Middle East
Lynn says: "When traveling with my 3 older kids, space is king. The Dubai Marriott Harbour Hotel & Suites is a category 6 and an absolute GEM. Every room in this hotel is a massive 2 bedroom suite (look at photos on the website) with a large living room and full kitchen. It is actually a 3 bedroom because there is also an old "servant's room" that is an interior space, but has a bed in it. I assume these used to be condos? Excellent views of the palm-tree shaped islands. The restaurant was great and the staff extremely friendly and helpful. Location was very good. Dubai was a very fun trip – my teenagers loved it."
More Marriott Hotels…
Below are more potentially interesting properties which I haven't had a chance to investigate…
Africa
The Ritz-Carlton Rabat Dar Es Salam, Morocco (New: Not yet open)
The Ritz-Carlton, Tamuda Bay, Morocco (New: Not yet open)
Americas
JW Marriott Hotel Mexico City
JW Marriott Parq Vancouver
Asia
JW Marriott Phu Quoc Emerald Bay Resort & Spa
Sheraton Grande Sukhumvit, a Luxury Collection Hotel, Bangkok
The St. Regis Bangkok
The St. Regis Beijing
The Ritz-Carlton, Bangalore
The Ritz-Carlton, Astana, Kazakhstan
The Ritz-Carlton Jakarta, Pacific Place
The Laguna, a Luxury Collection Resort & Spa, Nusa Dua, Bali
Le Méridien Paro, Riverfront, Bhutan
The St. Regis Changsha, Hunan
The Azure Qiantang, a Luxury Collection Hotel, Hangzho
JW Marriott Khao Lak Resort & Spa, Thailand
W Xi'an
The Ritz-Carlton, Xi'an
The Ritz-Carlton, Macau
The Ritz-Carlton Sanya, Yalong Bay, Hainan
The Ritz-Carlton, Bali
Europe
Hotel Bristol, a Luxury Collection Hotel, Vienna, Austria
Hotel Telegraaf, Autograph Collection, Estonia
Le Méridien Nice, France
Paragraph Resort & Spa Shekvetili, Autograph Collection, Georgia
Hotel am Steinplatz, Autograph Collection, Berlin, Germany
Falkenstein Grand, Autograph Collection, Koenigstein, Germany
Gekko House, Frankfurt, a Tribute Portfolio Hotel, Germany
The Ritz-Carlton, Wolfsburg, Germany
Academias Hotel, Autograph Collection, Athens, Greece
Aegon Mykonos, Autograph Collection, Greece
Domes Miramare, a Luxury Collection Resort, Corfu, Greece
The Ritz-Carlton, Budapest, Hungary
Falisia, a Luxury Collection Resort & Spa, Portopiccolo, Italy
Castillo Hotel Son Vida, a Luxury Collection Hotel, Mallorca
Hotel Ercilla de Bilbao, Autograph Collection, Spain
Hotel Palacio De Santa Paula, Autograph Collection, Granada, Spain
The Hotel Lucerne, Autograph Collection, Switzerland
The Ritz-Carlton, Abama, Tenerife
Le Méridien Bodrum Beach Resort, Turkey
JW Marriott Istanbul Bosphorus, Turkey
The St. Regis Istanbul, Turkey
Hotel Football, Old Trafford, a Tribute Portfolio Hotel, Manchester, UK
Middle East
W Abu Dhabi – Yas Island
Al Wathba, a Luxury Collection Desert Resort & Spa, Abu Dhabi
The Abu Dhabi EDITION
The St. Regis Abu Dhabi
The Nile Ritz-Carlton, Cairo
The St. Regis Cairo
Grosvenor House, a Luxury Collection Hotel, Dubai
Assila, a Luxury Collection Hotel, Jeddah
Al Manara, a Luxury Collection Hotel, Saraya Aqaba, Jordan
Al Bustan Palace, A Ritz-Carlton Hotel, Oman
Sharq Village & Spa, a Ritz-Carlton Hotel, Doha, Qatar
South Pacific
W Brisbane
Pier One Sydney Harbour, Autograph Collection
The Tasman, a Luxury Collection Hotel, Hobart, Tasmania
Reader Suggestions?
Have you stayed in any Marriott hotels that you'd recommend and which typically cost between 30K and 65K points per night?  Have you been to any of the ones listed above?  Let us know your impressions.  Please comment below!