Update 1/19/22: Frequent Miler Insiders Facebook Group member Mchl Mrvn reports posting a link to this article in the official Marriott Bonvoy Insiders Facebook group. Interestingly, a Marriott Bonvoy representative confirms that this was an error that only affected some members and seems to confirm that those who were lucky enough to receive 55 elite nights will keep the nights:
The line that sticks out to me is "We will not be adjusting any Elite Night Credit deposits for 2023". That certainly sounds like they will not be clawing back the extra elite night credits from those who were lucky enough to receive them. Unfortunately, it also means that there is likely no secret sauce to get in on this deal — either you got lucky and hit the mini-Marriott-lottery for 15 extra elite nights or you didn't. The original post follows.
What crazy thing has Marriott Bonvoy done this week? Some members are reporting that they have received 55 elite night credits based on their credit card holdings — and now Marriott has sent an email seemingly confirming that this is intentional. If this is indeed the way that Marriott intends to handle Marriott credit card elite nights, it is exciting news indeed for those with the right card combination — and it certainly may influence strategy moving forward for those acquiring Marriott cards. I'm still a bit skeptical, but I'm far more hopeful for those who received the elite night credits since Marriott has put the confirmation in an email to members.
Want to know more?
See our
Marriott Bonvoy Complete Guide
for full program details and tips for maximizing benefits.

New to Frequent Miler?
Consider
subscribing to our email list
for great content about earning miles without flying and maximizing credit cards, loyalty programs, and related deals.
Stacking Marriott Bonvoy elite night credits from credit cards
In years past, it has been possible to earn a maximum of 30 elite night credits from having the right combination of Marriott credit cards. Prior to the changes last fall to the Marriott Bonvoy Brilliant card, it was possible to receive a total of 15 elite night credits for having 1 or more Marriott consumer credit cards and a total of 15 elite night credits for having 1 or more Marriott business credit cards for a grand total of up to 30 elite night credits if you had 1 or more consumer cards and 1 or more business cards. Elite nights from multiple consumer or multiple business cards did not stack.
When the Bonvoy Brilliant card underwent sweeping changes last fall, one of those changes was that the card now comes with 25 elite night credits annually. Stacked with 15 elite nights from a Marriott business card, cardholders last year earned a total of 40 elite nights. The rollout of the extra nights was a bit messy for existing cardholders — Tim detailed his experience getting the additional nights credited here.
But this year, things are a lot more interesting….
Do elite nights from multiple Marriott consumer credit cards now stack?
We don't yet know the full details of which card combination is the magic set to stack extra elite nights, but some cardholders have received 55 elite night credits this year. Greg reported receiving 55 elite nights in our Frequent Miler Insiders Facebook group a couple of days ago.
Now it seems official. Marriott has sent the email above to cardholders like Greg (a reader shared the email above, but Greg has confirmed that he received the same email). As you can see in the email, it says that Marriott is adding an additional 15 elite night credits on top of the 40 he's already received for the year since he also has a Marriott business card. It goes on to say that You can continue to receive a total of 55 elite night credits each year you maintain two eligible cards.
That choice of wording is a little awkward: it sounds like the 55 elite nights come from having two eligible credit cards. That doesn't quite add up since there isn't an individual card that offers 40 elite night credits. I think that what's probably happening here is that cardholders who have the Brilliant card and also a non-Ritz Marriott consumer card are somehow receiving stacking nights on consumer cards (25 from the Brilliant and 15 from the other Marriott consumer card) in addition to the 15 elite nights from having a business card.
Unfortunately, not everyone is receiving 55 elite night credits. Which card combination gets 55 elite night credits?
We haven't quite figured out the finer details here. For example, Tim has the Brilliant card, a business card, and a Ritz card but has only received 40 elite nights (which is what would be expected). I have a business card, a Ritz card, and an the old Marriott Bonvoy Premier card and I have only received 30 elite nights (which is what I'd expect without the Brilliant card).
Greg has received 55 nights, but he has the Brilliant card, a business card, and (I believe) a Boundless card. Based on data points so far, I think getting 55 elite nights requires having a consumer card other than the Ritz card plus the Brilliant card. Update: See the comments for all sorts of conflicting data points. We truly just don't know what card combination is getting 55 nights or whether it has something to do with the age of accounts, etc.
There is obviously some magic combination of factors triggering 55 elite night credits for some cardholders. The most interesting thing is that Marriott has put this in print in an email. That certainly makes it seem like it is not a mistake and like it will not be limited to this year.
It would be awesome if you could get this every year
Of course, it would be great news if you could somehow get 55 elite nights out of holding the right credit cards for a number of reasons.
First, that's more than enough nights for Marriott Platinum status, which is Marriott's free breakfast / lounge access status (though note that you do need to consult a matrix to figure out whether you'll actually be eligible for free breakfast).
Furthermore, it would be more than enough to receive a 50-night choice benefit. Options could include either 5 suite night awards or 5 additional elite night credits. Someone who takes 5 additional elite night credits would then have a total of 60 elite night credits — starting the year just 15 nights short of Titanium status.
Note that there is not yet access to choice benefits since those who earned 50 elite nights last year still have the chance to select their choice benefit for a couple more days. If you go to the choice benefit selection page, you'll be looking at selecting for last year. Wait a few more days and we should see that those with 55 elite nights should then be allowed to select this year's choice benefit if they would like.
Keep in mind that these credit card nights also count toward lifetime elite status.
If it is possible to actually get 55 elite nights each year, that would be pretty desirable. Time will tell whether this sticks.
The difficulty of course will be being eligible for each of the cards. That also requires consulting a matrix: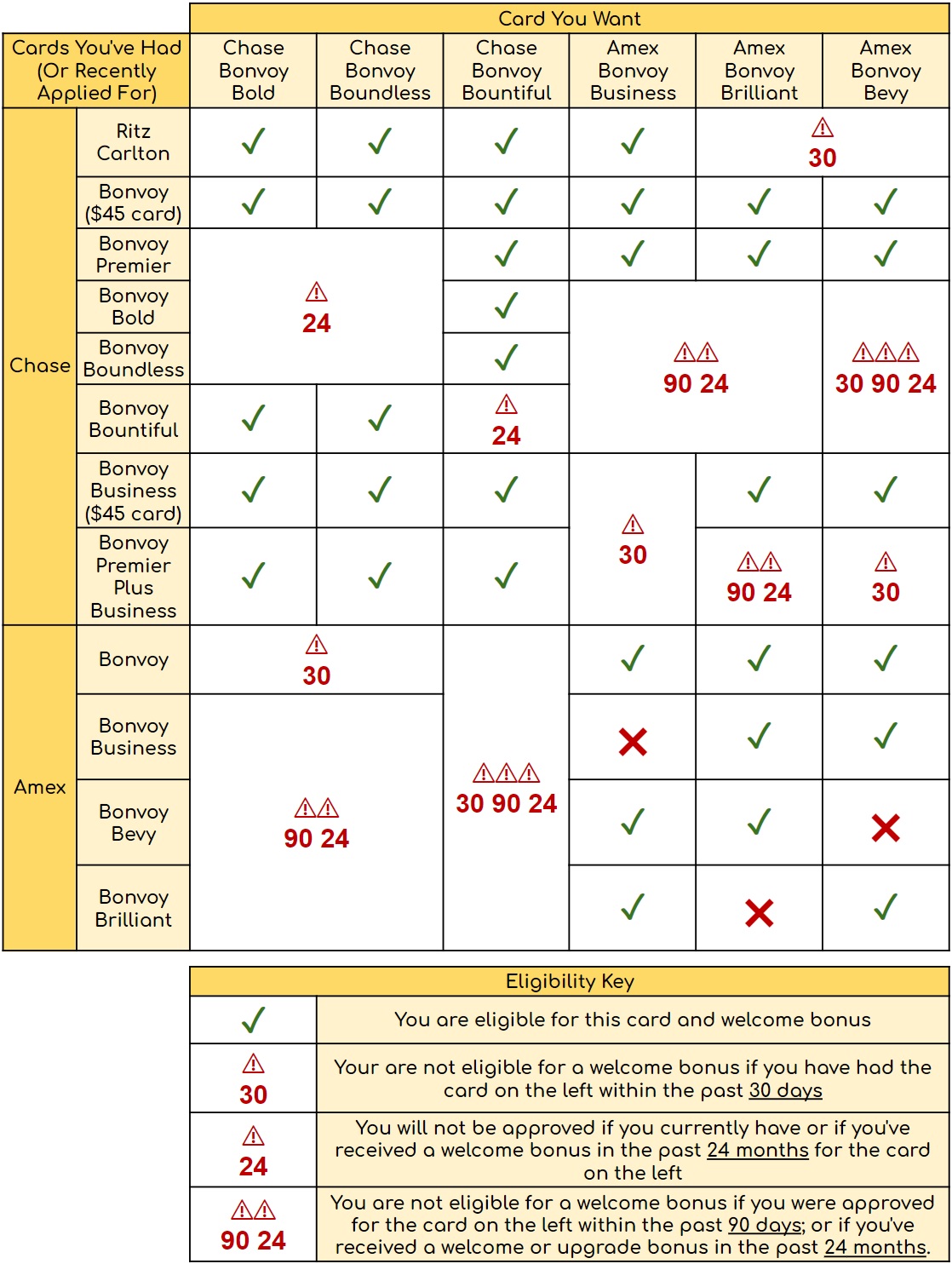 As you can see in the chart above, those of us (like me) who have the Ritz card or have had it within the past 30 days are not eligible for the welcome bonus on the Brilliant card. This has been the main reason I haven't entertained applying for the Brilliant card. However, if I could end up with 55 elite nights each year, I might be willing to entertain the possibility of dowgrading my Ritz card long enough to get the Brilliant and then upgrade again to the Ritz. I've been hesitant to do that because I am grandfathered in to a $395 annual fee on my Ritz card, but I might be willing to entertain paying the higher fee in the long-run if it means starting each year with Platinum status. Maybe. Maybe.
More likely, I'd see if we could downgrade my wife's Ritz card and do the dance with her Marriott cards, getting her annual easy Platinum status. That's because she will already face the higher $450 Ritz annual fee.
Bottom line
Marriott Bonvoy is giving some members 55 elite night credits based on the combination of credit cards they hold and they have sent an email confirming as much and that it is a benefit they can keep each year if they keep the associated cards. We'll see whether that holds up, but as things stand, we are not yet a full week into the new year and many cardholders have already earned enough elite nights for Platinum status and a 50-night choice benefit along with an easy path to Titanium status. Happy New Year, indeed.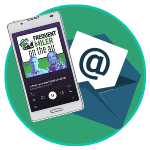 Want to learn more about miles and points?
Subscribe to email updates
 or check out 
our podcast
 on your favorite podcast platform.