With great change comes great opportunities.  Marriott's new program means a lot of change, with several good and a few great opportunities…
Before April 19: Consider getting the SPG consumer card if you don't have it already
Doctor of Credit reports a rumor that the welcome bonus for this card will be changing to $200 after $1K spend.  That would be awful compared to the current welcome offer: 25K SPG points after $3K spend (the same links sometimes show up with a 30K offer).  And I've learned from a source that the offer will be changing on or after April 19th.  I don't know whether the new offer will really be as bad as Doctor of Credit thinks, but it does seem unlikely that the new offer will be better.
Opportunity rating (Meh, Good, Very Good, or Awesome): Very Good. If you haven't had the SPG card before, the 25K bonus is worth 75K Marriott points, and the 30K bonus is worth 90K Marriott points. That isn't different than before but we now know that the points aren't devaluing and we know that this may be the last chance to get a signup bonus for this card.
Before May 3rd: Consider getting the Chase Marriott Rewards Premier card if you don't have it already.
This card is expected to become unavailable on May 3rd when Chase releases the new Marriott Rewards Premier Plus card, so consider getting this one now if you don't already have it.  Why? For this year only, the card's 15 elite nights should be stackable with 15 nights from the Chase Marriott Business card plus 5 nights from the SPG personal card plus 5 nights from the SPG business card.  You could get 40 nights total towards elite status from holding these cards alone.  With 10 more nights spent in either Marriott or SPG properties, you will get Platinum status in August when the programs merge and that status will be good for the rest of 2018, all of 2019, and (probably) through February of 2020.  Starting next year, though, credit card elite nights won't stack anymore.  Unfortunately this card is subject to 5/24.
Chase's 5/24 Rule: With most Chase credit cards, Chase will not approve your application if you have opened 5 or more cards with any bank in the past 24 months.

To determine your 5/24 status, see: 3 Easy Ways to Count Your 5/24 Status. The easiest option is to track all of your cards for free with Travel Freely.
Opportunity rating (Meh, Good, Very Good, or Awesome): Good if you plan to seek elite status or are working towards lifetime status.
Before August: Spend $75K on the SPG consumer card
In August, regular spend on the SPG cards will drop in value by 1/3rd.  The new Marriott SPG program in August will result in all existing SPG points tripling, but then the base earning rate for SPG cards will be only 2 Marriott points per dollar instead of the equivalent of 3 today.  So spending a lot on SPG cards before August makes sense.  Why $75K?  In August, a new ultra-premium SPG card will be available: Starwood Preferred Guest American Express Luxury Card.  Amex will likely have great upgrade offers for those who want to go from the SPG consumer card to the luxury card.  And one of the features of the luxury card is Platinum status with $75K spend.  The spend on your consumer card will carry over to the luxury card.  This way you'll get the equivalent of 3X Marriott points per dollar on that $75K spend and you'll get Platinum status for the rest of 2018, all of 2019, and through Feb 2020 (most likely).
Opportunity rating (Meh, Good, Very Good, or Awesome): Very Good for those who can generate high spend easily. I know that I want to spend as much as possible on my SPG cards before August and if I can secure a year and a half of Platinum status too, I'll take it.
Before August: Book stays with family and friends at SPG properties
SPG currently lets you earn elite nights for up to 3 rooms at a time.  In the new program we'll earn points for up to three rooms at a time, but only 1 elite night.
Opportunity rating (Meh, Good, Very Good, or Awesome): Meh. If you care about earning status through stays and you often stay with friends or family members in multiple rooms, then this is a big deal.  That just seems like too narrow of a population to deserve more than a meh.
Before August: Sign up for the Ritz Carlton Rewards card
Nick detailed this trick yesterday.  The current Ritz card offer is for 2 Free Tier 1-4 night stays after $4K spend.  We believe that when the Marriott and SPG programs merge in August, those free nights will be usable at any property charging up to 70K points.  That just happens to be all properties as long as you book before category 8 is introduced in early 2019.
Opportunity rating (Meh, Good, Very Good, or Awesome): Good.  At first I thought that the opportunity sounded awesome, but then I realized that 40K SPG points would get you the same 2 nights anywhere during that same time period (since the points will triple in the new system).  Plus, Chase has been shutting down the accounts of some heavy card churners who have been signing up for these cards that are not subject to 5/24.  Personally, I'd rather not risk it.
August through Early 2019: Book top tier SPG properties with points
When the programs merge in August, the SPG properties that currently cost 35K Starpoints (105K Marriott) will cost only 60,000 points (20K Starpoints).  That's a huge drop in price!  Nick detailed how some properties may see much more extreme bargains as well (See: The huge wins in yesterday's Marriott announcement).  In early 2019 an 8th category will be added to the new program's award chart and peak and off-peak pricing will be added as well. At that point, many of those same properties will cost 70K (off peak), 85K (standard), or 100K (peak).  All of those prices are still lower than today, but if you can lock in the August to early 2019 prices you'll be ahead.  Note that it is fine to book at the lowest prices for later stays.
Opportunity rating (Meh, Good, Very Good, or Awesome): Awesome.  Some amazing properties that were previously out of reach due to their extremely high award prices will suddenly be more accessible.
Reader Suggestions
Since the big announcement on Monday, my head has been swimming with ideas.  I'm sure I've forgotten to list some here.  And I'm sure that readers have thought of their own, even better opportunities.  What have you dreamt up? Comment below.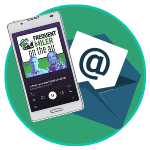 Want to learn more about miles and points?
Subscribe to email updates
 or check out 
our podcast
 on your favorite podcast platform.