Update: This post includes offers that were valid at the time of publication, but have since expired. Please click here to see the best offers currently available.
Typically, we do a month-in-review at the end of each month. However, this month we are publishing a mid-month review to recap some of the significant developments over the past few weeks and their impact on the miles and points space going into the summer.
Credit Card News
There's no doubt that the biggest news to hit the credit card space in the past few weeks has been the impending elimination of the Amex Business Platinum 50% pay-with-points rebate. This rebate, introduced a mere 7 months ago, is set to be reduced to just a 35% rebate that will be capped at no more than 500,000 rebated points annually. Additionally, they have increased the processing time on the rebate to 6-10 weeks, meaning that many existing cardholders may have just one more chance at redemption under the current scheme. I know I'm eyeing a particular business class flight to get one last shot at this before its gone. The surprise news that this benefit would vanish has been very disappointing — the pay-with-points rebate had been quickly positioning Membership Rewards as my favorite loyalty currency. [Expired]
The silver lining to that cloud is that those with account opening dates between October 2016 and May 31, 2017 will receive the uncapped 50% rebate for one year from date of account opening. The same holds true for those who upgrade in that timespan. This means that it isn't too late to upgrade or open a new account and receive this benefit for a full year. Thankfully, my wife opened her card within the golden window of opportunity to hang on to the benefit for a while longer. Still, I've been considering options to extend my tenure with this fantastic rebate that has met an untimely demise.
The other big news in credit card benefit changes comes from Chase. As we noted yesterday, Chase has updated the benefits of the Sapphire Reserve to reflect a new policy in the annual travel credit. Whereas this $300 automatic rebate has thus-far been offered as a calendar-year benefit, it looks like this will change to become a cardmember-year benefit beginning with applications received on May 21st. If you want one last shot at 2x travel credits in your first 12 months, you only have days left to lock that down. While this change certainly affects the year 1 value proposition of the card, it is a non-issue for those who intend to keep the card long-term. And the card is probably a keeper for most people as the annual travel credit is very easy to use. After accounting for the $300 travel credit, the effective annual fee drops from $450 to just $150. For $55 more than the annual fee of the Sapphire Preferred, you pick up Priority Pass lounge access, Global Entry / TSA PreCheck credit, 3X travel & dining, and 1.5 cents-per-point towards travel. I imagine that trade is easy for many to justify. If this change in awarding of the travel credit helps to keep the cost of maintaining those other benefits feasible, that's not such a bad trade off. Still, if you're eligible (or interested in product changing), see our post about the change.
With those changes looming, you might find yourself wondering what could be the next best credit card perks that will be taken away, and Greg's predictions are already coming true. But it's not all doom and gloom! Despite momentary reports of a negative change in MQM earning on the Delta credit cards, Greg was able to debunk the myth of a change. Whew – crisis averted :-). Furthermore, there are still some great credit card perks that aren't going away any time soon – like this one. And it's gotten even cheaper. Not enough proof that great sign up bonuses aren't dead? The rumor of their demise has been greatly exaggerated.
Not only are there still good signup bonuses to go after, I'll remind you that here at Frequent Miler the point is still the points, and there are still plenty of ways to earn those in May 2017. Every now and then, we even find a good way to burn them.
Of course, the cheap airfare sales that continue to appear and hang around have made it easy to get away whether you have the miles or not. If you can't find a great deal on a flight, why not just make a deal appear? A number of the shopping Quick Deals we've posted have helped to keep money in your pocket to pay for for those trips. Whether you're looking for a cheap Samsung phone or to earn 10X (perhaps multiple times) for paying your cell phone bill, we've had you covered. Of course, if you're looking to pick up that phone to buy gift cards with the Altitude Reserve, I might caution you to tread lightly as early reports have indicated a wave of Altitude Reserve  shutdowns within the first two weeks based on gift card purchases. Hey — at least CVS made it easier to avoid that shutdown. Still, as some doors close, new ones that surprise us a little always open, reminding us that we never know what's coming around the corner next.
Loyalty Program News
As Quarter 3 is now underway, we have full details of the major hotel promotions. Crazy as it may sound, I think Hilton is the one most likely to draw my business, especially after the late April roll-out of points pooling. Hyatt's promotion started back in April and they just aren't offering enough to entice me to stay in a Hyatt Place or a Hyatt House, the two most prevalent brands in the portfolio. Marriott, Ritz-Carlton, and SPG have also thrown their hats into the ring, each offering something slightly different. The Marriott promo could stack nicely with a 30% off discount they are offering in Africa and the Middle East. On the whole, these promotions certainly aren't bad and could be quite lucrative under the right circumstances.
In airline loyalty, the biggest development has been the end of the Alaska-Delta partnership. As of May 1st, the two airlines are no longer partners. While it hasn't necessarily felt like they were playing for the same team for quite some time, Alaska MileagePlan members are likely still disappointed at the loss of opportunity to credit flights to Alaska.
---
Best of the Rest at Frequent Miler
Here we list a selection of other posts form the month. Note that limited-time deals may be expired — check the posts for more details.
Miscellaneous
Credit Cards
Manufactured Spend / Meet minimum spend requirements
Note that most of these were limited-time offers. Sign up for our instant email alerts to receive notifications when we post these and other great deals.
Miles, Points, and Travel
Best Current Credit Card Offers
More Deals worth Checking Out
Many of these have expired, but they represent a selection of deals that we have posted lately.
About Month In Review
Once per month we publish a round up of miles and points related news, highlights of our best posts of the month, and a list of the best ongoing deals. For those who subscribe to our monthly newsletter, this is it. Those who subscribe weekly will find this post listed in the Week in Review section. Those who subscribe to the daily or instant newsletter will receive this post directly, just like any other. Again, we usually publish the month in review at the end of each month — you can expect the next one at the end of June.
How to Fix Your email Subscription
If you find that you are receiving duplicate emails or would like to change the frequency of your emails, please do the following:
Find the "click here to safely unsubscribe" link at the very bottom of the email. Click the link to unsubscribe.
Visit our Subscribe to Frequent Miler page to subscribe to instant, daily, weekly, or monthly newsletters.
Long term readers who prefer the old style "Quick Deals Only" emails should visit our Advanced Options subscriptions page.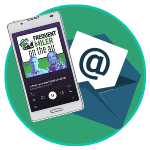 Want to learn more about miles and points?
Subscribe to email updates
 or check out 
our podcast
 on your favorite podcast platform.