When we last checked in on our "informed newbie", Ben had pulled in over 600,000 points through signup bonuses in a 9 month span.  And, even though he had signed up for 10 cards in that time-frame, he was still under 5/24 thanks to his focus on business cards (which are not typically reported to the credit bureaus).  Please see my prior post for full details: Over 600,000 points and well under 5/24.
Chase's 5/24 Rule: With most Chase credit cards, Chase will not approve your application if you have opened 5 or more cards with any bank in the past 24 months.

To determine your 5/24 status, see: 3 Easy Ways to Count Your 5/24 Status. The easiest option is to track all of your cards for free with Travel Freely.
Since that last post, Ben has picked up two more cards:
Chase IHG Rewards Club Select Credit Card: This card is no longer available, but Ben pulled down 65K points plus a $50 statement credit before the application disappeared.  He reports having been influenced to apply by this Frequent Miler post: Last call for $49 IHG card. The single best rewards card to have and to hold.  That post was written before we learned that applicants would get only one uncapped anniversary free night.  After Ben's first card anniversary, future free nights will be capped at 40,000 points value.  With IHG, that excludes many desirable hotels.  Ben reports that he regrets signing up for this one since it inched him closer to 5/24.
Chase Ink Business Unlimited: Ben has no regrets about picking up another 50,000 Ultimate Rewards points through this new Chase business card.
Weeding Out Annual Fees
Ben had two annual fees come due in the past month.  One was for his Delta Gold Business card.  The other was for his first Ink Business Preferred card (he later picked up a second one, along with a second welcome bonus).  In order to avoid the annual fees, Ben cancelled his Delta card and product changed the Ink Business Preferred to a second Ink Business Unlimited (which has no annual fee).
Slowing Down
Earning another 115,000 bonus points since March is certainly not bad, but it's far from Ben's prior earning pace.  Ben volunteered three reasons as to why he has slowed down: 3X bill payments; sticking to two issuers; and avoiding 5/24:
3X Bill Payments: Ben has been relying mostly on the Plastiq bill pay service to meet minimum spend with new cards.  And when he doesn't have minimum spend to achieve, he uses his Chase Ink Business Preferred card since it earns 3X on all Plastiq bill payments.  With bills averaging over $5K per month, Ben reports being perfectly happy to earn over 15,000 Ultimate Rewards points each month.  As a result, he says that he'll only pick up new cards when he really wants the card and/or the bonus.
Sticking with 2 issuers: So far, all of the cards Ben has signed up for are from Chase and Amex.  Ben likes the simplicity of having just two banks to deal with, and just two online log-ins.  He says that he considered going for the many American Airlines offers that have been floating around, but he simply didn't want the hassle of dealing with additional banks (Citibank and Barclays, in this case).
Avoiding 5/24: Ben is now at 3/24 (3 new accounts in the past 24 months which show up on his credit report).  If he picks up just 2 more personal cards in the next 17 months, he'll be over 5/24.  That will limit his ability to pick up new Chase offers.
Considering the SPG Luxury Card
Ben reached out to me after reading "Up to 450K on the table and a short window of opportunity with Marriott & SPG."  Like many of us, Ben will have a short window of opportunity to pickup the expected 125K bonus with the new SPG Luxury Card.  That card will become available on August 23rd, just a few days before August 26th when new rules will exclude Ben from the bonus.  In his case, he would become ineligible for the SPG Luxury card bonus on August 26th since he has recently received a bonus on the Marriott Rewards Premier Business Card.
Ben asked for advice.  Should he go for it?
SPG Luxury Card Details
The SPG Luxury Card is expected to offer a welcome bonus of 125,000 points after $5K spend.  And, my bet is that the card's $450 annual fee will not be waived the first year.  If that's true, then picking up this card is far from a no-brainer.
Let's look at the card's perks that help to offset that fee:
$300 annual rebate: Up to $300 in statement credits per card membership year for purchases made directly at participating SPG or Marriott Rewards hotels. This includes the room rate itself and any incidentals charged to your room.
Annual free night award: Each year, after renewal, you will receive one Free Night Award. The Free Night Award can be redeemed for a one-night stay at SPG, Marriott, and Ritz hotels with a redemption level at or under 50,000 points.  Note that I do not expect that we'll get this free night upon initial signup, but I hope I'm wrong. After all, the Amex Hilton Aspire card offers it's free night both upon signup and renewal.
Automatic Gold Elite status: Gold elite status offers 2pm late checkout, 25% point bonus on points earned from hotel stays, points-only welcome gift, chance of a room upgrade, and complimentary enhanced internet.
Platinum Elite status with $75K spend: Spend $75K within a calendar year to get Platinum Elite status good for the rest of that year and all of the next year. Platinum status offers 4pm late checkout, 50% point bonus on points earned from hotel stays, welcome gift with breakfast option, chance of a room upgrade including select suites, and lounge access. You will not get choice benefits, such as 5 Suite Night Awards when Platinum status is achieved in this way (Choice Benefits are only awarded when you earn 50 elite nights within a calendar year).
15 Elite Night Credits: This is now a standard perk with all currently available Marriott and SPG cards. These elite nights count towards your total towards elite status each year. For example, if you stay 35 nights in Marriott / SPG properties, you will earn 50 night Platinum status thanks to these 15 elite nights adding to your actual stays. Unfortunately the 15 elite nights do not stackacross cards.
Priority Pass Select Airport Lounge Access: This card grants the primary cardholder Priority Pass Select membership which allows yourself and up to 2 guests free access to Priority Pass lounges (or dining credits at Priority Pass restaurants). Authorized users do not get their own Priority Pass.
Global Entry / TSA Pre Check Credit: This card will refund your $100 Global Entry application fee or $85 TSA Pre Check fee once every four years.
Free Boingo Wifi: Free unlimited Boingo wifi worldwide. This benefit is available both to primary cardmembers and authorized users.
Ben says that he should be able to easily earn the $300 rebate, but he doesn't otherwise see much value in the card's other first year benefits.  That's assuming that the annual free night isn't available upon signup.  If it is, he says he would value that pretty highly.
If we assume that the annual free night won't be granted until renewal, then the question is whether it is worth $450 and $5K spend for Ben to get:
135K points: 125K bonus points plus 10K base points for spending $5K (the card earns 2 points per dollar for base spend)
$300 in statement credits
Given our current Reasonable Redemption Values (RRVs), Marriott/SPG points are worth 0.72 cents each.  That means that, on average, we'd expect to get 0.72 cents per point value from award bookings.  So, those 135,000 points are expected to be worth $972 in hotel stays, give or take.
Altogether, in exchange for the first year $450 annual fee and the effort of putting $5K spend on the card, Ben would get approximately $300 + $972 = $1,272 in travel in his first year with the card.
Recommendation
Overall, the expected welcome bonus for the new SPG Luxury card is pretty compelling despite it's very high annual fee.  Given that Ben will have only a short window of opportunity to pick up this card and bonus, I'm recommending that he go for it.  The biggest downside is that this will move him to 4/24 and he'll be only one card away from getting shut out of most new Chase cards for quite a while.  That's probably OK, though.  Ben has many of the high value subject-to-5/24 Chase cards already.  Plus, he has previously told us that he's not interested in flying Southwest, so there's no reason to preserve 5/24 slots to try to get a companion pass early next year.
In addition to the SPG Luxury card, I think that Ben should consider the Chase United MileagePlus Explorer Business Card while its 50K offer is still available.  The United business card is subject to 5/24, but as a business card it won't add to Ben's 5/24 count.
Readers, what do you think?  What would you recommend that Ben do?  Please comment below.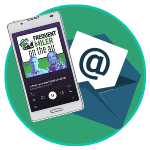 Want to learn more about miles and points?
Subscribe to email updates
 or check out 
our podcast
 on your favorite podcast platform.