A reader reached out today to give us a heads up about standard award availability at Alila Ventana Big Sur during December that they found via Stay With Points (see Greg's post about Stay With Points here).
It turns out that there's great standard award availability throughout the year, presumably since Hyatt boosted the hotel's category from 7 to 8 which means standard award nights now cost 35,000, 40,000 or 45,000 points per night depending on if your dates are off-peak, standard or peak. It also means that the category 1-7 free night certificates can't be redeemed there.
Although it's a highly sought after property and it looks like an amazing place at which to stay, the high points cost has put me off and so I've rarely looked at award availability other than when we spent 3 months in California last year and were driving down through Big Sur. That meant I didn't discover until today that the Alila Ventana Big Sur appears to have a minimum two night stay requirement if you want to book a standard room as an award night.
For example, let's say you were interested in booking a stay there in the first half of November. Searching for the night of November 7 would show award availability for standard and premium suites, but not standard rooms.
Searching for availability bookable with points the following night would show the same.
If you'd be transferring points from Chase Ultimate Rewards, those standard and premium suites would effectively be costing you at least $660 and $900 per night respectively based on the fact that at a base level you can cash out those points on a 1cpp basis (more with Pay Yourself Back). That's a steep cost, especially if you have Suite Upgrade Awards that you could use in order to upgrade to the standard suite if only there was award availability for a standard room.
Look what happens though if you search for both of those nights as a two night stay rather than individual stays. Voila, you can now book a standard room.
It seems like for much of the year you can book standard and premium suites for only one night at a time, although those too have a minimum two night stay requirement during some parts of the year.
For example, searching the nights of December 24 and December 25 individually displays zero award availability for any kind of room. However, searching for December 24-26 as one stay shows that you can book a standard room as well as standard and premium suites over Christmas.
Somewhat intriguingly in this scenario, those dates are priced as off-peak and so it seems a little strange that they'd implement a minimum stay requirement given they're non-peak dates. However, that might be because they'd prefer to minimize the number of people checking out on Christmas Day so that they don't have to have as many members of the housekeeping team working that day.
Speaking of off-peak, standard and peak award pricing, don't forget that about a year ago Hyatt launched a Points Calendar which lets you see a property's award pricing for a month at a time. When doing an award search for a specific property, click on the Points Calendar link:
That'll then display the pricing for that month, with the ability to go back and forth a month at a time by clicking the left and right arrows. You can also choose to see the pricing for different room types; it'll default to Standard Rooms, but you can select seven different room and award upgrade options to see how much each one will cost.
Something important to remember about Hyatt's Points Calendar is that it only shows what the pricing would be if there was award availability – it doesn't mean that there are indeed award nights that are bookable for every single one of those dates.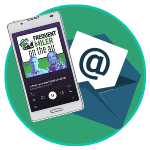 Want to learn more about miles and points?
Subscribe to email updates
 or check out 
our podcast
 on your favorite podcast platform.