Update: Some of the credit card offers and benefits below have expired. Please click here to see the best offers currently available.
Yesterday Amex introduced a terrific new credit card, and now I'm suffering from Rewards Whiplash…
When Chase introduced their Sapphire Reserve card last summer, I was thrilled with the suite of Ultimate Rewards cards I had cobbled together: Sapphire Reserve for 3X travel and dining; Ink Plus for 5X office supply, cell phone, and internet; two Freedom cards for rotating 5X categories; and the Freedom Unlimited for 1.5X everywhere else.  See: The BEST travel rewards card.
Then, Amex responded with a game changing feature to their Business Platinum card.  They began offering a 50% rebate on points used to pay for flights.  This made it easy to get 2 cents per point value from Membership Rewards points.  And, since the Amex Everyday Preferred card has a fantastic rewards structure, that combination of cards made it possible to get between 3% and 9% value on spend.  Excellent.
I liked that Business Platinum rebate feature so much that I was thinking of switching my wallet over from Ultimate Rewards to Membership Rewards.  My primary hesitation had to do with the Everyday Preferred card.  In order to get full value from that card through its 50% point bonus, I would have to make 30 or more purchases every billing cycle.  I knew that I could set up enough automated tiny purchases to make this a non-issue, but it was still enough of a speed bump that it kept me from pulling the trigger and applying for that card.  So, I dragged my feet and didn't do it.
Then, Amex dropped the Business Platinum card's game changing feature.  The 50% rebate will soon reduce to 35%.  The value of Membership Rewards points when used this way will drop from 2 cents per point to just over 1.5 cents per point.  I can get that value every day from my Sapphire Reserve card, or even my new Altitude Reserve card.  And those two cards don't make you wait around to get your rebate.  They offer the 1.5 cents per point value up front.  And with those cards, the 1.5 cents per point value is not just for your selected airline, but for all supported airlines, hotels and car rentals.
So much for giving Amex a spot in my wallet, right?
Then, out of nowhere, came the Amex Blue Business Plus.  This new card replaces the old Blue for Business Card in Amex's lineup.  It has no annual fee and it offers 2 points per dollar for all spend, up to $50,000 spend per calendar year.  This is the first and only 2X everywhere transferable points card.
Whoa!
If you value transferable points more highly than pennies, then this card clearly beats out 2% cash back cards for everyday spend.  In fact, this new card instantly took over the top spot on my Best Rewards for Everyday Spend page.  Based on the current 1.82 cents per point Reasonable Redemption Value (RRV), this card offers 3.64% returns on all spend.  That's just crazy.
This card isn't great for super heavy spenders that would max out the $50K 2X limit in a week.  But for those of us looking to simply keep the most rewarding cards in our wallets for everyday spend, or for business spend, this card is a no-brainer.
If you missed yesterday's post about this card, please see: The new king of everyday spend: Amex Blue Business Plus for full details.
My next cards
Many would do well to sign up for both the Business Platinum card and the new Blue Business Plus card.  If you sign up for the former by May 31, then you'll be able to keep the 50% pay with points rebate for a full year.  In that way, the Business Platinum card gives you 2 cents per point value for 12 months.  And, the Blue Business Plus card gives you 2 points per dollar for spend.  Combined, they would offer 4% rewards, everywhere for the next year.
In my case, my wife has most of our Membership Rewards points (I transferred most of my own to Virgin Atlantic while there was a 30% bonus) and she has a while yet to enjoy the 50% points rebate since she signed up for her Business Platinum card in late December.  So, I'll pass on signing up for a new Business Platinum card at this point.
I'll also pass on getting the Everyday Preferred card.  It's a great card, but too much hassle.
But, obviously, I'll sign up for the Blue Business Plus card.  And, my wife will too.  Together, that will give us $100K in 2X spend, or 200K per year in cheaply acquired points (see yesterday's post for examples of how I might use the cards to buy points extremely cheaply).  And, at some point, I may get a card for my second business.  I don't know for certain, but it seems likely to me that a second card would have a second budget of $50K 2X spend…
Again, if you missed it, please see: The new king of everyday spend: Amex Blue Business Plus for full details and analysis.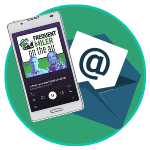 Want to learn more about miles and points?
Subscribe to email updates
 or check out 
our podcast
 on your favorite podcast platform.