I have an upcoming cruise with Royal Caribbean and I received an email today about getting "up to 50% off" on Internet, excursions, beverage packages, and more for Black Friday. I don't know for sure how these savings stack up against "normal" pre-cruise savings on the various add-ons, but I'll need Internet access during my cruise and so I plan to buy it today since it will surely cost me less now than on-board. I clicked through an old email for the second cruise we are taking a few months from now and there were similar "Black Friday" discounts on the add-ons for that cruise also.
The Deal
Royal Caribbean is offering "up to 50% off" on excursions / beverage packages / Internet / etc as part of their Black Friday sale.
Log in to your account and check your cruise for discounts
Quick Thoughts
This deal is particularly relevant for those of us who did the Carnival match for a "free" cruise and who then subsequently matched to Royal Caribbean for a "free" cruise with them. My wife matched and was able to book two "free" cruises with Royal Caribbean (we had to pay port taxes), the first of which is coming up soon.
To be clear, this will be my first Royal Caribbean cruise and I haven't tracked prices closely, so I don't know that the current discounts are much better that whatever the normal "pre-cruise" discounts are, but in my case I have one coming up soon enough that I was happy to take advantage of the discounts currently being offered.
I intended to pay for the Internet package on my cruise as I'll be working from the ship and I've heard that the Starlink service that Royal Caribbean uses is quite fast. The discounted cost did appear to be at least slightly cheaper than what I remembered seeing for the cost of Internet access when I checked the cost recently.
Some of the excursions and activities appeared to have larger discounts, though YMMV. I imagine that most people are more interested in discounted excursions (note that not all excursions were discounted, but there were quite a few with discounts ranging between 15-50%). In my case, one thing I was happy to see was a discount for arcade money credit. My kids loved the arcade on the Carnival cruise ship and will surely insist on a nightly visit to the arcade, so I'll be happy to save at least a few bucks.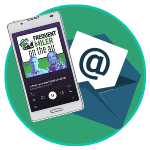 Want to learn more about miles and points?
Subscribe to email updates
 or check out 
our podcast
 on your favorite podcast platform.