Update 11/7/20: I got a cancellation email from the US Mint this morning indicating that the gold coin "was cancelled because the item(s) are no longer in our inventory and are not available for backorder." Easy come, easy go! Bummer.
Sometimes it's better to be lucky than good — and this afternoon, I had a whole lotta luck. Many readers (and countless thousands of others) tried in vain this afternoon to score one of 1,945 commemorative World War II coins issued by the US Mint. As is often the case with popular US Mint deals, the website crashed repeatedly. Somehow, through the fog of error pages and messages saying I was temporarily banned, I got through an order for the $2,600 gold coin that is already being flipped by others on eBay for $10,000. It was roughly akin to getting struck by lightning and it was quite a thrill to get to the order confirmation page. Readers who have followed this deal know that despite the potential for clearly massive profit on the private market, I had opted in to sell the coin to PFS Buyers Club. I'd be lying if I said that part of me didn't want to forget about my prior commitment and sell it to the highest bidder, but I ultimately knew that I had to sell it to PFS for several reasons.
First, I said I would sell to PFS. If I can't keep my word on a deal involving a thousand dollars in profit for me, what good is my word on anything? Sure, it turns out that the profit potential in this case was much higher in the end. But the bottom line is that PFS offered the deal and I chose to opt in to it. It would be wrong not to honor my commitment. A deal is a deal.
Second, there is the fact that I would have been very unlikely to have known about this coin were it not for PFS Buyers Club. As I noted in my post earlier today, I don't have direct experience with other buyers clubs who were offering to buy this coin, so I'm not on their email lists. Were it not for the PFS email alerting me to this coin, I never would have known it existed no less that it was an opportunity for a big profit (OK, so other blogs in this space would have likely covered it I guess – but I think most of them who did cited PFS). At the end of the day, how many people trip over the random opportunity to make a thousand bucks on a Thursday afternoon? Few – and I wouldn't have been one of them if they hadn't done the legwork to know about the deal and let me know about the deal. That's worth something. I am going to be a thousand bucks ahead of where I was yesterday and where I would have been this week without their email, so if they also make a handsome profit, good for them.
Third, I know from past experience that deals this big are super rare. I know that some readers would argue that this is precisely why I should take advantage of the big score here and sell for top dollar. But on the other hand, I have enjoyed having random opportunities throughout the year to pick up big easy spend and a few bucks profit at the same time thanks to this particular buyers club. While I'm likely to see some of those opportunities based on the usual shopping and occasional reselling that I do, the truth is that the types of deals that PFS offers are usually for products that I would otherwise know nothing about. I noted in this morning's post about buyers clubs (in pretty strong terms I think) that buyers clubs have inherent risk. However, when they operate well, they can be a win-win. I've had a number of little wins over the past four or five years with PFS, and I'd like to see those opportunities continue. I want the model to work out for both sides. I imagine more often than not, the percentage profit they are earning on these deals is far far far less than this time around. So if they scored big today also, so be it. There are other times when an extra couple thousand dollars in easy spend on a coin deal I'd not have otherwise found could come in handy and I'll be happy to have the opportunity to pick up points and profit since a buyers club like this exists.
All that said, I think I would be remiss to ignore the fact that PFS did not have nearly the best payout on this deal. As you'll hear us talk about on the podcast this weekend, the trouble with buyers clubs is not knowing what you're getting into. There were a couple of clubs that I'd never heard of previously that were offering as much as $2500 in profit on this coin. I had already opted in with PFS and didn't have experience with those other clubs, so I stuck with PFS this time around. However, the takeaway for me was to wait and see next time before opting in. Any of these clubs would have been happy to have new customers opting in as late as this morning given the resale opportunity here – I didn't need to opt in a couple of days ago for a deal with such a low mintage.
However, at the end of the day, I have pretty high confidence in PFS coming through on their end of the bargain given that they must be thrilled to pick up the coin at such a low price point, so it's a pretty secure win with extremely low effort and time commitment. It's not as good a win as it could have been, but I'll take the win nonetheless.
For those wondering how I managed to score the coin, I imagine it is in large part a stroke of luck, though I've been pretty lucky in terms of getting previous Mint deals. I am very persistent in refreshing as soon as the page has loaded (or failed to load) and I follow the directions on things like looking for the bag to pop up as soon as the coin is added to the cart, clicking it once, and this time I found that using Chrome enabled me to populate credit card information faster than using the Mint drop-down (which seems to just get bogged down). The Mint site always crashes to a halt on these deals and it is often a matter of patience and persistence to score big – but if you're able to sit at the computer (or a couple of them) and dedicate yourself completely to the cause for 20 or 30 minutes, it isn't impossible to get most of the deals (though it was nearly impossible this time).
I also scored one of the silver coins. As fate would have it, I didn't opt in to sell that one, so I'll try my luck and see if I can get a slightly better return with that one via eBay or the like. All in all, it was well worth dedicating part of my day and I'll sleep fine feeling thankful for the unexpected windfall. I'll just need to try to avoid refreshing the eBay search page I have open in another browser for the next few days…..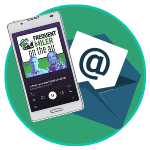 Want to learn more about miles and points?
Subscribe to email updates
 or check out 
our podcast
 on your favorite podcast platform.