I will be presenting at two frequent traveler conferences this fall in quick succession. First will be Frequent Traveler University (FTU) in Tampa, September 27-29. Next will be the Chicago Seminars, October 11-13. Will I see you at either one?
While these conferences are run by different people, they tend to be pretty similar. In both cases, newcomers to the hobby learn many valuable tips and make friends who share their interests. Those who've been to these conferences before get a chance to reconnect with old friends and meet new ones as well. I've always had a great time at both of these conferences, and I've always learned a lot: sometimes from presenters and always from people I meet.
This will be my second time presenting at the Chicago Seminars and the third time presenting at FTU. In the past, I've never presented the same materials twice. Partly that's because the game changes so quickly that my slide decks are often out of date within weeks of a presentation. Mostly, though, it is because I want to keep my presentations fresh, and I try hard to improve them each time. This time might be different, though, since the conferences are only two weeks apart and I plan to tell the Million Mile Madness story at each venue.
The goals of my presentations are to educate, to entertain, and to make you think. If you're new to my blog, you'll hopefully learn a lot. If you're a long time daily reader, you'll hopefully find the presentations both entertaining and thought provoking.
At FTU Tampa, my speaking schedule is as follows:
Saturday 2:45 to 4:00 PM: Beyond 5X Everywhere: Earning More Points & Miles Than You Ever Dreamed Possible

Sunday 10:30 to 11:45 AM: Million Mile Madness: The Story Behind the Attempt to Earn 1 Million Miles in 1 Month
At the Chicago Seminars, my schedule is:
Saturday 10:15 to Noon: Likely topic: Million Mile Madness: The Story Behind the Attempt to Earn 1 Million Miles in 1 Month
The full FTU schedule can be found here and the full Chicago Seminars schedule can be found here.
Reader / Attendee Recommendations
Have you attended any of my previous presentations? If so, what did you like and / or not like? What should I do differently or better? Did you learn much? Were you entertained? Was the presentation thought provoking? Do you plan to see me talk again in the future? Please comment below.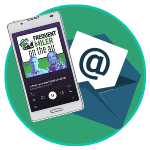 Want to learn more about miles and points?
Subscribe to email updates
 or check out 
our podcast
 on your favorite podcast platform.