Last week, in the post "Plinking gift cards" I described the rewards program called Plink, and I showed that it should be possible to get the equivalent of a 6% rebate when buying $50 gift cards from Kmart or Sears. I have since had a chance to test a few things with Sears and Kmart and can now report some new details.
Buy from Sears, reward from Kmart
Plink offers both Sears and Kmart as options to put into your "Plink Wallet". When you buy physical Sears' gift cards online at Sears.com, your credit card is charged as if the purchase was made at Kmart. As a result, it is necessary to have Kmart in your Plink wallet if you want to get Plink rewards when buying gift cards at Sears.com.
No need to buy a pack of gum
The Plink offer for Kmart says the following on their website: "300 Plink Points
for purchases above $50." Since it said "above $50" I thought one would need to spend at least $50.01 to get 300 Plink points for a purchase. Reader al613 stated that it wasn't necessary:
No pack of gum needed. I often buy $50 at kmart and get full points for $50.
I tested this and found that al613 was right. A $50 purchase results in the full 300 Plink Points. This is further proven by the iPhone app which has different language for the same offer:
Notice that on the iPhone it says you can get 300 Plink Points for spending "$50 or more." That's great news because it makes it possible to maximize Plink returns by spending exactly $50.
Double Dip
You can increase your rewards from Sears' purchases by starting in a shopping portal. It used to be possible to get points for buying e-gift cards, but Sears has stopped awarding points for those. The key is to go through a shopping portal to Sears to buy physical gift cards. Usually, points are awarded for these even if the terms & conditions say that gift cards are not eligible. I'm in the process of testing out a number of portals to make sure this still works, but I have no reason to believe it doesn't. Even though the Sears' website clearly says that gift cards are sold and shipped by Kmart, shopping portal points are still awarded as if you have made a Sears purchase.
So, the Double Dip goes like this:
Go through an online portal to Sears.com and buy a $50 physical Sears gift card
Pay with a card registered to Plink. Make sure Kmart is in your Plink Wallet.
With the above process you should receive both portal points (or cash back for a cash back portal) and 300 Plink points worth $3 (6% of $50). How much you get back from the online portal depends on how many points per dollar is being offered at the time you click through.
Triple Dip
An easy triple dip is to follow the above steps to get your $50 Sears gift card and then go through an online portal again to Sears, Lands End, or Kmart to spend the gift card.
At the time I'm writing this, the AAdvantage eShopping portal is offering a fantastic 9 miles per dollar for Sears purchases.
I have no idea how long this promotion will continue though. My guess is it may be gone by this weekend. We'll see.
If the 9X deal were to last a while, though, it should be possible to do the above triple dip so as to earn 18X AA miles from Sears' purchases and get 6% back via Plink in the form of Walmart or Amazon.com gift cards!
UPDATE: The 9X offer is scheduled to go through 7/27 (Saturday). So, hurry!
Signing up for Plink
I've added a signup link for Plink on my Sign-Up Links page (found under the Resources tab on my site). You'll find details of the latest signup offer there.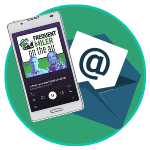 Want to learn more about miles and points?
Subscribe to email updates
 or check out 
our podcast
 on your favorite podcast platform.