For the 3 Cards, 3 Continents Challenge, the goal is to build as amazing of a 3-Continent trip as possible with the welcome bonuses from 3 cards (which we picked in an online draft).  The question I have now is whether it's OK for one of us to use an Amazon discount to get a travel gift card for 40% off and to use that for the competition?
Currently, many people with Amex Membership Rewards cards registered with their Amazon account can qualify for a 40% discount (up to $40 off) at Amazon.com when they apply at least one point to pay for their order.  The deal is detailed here.
Since all three of us (Stephen, Nick, and I) picked at least one Amex Membership Rewards card in the draft, it's reasonable to assume that we each could qualify for the 40% discount.  And, as shown above, it's possible to get that discount on travel related gift cards like Airbnb.  The ability to buy a $100 Airbnb gift card for $60 would be really helpful for anyone who needs lodging for their trip.  So, back to the question… Is this legit?  Can we do this for the challenge?
Note that in the screenshot above, there is also a second deal going on.  At the time I screenshotted it, there was an offer to get a $20 promotional credit with a $100 Airbnb gift card.  I don't think the $20 credit should be eligible for the challenge because we're supposed to act as if we're starting from scratch other than benefits we get from our new credit cards.  And that particular $20 credit is only for Prime members (I think).
Review the rules…
The complete rules for the challenge were posted in the original post about the 3 Cards 3 Continents challenge.  The key rules that pertain to the above question are these:
Start from scratch: In the 40K to Far Away challenge, we allowed each contestant to use things they already had: elite status, credit card perks, lounge membership, upgrade certificates, etc.  In this case, we're assuming the opposite: everyone must start from scratch.  A contestant can rely on credit card perks only if one of the 3 cards he signed up for includes that perk.  During travel a contestant may accept an upgrade due to previously held elite status, but then he must show what the experience would have been like if he hadn't accepted it.  In other words, we will ask readers to vote on how fantastic the trip is based on photos and descriptions of un-upgraded travel (except where the contestant used their travel budget to upgrade).
Points or miles must be used: It would be possible to earn only cash back welcome bonuses, or to cash out welcome bonus points and then to book travel entirely based on cash deals.  That's not allowed.  Challenges like these are useful because they force us to find outsized value opportunities and to push the limits of what's possible.  It's fine to take advantage of some cash deals, but the bulk of travel should be based on using points to either book travel altogether or to upgrade paid travel.
Deals are allowed: Public deals that are available while the contestant is booking travel are allowed.  For example, through August 19th, Chase has a 50% transfer bonus to Marriott.  If a contestant had earned Chase points from the credit card draft, then they could virtually convert their Chase points to Marriott points with this bonus in place.  They must announce the intent and the number of points transferred by or before August 19th (because we don't want people taking advantage of a deal after its over).  With hard to get deals like some of the Daily Getaway Deals, the contestant must record the final check-out screen in order to use that purchase in this challenge.
As you can see, the stated rules don't really answer the question.  Should we be allowed to take advantage of targeted but widely available deals like the 40% off Amazon deal?  What about the Prime deal?
My thoughts
I think we should be allowed to take advantage of the 40% off deal.  The purpose of the contest is to unveil creative ways to build spectacular trips on low budgets.  I think this is a reasonable and useful trick to highlight.  At the same time, I don't think we should allow any deals that require the customer to be an Amazon Prime member because of our "start from scratch" rule.
Your turn
The purpose of this post was to seek input from readers.  What do you think?  Is the 40% off deal fair game?  How about the Prime bonus?  Please comment below.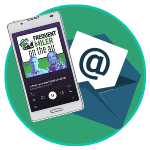 Want to learn more about miles and points?
Subscribe to email updates
 or check out 
our podcast
 on your favorite podcast platform.