Full disclosure: I'm not much of a cook – never have been. In my 20's I horrified my roommates by attempting to make brownies with hot chocolate mix instead of cocoa powder and molasses instead of brown sugar. Needless to say, I knew this challenge would be a bit of a long-shot for me.
Soliciting the help of my twin…
While brainstorming with my dad, he suggested I solicit the help of my twin sister Annie. I thought this was a great idea for a few reasons. For one, she's actually a very talented and creative cook whose creations always impress at holidays. Secondly, she's the one who introduced me to my Destination Cooking Challenge feature dish- Japanese mochi ice cream. (Without ever traveling to Asia herself, she's always somehow found Asian desserts fascinating and would swing by the Asian grocery store for treats like this when we lived together in our 20's.) Thirdly, I knew I would feel more natural on camera talking with my twin than I would talking to myself.
Choosing mochi ice cream…
Just before this corona pandemic started, I spent a few days in Tokyo. Japan has so many incredible dishes and any visit inevitably becomes a food-tour – at least for Drew and I.
Part of the appeal however is the absolute novelty of each thing we tried. Unfortunately novelty and achievability have very little overlap, especially for someone as novice at cooking as I.
I was pleasantly surprised when I saw the short ingredient list and manageable instructions for mochi ice cream, however. Only one non-generic ingredient and everything else seemed pretty simple. With the chocolate mochi from a Japanese 7-11 in my very recent memory and a recipe in my Pinterest, I felt confident.
Have you ever seen Netflix's fail-fantastic show Nailed It? Well…Annie and I learned more than we consumed for this challenge because we "nailed it" so bad…
Let me share a bit about what we learned:
Annie had a hard time finding Glutinous Rice Flour in the small town where she lives, so I suggested two substitutes I thought might work. Thus the project became a real experiment. While I used the preferred glutinous rice flour, she made two batches: one with tapioca flour and one with regular (non-glutinous) rice flour.
Here are a few things we learned:
Don't try to substitute the glutinous rice flour
If you don't have a strong flavoring for the rice paste like cocoa or matcha powder, add extra powdered sugar.
When microwaving the dough, use 30 second increments instead of 60 second.
Pre-freeze your dollops of ice cream so that you can serve these up right away, without putting them back in the freezer.
Watch this video for our most honest suggestions…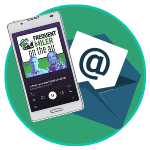 Want to learn more about miles and points?
Subscribe to email updates
 or check out 
our podcast
 on your favorite podcast platform.