Planning a long trip overseas can be hard. Planning for our 40k To Far Away challenge is even harder.
Just when I think I've found a great routing, I've noticed something which makes it less of a good option. Even coming up with a strategy in the first place is hard due to the fairly loose way in which we (AKA you) will be judging the contest.
The 40k To Far Away challenge has been consuming my time and thoughts for weeks now, so I thought I'd share some of the obstacles I've been coming across. Many of these are issues you'd encounter any time you're planning a trip overseas, but the nature of the contest and strict budget has made it a perfect storm of additional challenges.
1) Award Availability / Fare Sales
With a tight budget of 40,000 transferable points and $400, we're at the mercy of award availability and cheap fares during a fairly narrow range of dates if we're going to get as far as we can around the world.
That's meant some potentially great deals have fallen by the wayside. For example, Scoot has sub-$300 one-way fares from Berlin to numerous cities in Asia.
Many of those routes include a ~12 layover in Singapore, giving me time to head into the city to explore a little. Even better, Singapore offers free tours from the airport for people that have layovers ranging from 5.5 to 24 hours. I could therefore take a free tour and not have it impact my budget, other than grabbing some street food along the way if I wanted.
The obstacle? Dates. These low fares are only available on certain dates and they unfortunately don't fall in line with a flight I have booked later in the trip.
2) Sweet Spots
Greg has the Excursionist Perk with Chase Ultimate Rewards. Nick has 7.5k awards to Hawaii with Citi ThankYou. When doing research for sweet spots with Amex Membership Rewards transfer partners, one thing kept coming up again and again – the sweetest of the sweet spots for Membership Rewards are in business and first class.
That's great if you have a good stash of Membership Rewards, but 40,000 won't get me very far in business class. That's not to say there are no economy class sweet spots as Nick listed a number of them here, but none of them have been particularly conducive to what I'm trying to achieve, especially because of the next obstacle.
3) Taxes & Fees
Even when finding a sweet spot like 12,805 Etihad miles from Prague to Seoul in economy, taxes and fees often killed the deal. With that example, it would cost ~$150 in taxes and fees which was a little much for our limited budget.
4) Distance vs Fun
I'm a competitive person, so I want to travel the farthest distance out of the three of us. However, focusing purely on distance would likely mean the trip consisted purely of flying, sleeping on airport floors and eating in airport lounges. It's therefore a struggle trying to balance the desire to actually travel with the need to fly as far as possible.
5) Delays
Wanting to experience the cities I'll be visiting means I need to build in enough time to do that. Another consideration time-wise is building in enough of a buffer in case there are any flight delays. Pretty much all of my flights are going to be on separate itineraries, so a delay could screw over my entire plan if I'm not able to get to the next city in time for the following flight.
That's a concern any time you're travelling and have flights booked separately; it's even more of a danger when you're trying to piece together a dozen different flights in fairly quick succession.
6) When To Book
This has been one of the toughest obstacles. There have been a number of times I've put together a decent itinerary, only to do some more research and found a better one. Other times, a plan has evaporated due to no more availability on a flight.
This is something Greg touched on during a recent video that he and Nick recorded. He mentioned something that I'd also come to realize – once you've found an itinerary you want, you pretty much have to book it all immediately. Otherwise, you run the risk of award or cheap flight availability disappearing on one of the legs, jeopardizing your ability to piece everything together.
Booking it all at once though means your plans are set in stone. If you find something better, you're stuck with your inferior plans, so analysis paralysis means it's hard pulling the trigger.
7) Baggage Allowance
Sticking to our budget means we'll no doubt be flying some budget airlines and/or in basic economy. That puts restrictions on our baggage allowance.
The additional obstacle here is that different airlines have different size and weight requirements for carry-on luggage. Some allow 7kg, others allow 10kg. Some allow 55cm x 40cm x 20cm, others allow 43cm x 25cm x 22cm, while others allow 54cm x 38cm x 23cm. Flying multiple airlines means being aware of all their baggage policies and ensuring whatever bag(s) we bring adheres to all of them. Having to pay the extortionate fee to check a bag at the gate on a low cost carrier because it's an inch too long could demolish our budget.
I need to do a little more research into what the weather will be like where I'll be visiting. With limited space in my bag, I'm not planning on bringing any shoes and so will only be wearing one pair of flip-flops. I don't fancy getting frostbitten toes while exploring a city though, so hopefully that won't be an issue.
I'm fairly sure I can fit everything I have in mind in my hiking backpack, but I should probably check soon to make sure; that way I can get a different bag for the trip if necessary. The bigger issue will likely be the weight of all the items, so I'll need to weigh them all too.
8) Unexpected Expenses
Getting as far as possible means spending as much of our budget on travel as possible, rather than food, accommodation, etc. There's no telling what we might need money for along the way though. Airport lounges might be closed, so we'd need to buy expensive airport food. Public transport might be delayed, so a taxi to the airport to get back in time for a flight might be required.
We'll therefore need to leave some of our budget unspent beforehand, but how much? $25? $50? $100? $100 could get us pretty far on a budget airline, so it'll be interesting to see what each of our risk tolerances are when it comes to setting aside some of our budget for unexpected expenses.
9) Airport Lounges
Paying for food when traveling gets expensive. Nick's testing out protein bars he can take in his luggage, while I'm not sure what Greg has planned. I have a couple of ideas in mind for food on the go, but I think I'll be largely reliant on airplane food (when included) and Priority Pass lounges for sustenance during the trip.
Priority Pass lounges could prove to be an issue though as each one has different rules. Some aren't available to travelers on arrival, others require a same-day boarding pass, some have a restriction limiting you to three hours in the lounge (I've no idea if and how they enforce that), while others only allow access three hours prior to your flight.
That's not to mention the fact that sometimes Priority Pass lounges have to introduce capacity controls due to overcrowding. That might be less of a problem at airports with several lounges, but airports with only one Priority Pass option might encounter this issue more frequently. My stomach hopes in advance that this proves to be a non-issue.
10) Sleeping
Accommodation has the potential to eat up a substantial amount of our budget, so I'll be spending as little on that as possible. That leaves very few options though – red-eye flights or sleeping on airport floors, neither of which are particularly enticing.
It looks like I'll be traveling for at least a week though, so I'm hoping to find some way to spend at least a couple of nights in a bed along the way.
11) Washing
No accommodation means no shower. No shower means stinky. I don't want to be that person on a flight that everyone's trying to avoid sitting next to, so finding Priority Pass lounges along the way with shower facilities is imperative.
The Priority Pass website doesn't allow you to filter for lounges with showers, so it's been a tedious process of searching all potential airports for lounges with showers and trying to build an itinerary where I fly into one at least every couple of days.
Even when lounges have showers though, they're no sure thing. With a short connection and high demand for showers, it might not be possible to take advantage of them. I also came across one lounge that charges for shower usage, so that's a little more out of the budget.
12) Visas
I'm in a slightly different position to Greg and Nick as I have a UK passport, although entry requirements for US and UK passport holders in countries around the world tend to be similar.
All of us are having to be aware of visa requirements for some countries though. For example, Greg mentioned he'd been looking at flying through Russia, but was finding conflicting information as to whether he needed a visa and how to go about getting one.
With a limited budget, I'm inclined to avoid countries that require a visa unless they're cheap and can be obtained easily online.
13) Activities
Part of our 40k To Far Away challenge will be to find fun stuff to do in cities we visit. One of the biggest obstacles with this is getting from the airport to potential activities on public transport for low cost and in a short amount of time.
Some budget airlines fly into London Luton airport in the UK, but the 'London' part of its name is misleading as it's not in London. You're looking at a 90 minute journey on buses and trains to get into the city – not ideal when time and money is limited. Similarly, Stockholm Skavsta airport in Sweden is 65 miles away from Stockholm, so it's also a 90 minute bus journey between the airport and the city.
It's therefore taken a lot of research finding routes that have me flying into airports that are located close to the cities they serve and which also have cheap buses or trains. I've discovered a few that'll only eat up a few dollars of my budget, so that'll be helpful. For longer layovers, I'm also happy walking an hour or more to and from the city if that's an option.
Some airports like Singapore, Taipei and Tokyo Narita also offer free guided tours. It's looking like I won't be flying into any of those, so I'm on my own with the options I've been finding. Greg's found several other great stopover options though, so check out his list for other ideas. See: The best stopover deals worldwide.
Conclusion
Planning this trip has been even harder than expected, particularly trying to balance the desire to fly as far as possible with leaving room in the budget to include travel rather than just transportation.
I like a challenge though, so I'm looking forward to sharing more of my plans in the future. I have a couple of ideas up my sleeve that won't be revealed until later in the trip. That way, just as Greg or Nick think they've won the challenge, I can swoop in and steal away your votes for the best trip.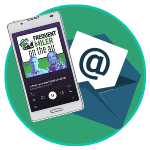 Want to learn more about miles and points?
Subscribe to email updates
 or check out 
our podcast
 on your favorite podcast platform.