There's no doubt in my mind that credit card signup bonuses are the single best way to earn points and miles quickly.  But, what can you do when you've used up most signup bonuses opportunities?
Chase offers many of the best signup offers, but they won't let you get a bonus for the same card until 2 years have passed since you got the previous bonus.  Worse, for most of their cards, they won't approve your application if you've opened 5 or more cards in the past 24 months.  Amex also has great signup offers, but they have a standard once per lifetime rule.  If you've ever had the exact same card before, you can't get the bonus now (even if you didn't get a bonus before). Meanwhile, Citibank has both 24 month and 48 months rules (depending upon the card).  For example, if you want to get a Citi American Airlines card, you have to wait 48 months after receiving a bonus for the same exact card before you can sign up again.  To get a signup bonus on any Citi ThankYou card (Rewards+, Premier, or Prestige), you must wait 24 months after receiving a new cardmember bonus or closing any ThankYou card account.
Earn More Miles From Credit Card Repeat Bonus Exceptions
One way to keep earning points & miles is to look for opportunities to earn signup bonuses even when you've signed up for the same card before.  Amex, for example, often has targeted signup offers or upgrade offers that do not have their once in a lifetime language.
Additionally, some banks have no rules against people getting signup bonuses over and over.  Unfortunately, some of these banks (examples include US Bank, Barclaycard, Capital One) tend to be tougher on approvals when they see a pattern of many credit card signups.  They know what we're up to.
Get More Miles From Credit Card Referrals
Another great way to earn miles and points is by referring friends to sign up for credit cards that you already have.  Referral bonuses tend to range from 5,000 to 20,000 points depending upon the card and the current referral promotion.
Credit Card Retention Offers
When your credit card annual fee is due, call the credit card issuer to let them know that you want to cancel the card. Often you'll be transferred to a retention specialist who will offer points or cash back to try to keep you.  Make sure to repeatedly ask "are there any other offers?"  You may be surprised at how good some of the retention offers can be, but they typically won't mention those amazing offers right off the bat.
In case you end up actually cancelling your card, be prepared. Please review our checklist for cancelling credit cards.
Caution: Some banks (such as Citibank) have automated systems will close your account rather than transferring you to a retention specialist.  Make sure you are speaking with a person before mentioning that you'd like to cancel.
Earn More Miles With Credit Card Category Bonuses
Many credit cards offer extra points for certain categories of spend.  For example, many cards offer extra points for travel; others offer extra points for gas or groceries; etc.  See: Best Card for Grocery, Gas, Drugstores, Travel, Dining, More…
In many cases you can extend your bonus earning by buying gift cards that are good at other stores.  For example, the Chase Ink Cash card offers 5X at office supply stores (and TV, internet and phone).  You can go to Staples or Office Depot and buy any gift cards sold there (Amazon.com, gas gift cards, department stores, Visa, MasterCard, Amex, etc.) and you'll earn 5X points when doing so.  Similarly, you can buy 3rd party gift cards online from Staples.com and earn 5X.  Most gift cards have no extra fees, but Visa, Mastercard, and Amex gift cards usually do.  If buying those, make sure that the value of the points earned far outweigh the fees.
Caution: When using the US Bank Altitude card, do not use it to buy gift cards.  In the past, some people have reported having their accounts shut down after buying a modest amount of gift cards!
Earn More Miles From Online Shopping Portals
One of the easiest things you can do to earn more points and miles is to start with an online shopping portal when you shop online.  Portals are available for all major airline programs and a number of bank points programs (Chase Ultimate Rewards, for example, offers Shop with Chase).
Portals work like this:
You log into a portal that offers bonus miles, points, or cash back.
Within the portal website, you click through to the store where you want to shop.
You then make your purchase directly with the online store as if you had browsed directly to them.
After you make your purchase, the store reports the transaction to the portal, and at some point in the future (it can take days or months, depending on the portal) you get paid in the form of bonus points or miles, or cash back.
For tips on using portals to the extreme, please see: Extreme Stacking.
Spend More For More Miles
Increasing your spend on rewards credit cards is an obvious way to increase rewards.  Of course I'm not talking about wasting your money.  Instead, the idea is to find ways to use your credit card to pay bills that you would usually pay with a check or debit card.  And, if that's not enough, you can learn ways to manufacture spend: increase credit card spend and get your money back.
For details about increasing spend and manufacturing spend, please see: Manufactured Spending Complete Guide.
Ideally you'll also use credit cards that offer the highest value rewards.  If you are working on minimum spend requirements for a new card signup bonus, then that's the card to use.  Otherwise, use the card that offers the best category bonus, the best rewards for everyday spend, or the card that offers the best big spend bonus.
The following resource pages will help you identify the cards that offer the most value for your spend:
Bank and Investment Offers
Many banks offer bonuses for opening new checking or savings accounts.  These are usually cash back offers.  There's nothing wrong with that, of course, but this post is about earning more points & miles.  There are a few options…
Citibank: Citibank sometimes offers American Airlines miles or ThankYou Rewards points in exchange for opening new premium checking accounts.  These accounts usually have fairly high monthly fees that kick in 3 months after opening.  After receiving your signup bonus, I recommend downgrading to a no-fee or low-fee account.
Bask Bank: Bask Bank offers 1 American Airlines mile per dollar saved per year.  And with a large enough balance, it's possible to earn up to 1.4 miles per dollar.  Full details can be found here.
Buying or Selling a Home
Chase: Chase sometimes offers bonus Ultimate Rewards or United miles when you finance a new home through Chase.  Of course, it's important to comparison shop to make sure that you're getting a good deal on closing costs and the interest rate.  If not, try bargaining with Chase to see if they'll match the best alternative offer.
American Airlines
I have no experience with either of the following options.  Please research first to make sure that you're not paying more for these services:
American HomeMiles: Earn AA miles when you buy or sell a home, and when you move.  Details here.
Miles From Home: Earn AA miles when you buy or sell a home.  Details here.
Amex Offers
Log into your Amex account, scroll down and look at the Amex Offers available on each of your credit card accounts.  Many offers are for cash back (e.g. "Spend $100 or more and get $20 back"), but you'll sometimes get bonus point offers instead (this is especially true with Amex cards that earn Membership Rewards points).
See also: Current Amex Offers.
Travel
When paying for travel, always make sure that you are signed up for all relevant loyalty programs.  Even if you don't think you'll ever use Choice points (for example), you never know.  You might as well get something.  Hotels and car rental companies often give you the choice of earning rewards with them or by earning airline miles.  In most cases, I recommend taking the hotel or car rental rewards.  One big exception is when they're running a promotion offering generous bonus miles (this is more common with car rentals than with hotels).
When booking paid flights, you should always make sure to include your frequent flyer number on the reservation.  Keep in mind that you can include your frequent flyer number from a partner airline.  For example, when flying AA, Delta, or United, you'll sometimes be better off listing your frequent flyer number from a partner airline that lets you earn miles based on miles flown, rather than the price paid.  Use the website Where to credit to see your options.
Miscellaneous Promotions
Hotels, airlines, car rental companies, and many other organizations regularly offer promotions where you can earn bonus points and miles for meeting the promotion's terms.
To keep up to date with the latest promotions, I recommend subscribing to our daily or instant emails (found here).  And, when you're planning travel, I highly recommend checking out FrequentFlyerBonuses.  This site keeps track of all known promos run by the major airlines, hotels, car rental companies, and more.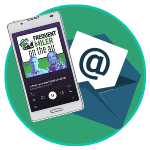 Want to learn more about miles and points?
Subscribe to email updates
 or check out 
our podcast
 on your favorite podcast platform.