United has launched a new subscription service called Miles By The Month where you can buy MileagePlus miles at a discount each month. In the unlikely event that this sounds exciting to you, it shouldn't as it's not a good deal.
On the off chance that you want to find out more about Miles By The Month, you can access it here. There are three different subscription plans available, with each one becoming slightly less awful the more you spend.
The way it works is that you earn 3,000, 5,000 or 8,000 miles per month depending on which level you subscribe to. Every three months you then earn bonus miles, with an increasing number of bonus miles earned every three months that you stay subscribed.
That all sounds good in theory, but in practice the math just doesn't work out. If you stayed subscribed to these plans for a full 12 months, here's how much you'd be paying per mile:
3,000 miles per month – 2.63c
5,000 miles per month – 2.33c
8,000 miles per month – 2.10c
The Reasonable Redemption Value (RRV) of United MileagePlus miles is 1.3c, so you'd be spending anything from 62% up to 102% more than the RRV in order to buy miles via this subscription service. You can certainly get better value than 1.3c from United miles and possibly even better value than 2.63c, but there are a couple of good reasons why it still doesn't make sense.
For starters, in order to get the full "benefit" of those 2.1c/2.33c/2.63c pricing levels, you have to stay subscribed for a full 12 months. Who knows what award availability will be like in a year's time, if United will devalue their program in the meantime, etc.
An even bigger reason you shouldn't subscribe to Miles By The Month is because United frequently offers discounts or bonus miles when buying their miles outside of this subscription service. For example, right now they're running targeted offers when buying miles, with my offer giving a 90% bonus when buying 35,000+ miles.
That means I could buy MileagePlus miles for only 1.84c each. That's still fairly high, but it's much cheaper than buying via subscription, plus I'd have the benefit of getting the full lump sum of miles right now rather than having to wait 12 months.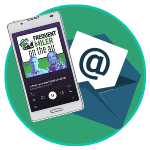 Want to learn more about miles and points?
Subscribe to email updates
 or check out 
our podcast
 on your favorite podcast platform.