This week at Frequent Miler, read up on everything from an updated look at the awesome St. Pancras Renaissance Chambers Club to the awesome really good interesting (?) Apple credit card. Read about an oddball way to get to Globalist and how Marriott elite benefits stack up at one of the top hotels in London. All that and more in this Frequent Miler Week in Review.
Friends and family ask me all the time how to save money on flights. Since I know most of them aren't looking for the answer, "go to Simon Mall and buy Visa gift cards and then . . .", I'll point them to this post from now on, which features the many techniques we use to save some cheddar on paid flights.
The current Hyatt promotion is a decent enough deal. Stacked with the right deals, it could make for a pretty cheap run at Globalist status. Of course, the "right" places are a bit out of the way and unlikely to be easy stops on your path to room service breakfast and valet parking, but it's interesting to consider how it could be done even if it doesn't make much sense.
I've often written of my strong annoyance with the ridiculous "resort fee" and "destination fee" charges that hotels get away with adding rather than disclosing as part of the room rate. The St. Regis seems to include a lot for the fee, but I think Greg does a great job here showing why these fees have a detrimental effect on the guest experience even when the guest doesn't particularly mind the fee. That said, I think Greg gives them too easy of a pass here: I don't care how nice the place is or what they are including, I can't get down with paying $50 per night on top of the cash rate or award rate because a $1,000-per-night hotel can't bake the cost of doing business into its room rate. It's tacky and disingenuous. #killresortfees
It turns out the Marriott suite night awards may not just be a gimmick after all as Greg was successful in applying one of his for a very good upgrade recently in London. This gives some hope to lowly Platinum members for getting access to the Chambers Club, so that's pretty cool indeed.
While tidying up and getting rid of the things that don't bring you joy may be the current fad, it's not a sound strategy for being prepared to take advantage of good values when they present themselves. Hoarding and cherry picking remains the way to go in 2019 when it comes to your miles and points.
Greg recently got a chance to enjoy the St. Pancras Renaissance once again and has updated this post to reflect the most current access policy for Marriott Bonvoy members. If London travels are in your plans, you'll want to check this out so you know what to expect.
When I saw the title of this post, I expected a lot more sarcasm. Greg actually makes some decent enough arguments about why some people (who aren't particularly interested in rewarding credit cards) might get pretty excited about this. I just hope that Kent in the comments is right and this card will help train the multitude of folks out there who aren't paying attention to credit card rewards to begin to expect 2% back as bottom-line position.
---
That's it for this week at Frequent Miler. Check back soon for this week around the web and the month-ending last chance deals.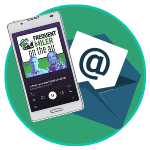 Want to learn more about miles and points?
Subscribe to email updates
 or check out 
our podcast
 on your favorite podcast platform.