Welcome to the new and improved Frequent Miler! Thanks to consistent reader feedback, we've redesigned our redesign and it was a key topic of discussion in this week's Frequent Miler On the Air (in video format above and podcast below). We also discussed a potential hidden opportunity in the Southwest announcement, how much Greg intends to spend toward Hyatt elite status, and whether or not the Double Cash is worth a 5/24 slot. All that and more above and below — watch, listen or read to the Frequent Miler week in review.
FM on the Air Podcast
For those who would rather listen than watch, the audio of our weekly broadcast is available on all popular podcast platforms, including:
You can even listen right here in this browser:
If you can't find the podcast on your favorite podcast platform, send us a message and let us know what you'd like us to add.
This week at Frequent Miler:
In Frequent Miler news:
It's likely hard to miss if you're reading this post (though if you are reading via email or some type of RSS reader, it's worth clicking through to the site): Frequent Miler has a new look. In an effort to make the site fresh and more modern (for a host of reasons ranging from a reputable appearance to optimizations like improved page load time thanks to a theme that isn't a decade old), our new Creative Director and the team at Boarding Area have been hard at work on the changes you see today. Unfortunately, in an effort to make different types of content easier to find (the more "meaty" articles like the ones you find in this week in review post vs short quick deal posts vs our multimedia), we had inadvertently created a confusing reader experience. We heard you and we reconvened the very next day to re-design our redesign, the result of which is a site that features our core content at the top of the page and all posts in chronological order after that, with our multimedia mid-way through. We'll keep bringing you the same content, but hopefully it's packaged a little prettier than before.
It's on from Sunday, April 19, 2020. Yours truly gets it cookin' to kick off Round 1 of the StayCay to Far Away Challenge. Early polling suggests an unexpected front-runner at the early stages. Can Greg come from behind and unseat the would-be victor? Read all about the new challenge here and how you can take part in choosing your champion. Make sure to subscribe to our Youtube channel to get notified as our videos go live.
In elite opportunities:
World of Hyatt cardholders have an opportunity to earn 3 elite nights for every $5K spend for the next (approximately) 2.5 months. Is it worth spending toward status and milestone rewards? As Greg does the math, it really depends on how many nights you think you'll have apart from this promo. As you'll see/hear in Frequent Miler on the Air above, I plan to give this one a miss, but Greg plans to give it some gusto. What will you do?
Southwest has announced what they're doing in response to the COVID-19 pandemic and it's surprisingly disappointing. As we discuss in FM on the Air above, this solution looks fair-ish on first glance, but the way they are handling the Companion Pass isn't particularly fair to anyone. I expected better. One small bright spot: the ability to turn travel vouchers into Southwest points may make for an interesting opportunity to convert other bank points to Southwest at decent ratios.
In credit cards:
With Citi's recently announced changes to the Citi Premier card, they have created an awesome cheap combo: With one $95 annual fee and two cards that have no annual fee, you can earn 3x on the average person's main spending categories and 2x everywhere else — and amp that up by getting 10% back up to 10K back per year on points used. Greg explores that combo in more detail here.
Sing it with me: You got to know when to hold 'em, know when to close 'em, know when to product change, know when you've won. Greg and I offered a credit card intervention for a reader who needed some help; we helped him trip out just under three grand in annual fees. See our suggestions and share your own thoughts in the comments.
If you're looking to lighten your load in terms of annual fees to pay out given the current economic environment, this post lays out your best downgrade options for many of the most popular travel cards. In many cases, a downgrade to a card with no annual fee is better than canceling altogether.
Just a short quick tip here, but one worth checking out if you opened a personal Chase credit card between 1/1/20 and 3/31/20 since there it is likely that you'll have some extra time to meet the spending requirements.
Catch us live next week!

Just a quick reminder: we were live this past Thursday at 4pm Eastern and we'll be back again next Thursday (4/30) at 4pm Eastern again. Come enjoy a miles & points distraction.
---
That's it for this week at Frequent Miler. Check back soon for our week in review around the web and this week's last chance deals.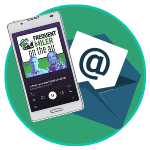 Want to learn more about miles and points?
Subscribe to email updates
 or check out 
our podcast
 on your favorite podcast platform.