Big news this week was made when people began reporting 1099's from referral bonuses courtesy of Amex. In this week in review around the web, there's a post with thoughts about those, how to avoid getting blacklisted by the Internet, what you might miss after a year on the road and more. Read on for the recap from around the 'net.
If you've missed the reports, Amex is sending out 1099's for referral bonuses. To the layman like me, it seems crazy to consider as income points that can not be bought or sold and do not have a fixed value (no matter how often people complain about Hilton or Delta going "revenue-based", the fact is that there just isn't a universal value). However, my layman's opinion is useless. If you want to read something useful, see this post from Travel Codex with some options for how you might choose to handle those 1099s.
---
Yuck. At some point, I received a bunch of small gift cards from some type of promotion. I used some and like an amateur I failed to mark / delete which I'd used. As I sat there checking balances, I started getting more and more complex Captchas. It was annoying and I eventually gave up on it. After reading this post from Shawn and Miles to Memories, I'm glad I quit on that early and thankful that it didn't blacklist me across the Internet the way it has for him. This is worth a read for anyone doing multiple repetitive orders / balance checks / etc so that you can pick up the tips on how to avoid Captcha hell.
---
Dr. McFrugal, whose minimalist lifestyle intrigues me from a spectator stance but would never happen for me in reality, poses the title question. I'm going to answer: No. Greg has previously addressed the earn and burn fallacy and espoused the value of hoarding and cherry picking. I visited the cherry tree this weekend: I'm currently typing this post from a hotel in Atlanta that cost me 8,000 points per night during Superbowl weekend. Cash rates when I booked (just a couple of days ago) were $875 plus tax. I wouldn't say I got 11 cents per point in value, but hoarding points did give me the chance to bring my son to his first Superbowl [city…while we may stroll by the stadium, we'll be watching the game from our room]. I like having points on hand for game-time decisions like that.
---
I've never been particularly drawn to Founderscard, but it often comes up at conferences and I hear from happy cardholders who pony up the cash and find they get value beyond the fee. I know that membership deals have varied in price and details over the years and I haven't tracked them enough to know whether or not the current offer is the one to jump on, but this post from Out and Out is probably the most comprehensive guide to benefits that I've read. If you've ever considered the card, it's worth checking this out to see if it is right for you.
---
Does the idea of living full time on the road and in hotels sound glamorous or gloomy to you? Our own Stephen Pepper writes on his blog No Home Just Roam about the things he misses from "home" after the first year of his 5-year, 50-state road trip. Today marks 2 weeks that I've been on the road (with a baby) and I'm in my 8th hotel in that time and I can c-o-m-p-l-e-t-e-l-y sympathize with the lack of motivation to pack and unpack repeatedly. Full-time travel is surely awesome in more ways than it isn't, but I'm curious what readers would miss the most about having a home if you were to leave it all behind to roam?
---
That's it for this week around the web. Check back soon for this week's last chance deals.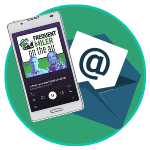 Want to learn more about miles and points?
Subscribe to email updates
 or check out 
our podcast
 on your favorite podcast platform.