Welcome to 2019!  This year, Bank of America points will become transferable, one of Virgin Atlantic's best sweet spot awards will devalue, Delta will offer a new elite upgrade path to premium economy, and Hilton will introduce a new elite perk ….  Maybe.
Before I detail my 2019 predictions, here's how well I did with 2018 predictions…
A US airline will introduce Basic Economy awards. Confirmed
Delta began offering Basic Economy awards on some routes in December.
A hotel chain (or brand within a chain) will eliminate resort fees. Wrong
To be honest, I never expected this to happen. It was more of a hope than a prediction.
Marriott will offer free breakfast to Gold and Platinum elites at resorts. Confirmed
I failed to predict that they would rename "Gold" to "Platinum" but the gist of the prediction (that 50 night elites would get breakfast at resorts) was correct.
Marriott will announce details of the combined Marriott / SPG rewards program and it will look a lot like Marriott Rewards. Confirmed
Not only does the new program look like Marriott Rewards, they even adopted Marriott's existing technology platform for better or worse (mostly worse).
So, with without further ado, here are my 2019 predictions….
Bank of America will offer point transfers to miles from their Premium Rewards card
Virgin Atlantic will eliminate the 120K sweet spot to Tokyo
Delta will introduce a new elite option for upgrading to premium economy
Hilton will introduce a new elite perk… possibly some kind of suite upgrade instrument, but more likely guaranteed late checkout.

Bank of America will offer point transfers to miles for their Premium Rewards card customers
In 2018, Barclays introduced a new rewards card with points transferable to miles but then they killed the card just 6 months later.
Undeterred by Barclays, Capital One then enhanced all of their "miles" cards to allow their so-called miles to be transferred to airline miles.
When looking into the Capital One announcement, I saw that they had partnered with a middleman service called Ascenda Loyalty (previously known as Kaligo Solutions).  My guess is that Barclays used them too.  And, with a middleman service ready and able to make transfers to miles a reality, I think it's reasonably likely that Bank of America will take the plunge too.
BOA's Premier Rewards card offers 2X for travel and dining and 1.5X everywhere else.  Where things get really interesting is when you have money banked or invested with Bank of America / Merrill Edge / Merrill Lynch. Those with $20K or more on deposit can earn a "Preferred Rewards" bonus. At the top end, those with $100K or more invested will earn a 75% bonus on points earned, meaning that they would earn 3.5X on travel & dining and 2.62X on everything else.
If Bank of America offered one to one transfers to airline miles, the ability to earn 2.62X would be incredible.  If, instead, they offer 2 to 1.5 transfers the way Capital One does, the card would earn 1.965 airline miles everywhere for those who qualify with $100K at BOA / Merrill Edge / Merrill Lynch.
It's already possible to get 2X miles everywhere with the Amex Blue Business Plus, but the Amex card caps that earning rate at $50K annually.  Plus, they tack on foreign exchange fees when used outside of the US.
I already think of the Premier Rewards card with Platinum Preferred Honors as the single best "everywhere else" rewards card on the market.  If BOA adds point transfers it will be even better.
Virgin Atlantic will eliminate the 120K sweet spot to Tokyo
Virgin Atlantic currently has a nice sweetspot on their partner award chart for ANA: 110K or 120K round trip first class from the US to Japan.
This award is the same price that Virgin Atlantic charges for Delta business class to Japan.  And that's a deal compared to how much Delta would charge for the same.
Delta will introduce a new elite option for upgrading to premium economy
Delta has been slowly rolling out their new premium economy product, named Premium Select, on their long haul fleet.  So far, the product can be found on Delta's Airbus A350s and some 777s, but it will soon be added to additional aircraft.
Today, there's only one free way for a Delta Medallion elite member to upgrade to Premium Select: Global upgrade certificates.  These certificates are available only to top-tier Diamond members and it would be a shame to use one on Premium Select when the same certificate can be used to upgrade to lie-flat business class.
My prediction is that Delta will add free upgrades to elites in some form.  My best guess is that they'll make upgrades free to Medallion members on the day of departure only.  This is the same approach Delta took to offer free upgrades to Delta One "on flights within the U.S. 50 – including flights to Hawaii."
Hilton will introduce a new elite perk
This past year Hilton introduced one of the best new credit cards of the year, maybe even the single best credit card of the year, the Hilton Honors American Express Aspire.  This card is loaded with perks that more than offset it's $450 annual fee, including top tier Diamond elite status.
The one little hitch keeping the Aspire from being a must have card for some of us is the fact that Hilton's Diamond status doesn't offer much above Gold status other than guaranteed executive lounge access.  Gold status is available to anyone with an Amex Platinum card or the $95 Hilton Ascend Card or the $95 business card.
Another factor leading to this prediction is the fact that Marriott has been hogging all the news with their SPG merger.  And Marriott offers a few key elite benefits that Hilton does not.  These include guaranteed late checkout, and suite upgrade certificates.
My best guess is that Hilton will add guaranteed late checkout: 4pm for Diamond elites, and 2pm for Gold.  I doubt they'll add suite upgrade certificates, but we can hope.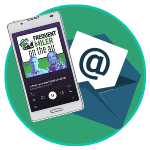 Want to learn more about miles and points?
Subscribe to email updates
 or check out 
our podcast
 on your favorite podcast platform.