Last month, Greg announced that he is passing the GUC. That is to say that Greg is giving me the use of his Delta Global Upgrade Certificates to plan a trip. The catch is that he has to come with me. More on the concept here: Passing the GUC: Greg gives global upgrades to Nick with a catch. Obviously, we have no idea whether a trip of any exciting magnitude will be possible by the time the certificates expire at the end of January 2022, but the purpose of this post is to lay out my dream route that will win as many bonus points as possible via the additional challenges.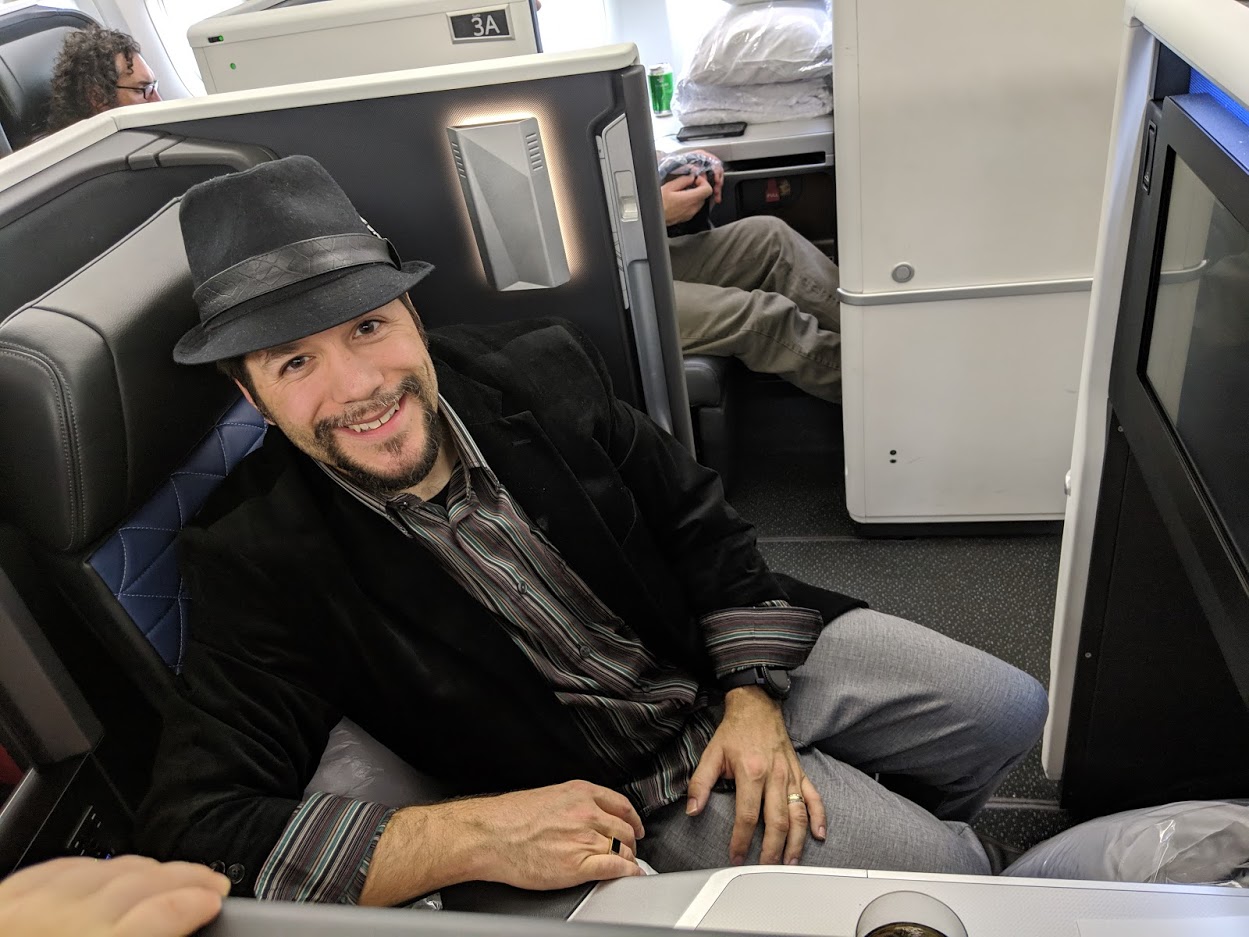 The challenges
You can read more about the challenges that will get me additional points by clicking through these links to the original post:
I don't know whether it is possible to meet all of the challenges in a single GUC trip, but my goal is to check off as many boxes as possible.
The curveball
We had previously agreed that we would each pay our own way for flights on this trip and Greg would use his Global Upgrade Certificates to upgrade us. Greg recently threw me a curveball live on Frequent Miler on the Air. Amidst discussion of the recent enhancements Delta has made to GUCs, as we were discussing the fact that these certificates can now be used on award flights (pending upgrade availability of course), Greg offered to cover both his flights and also my flights if we use miles (and provided that the flights we choose are a reasonable number of miles of course).
That's a huge offer that would substantially reduce my cash outlay for this trip, so it is highly tempting. Unfortunately, I had already started dreaming big on this trip in ways that might make using miles to fly both ways challenging. However, I'm thinking about taking Greg up on his offer to use miles one way while finding the type of creative routing that requires a cash ticket the opposite way. Incidentally, booking paid flights at least one way preserves my chance to possibly earn some sort of elite status from the trip.
5th freedom routes for inspiration
In planning, I came to realize that I was likely going to need to fly at least 3 airlines. That's because of these challenges:
Sweet Suite GUC: Flying in a suite with SkyTeam means Delta One suites.
KLM Delft Blue houses: You won't get one of these little houses on anyone but KLM
Air France's signature business class lounge: Getting into this lounge doesn't necessarily require flying Air France, but it does mean transiting Paris which certainly might mean an Air France flight (particularly if I'm going to try to go the distance for elite status – more on that later)
In order to connect the dots, I looked to 5th Freedom routes to see whether Delta, Air France, or KLM flew any that might be useful and/or appealing. I've also just found it fun to read over this list of 5th Freedom Routes again and again.
Delta has no 5th Freedom routes listed on that page (and I believe that is accurate).
Air France surprisingly has just two:
Los Angeles to/from Tahiti
Miami to/from Haiti
While I'd like to go back to Tahiti, it wouldn't make sense on this trip. Aside from earning the everlasting ire of both our wives for going to Tahiti without them, it would leave us stranded at an airport from which the only SkyTeam option is Air France back to Los Angeles.
KLM has a few 5th freedom routes:
Muscat to/from Dammam, Saudi Arabia
Santiago, Chile to/from Buenos Aires, Argentina
Freetown, Sierra Leone to/from Monrovia, Liberia
Singapore to/from Bali
Bahrain to/from Kuwait
Jakarta to/from Kuala Lumpur
I'm not going to count anything out yet, but the route that immediately captured my attention and will now be hard for me to let go is Santiago to/from Buenos Aires. I've long wanted to visit both cities. Somehow managing to do that and collect a blue house for the flight would be pretty darn cool. Given that Air France flies to both Santiago and Buenos Aires, I further thought there may be some hope of routing to one or the other via Air France and adding the KLM connection to complete the journey.
But now we're getting the cart before the horse: the key is that the 5th Freedom flights have been the inspiration to find something interesting.
Picking up at least 2/3 of the bonus points
I haven't yet devised a plan to surely get all 9 bonus point challenges, but I now have a dream trip that would check off at least 6 of those 9 challenges and possibly 8 out of 9 with the final hurdle in reach and far from impossible. Here's how.
It's worth noting that making this journey a round trip was not a requirement and as such is not a primary concern for me (since we each have plenty of miles to get home from wherever). Also, the first challenge is "fly safe & don't get cancelled". It is nearly impossible to predict whether we can meet that requirement, so I am assuming that any successful trip checks that one off the list – essentially giving myself credit for #1 by assuming that the dream trip here happens.
To complete as many of the other challenges as possible, my dream trip would be to:
Fly Detroit to Tokyo in Delta One Suites. I would make this a simple one-way ideally booked in economy class with miles and upgraded with a Delta Global Upgrade Certificate each. This would complete the following challenges:

Sweet Suite GUC: We would fly in Delta One suites
Get outsized hotel point value: If ever there were a city where it was easy to get outsized hotel point value, Tokyo would be it. Rates are always high and great point values abound.
A GUC for a Duck: The Conrad Tokyo is known to give out rubber ducks and it is typically an excellent use of Hilton points. The difficulty here could be finding award availability, though my bet is that it won't be as hard for a while as travel slowly comes back.

Buy a one-way cash ticket from Tokyo to Buenos Aires that connects in both Paris and Santiago, Chile. This would complete the following challenges:

Air France business class lounge in Paris
Delft Blue House via KLM
That would give me 6 challenges complete (including "fly safe & don't get cancelled"). The three challenges I would be missing would be:
Elite status for Nick
Free (or cheap) stopover perks
Outsized activity perks
Perhaps I'm just overconfident, but I feel like outsized activity perks can be found anywhere with enough determination. I feel like I'll lock that one up wherever we go. Cross that third one off the list and consider it done.
Free or cheap stopover perks could be a challenge, though I'm thinking that I may be able to make that work in Tokyo. Tokyo Narita (NRT) is one of the airports where Greg found free stopover tours and I tried to take one of those during the 40K to Far Away challenge (my flight arrived too late to take advantage of them). It looks like the Narita transit tours are temporarily suspended due to COVID, but even if they were to start back up I'm not sure whether we would be eligible to take one of those free tours if Tokyo is our flight's destination. However, we could potentially make Tokyo a transit point for the next leg of our trip by first taking a train to another city (like maybe Osaka or Nagoya) and then flying back to Tokyo in order to catch the flight to Europe (and therefore getting a free transit tour while we're only at the airport for a few hours). That could look like this:
Fly Delta from Detroit to Tokyo
Spend a day in Tokyo, then take a train to Osaka
Fly from Osaka to Tokyo (using 5K United miles) on the same day that we take off to fly to Europe. We should be able to do this with a long layover at Narita airport that would make it possible to do a free stopover tour.
Fly from Tokyo to Paris as outlined above.
An advantage with this strategy is that we could position ourselves to kick off a United Excursionist Perk for later in the trip or sometime thereafter. By booking Osaka-to-Tokyo via United Mileage Plus, we could add a throwaway segment far in the future and pick up a free Star Alliance segment within some other region of the world. This could be quite useful, though it isn't yet clear how we'd use it. For more on why we would consider this strategy (beyond qualifying for a stopover tour), see: Fly around Japan for 5K each way, and add a free Excursion [Sweet-spot spotlight]. Back to the main point: I think we'll get a free stopover one way or another.
The bigger challenge, particularly assuming that we're flying Detroit to Tokyo on an award ticket, will be elite status for Nick. If we managed to fly from Tokyo to Paris to Santiago Chile to Buenos Aires on a single paid ticket (that we can upgrade with Delta GUCs), we would be looking at approximately 14,000 miles flown according to GCMap.com:
That is nearly (but not quite) enough miles for SkyTeam member Vietnam Airlines LotusMiles Titanium status, which ordinarily requires 15,000 qualifying miles. Doh: so close yet so far. Of course, I can hope that Vietnam Airlines reduces their qualification requirements. On the other hand, I don't yet know what fare class we would be booking for such a dream trip, so perhaps I could earn more than 1 mile per mile flown via some SkyTeam airline. The elite status part of the challenge is still TBD — but I'm close enough here that I'm certainly not ready to give up on it.
But maybe it's just a dream
The purpose of this post isn't really to lay out a realistic plan for how I'll meet the challenge of using Greg's Global Upgrade Certificates to best possible value but rather to dream a little about what I'd like to find. The routes I've laid out above are possible, but at the moment it would be far too expensive as I've planned it.
ITA Matrix tells me that it is indeed possible to book the trip entirely in the most expensive economy fare class (Y) for five grand each.
We obviously won't be doing that. But the good news is that Tokyo to Buenos Aires can indeed be booked a lot cheaper on SkyTeam, albeit without checking all of my boxes.
And if I'm willing to toy with destinations a bit and change the trip up significantly, an example like Mumbai to Santiago could get us 12 hours in Paris – plenty of time to see a little of the city of lights while still enjoying the lounge and picking up a house on the last leg.
Those prices are also more than I'd like to spend on the cash ticket here, but at the moment I'm kind of glad that they are high. I'm not in a hurry to book given how little we know about what the travel situation will look like, so I'd rather not stumble on that amazing fare sale for a few more months. The good news is that now I have an idea as to routes I'll check.
There is also the issue that upgrade space on Air France can be somewhat difficult to find. I've actually been pleasantly surprised at how widely available KLM upgrade space has been on routes I've searched via ExpertFlyer, but Air France space is more unpredictable according to all accounts. So I may have to settle for a route that is more that includes KLM on a long-haul route rather than Air France. That certainly isn't a problem for me (I've never flown KLM business class and would love to try it), but it might make it harder to get in that 5th freedom flight between Santiago and Buenos Aires that I can't get out of my mind now.
But of course, coming back to reality, I know that the more countries and complex routings I look to include, the less likely the trip is to be possible and/or safe given the current environment. This is the dream, which has also given me some more realistic backup plans if it can't happen exactly as I'd like. But we've got time and things are constantly changing, so I'm going to keep dreaming for now and I look forward to seeing how it turns out.