This site is part of an affiliate sales network and receives compensation for sending traffic to partner sites, such as CardRatings.com. This site does not include all financial companies or all available financial offers. For additional details, see our Advertiser Disclosure.
Card Details and Application Link
Citi Premier Card
Recent better offer: None. This matches the best offer we've ever seen.
FM Mini Review: Very strong earnings for spend. Excellent bonus categories. Points transferable to select airlines. Recommend pairing this card with Citi Double Cash and Citi Rewards+. Sadly, this travel card doesn't provide any travel protections.

---
Card Type: Mastercard World Elite
<!–– qBaseq -->
<!–– qTravelq -->
<!–– qDineq -->
<!–– qGasq -->
<!–– qGroceryq -->
Earning rate: 3X grocery ⚬ 3X dining ⚬ 3X gas stations ⚬ 3X flights, hotels, travel agencies
Noteworthy perks: Transfer points to airline partners ⚬ $100 Annual Hotel Savings Benefit
See also: Citi ThankYou Rewards Complete Guide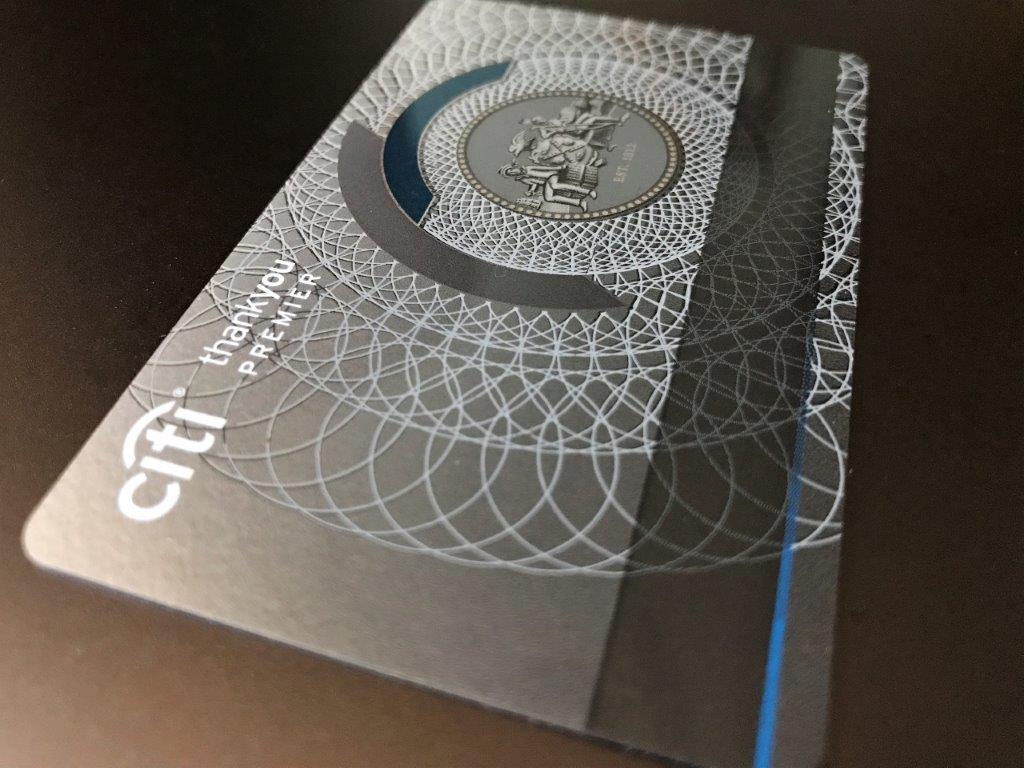 The Citi Premier card offers a slew of great 3x category bonuses (e.g. earn 3x at grocery stores, gas stations, and more) and it offers the ability to transfer to airline partners and hotel programs 1 to 1 (and in the case of Choice Privileges, 1 to 2!). This guide includes everything you need to know about the Premier card, its benefits, and how it fits into the Citi Thank You Rewards ecosystem.
Citi Premier Application Tips
Citi Application Tips
24 Month Rule (ThankYou Cards): To get bonus on any ThankYou card, you must wait 24 months after receiving a new cardmember bonus or closing any ThankYou card account. Applies to Preferred, Premier, Prestige, and Rewards+.
24 Month Rule (Expedia Cards): To get bonus on any Expedia card, you must wait 24 months after opening or closing any Expedia card account.
48 Month Rule (AA Cards): With Citi AA cards, you have to wait 48 months after receiving a bonus for the same exact card.
Velocity Rules: Max 1 personal card per 8 days. Max 2 personal cards per 65 days. Max 1 business card per 95 days.
Get Same Card Again: Citi allows getting same card again (even if card is still open) as long as you follow the 24 or 48 month rules and velocity rules (above).
Hard inquiries DO NOT combine into 1 when approved same day


Check application status here.
If denied, call reconsideration here:800-695-5171 (personal); 800-763-9795 (business)
If reconsideration # doesn't work, try the Citi Credit Card Executive Office: 423-477-6858
Should you apply?
The Citi Premier card usually has a good welcome bonus that can offer excellent value through transfer partners. It also has excellent bonus categories for ongoing spend in the most common categories. Ironically, Citi removed most travel protections from this card a couple of years ago, making it hard to consider this a primary card in a travel rewards card strategy, but as a means of diversifying your points it can be a very good choice.
If you are eligible (see next section), the welcome bonus on this card certainly makes it worthwhile for at least the first year.
Are you eligible?
To get the bonus when signing up for this card, you must not have received a new cardmember bonus for the Citi Rewards+®, Citi ThankYou® Preferred, Citi Premier® or Citi Prestige®, or have closed any of these accounts, in the past 24 months. If you currently have one of those cards and would like to close it to get a new Premier card, be sure to open your new Premier card before closing any of those other cards.
Note that product changing from one of these cards to another Citi card will count as closing the card only if Citi assigns you a new card number.  When calling to product change, ask the rep if a new number will be assigned.  If not, you should be safe.
How to apply
Click here to jump to the top of this page then click the application link highlighted in yellow.
Application status
After you apply, call 1-866-252-0118 to check your application status.
Reconsideration
If your application is denied, I recommend calling for reconsideration (800-695-5171). It's surprising how often denials can be changed to approvals just by asking.
Citi Premier Perks
Travel Benefits
Transfer Points to Partners: Points can be transferred 1 to 1 to a number of airline and hotel loyalty programs (and 1 to 2 to Choice Privileges).
$100 Annual Hotel Savings Benefit: Once per year you can apply a coupon for $100 off on an after-tax hotel booking of $500 or more. Unfortunately, you have to book through Citi's ThankYou portal, which is notoriously overpriced and does not allow access to hotel member rates, AAA rates, or other discounted rates. In other words, this perk won't save you a full $100 in many situations.  That said, in fall 2022, Citi is expected to switch to a new travel portal provider (Booking.com) and hopefully their prices will be better then.
No foreign transaction fees: The Premier card is the only currently available card that earns ThankYou points and which doesn't charge foreign transaction fees.
Travel Protections
None.
Citi eliminated travel protections
from almost all of their cards in September 2019.
Purchase Protections
Extended Warranty: Citi extends the manufacturer's warranty by 24 months on items with a manufacturer's warranty of 5 years or less. This is the best extended warranty coverage of any issuer.
Damage and Theft Protection: Covers your new purchases for 90 days against damage or theft up to $10,000 per claim and $50,000 per calendar year.
---
Citi Premier Earn Points
Intro Bonus
This card earns valuable Thank You points. Here's the current welcome offer:
Bonus Spend
The Citi Premier card offers a terrific selection of uncapped 3x bonus categories:
Card Name w Details No Review (no offer)
Citi Premier Redeem Points
Cash Back
Cardholders can redeem points for 1 cent each either as statement credits or as cash back.
Travel
Redeem points to pay for travel (no, don't)
While it's possible to redeem points for travel through Citi's ThankYou Rewards travel portal, I do not recommend it.  You'll only get 1 cent per point that way, you'll be limited to the prices found in the travel portal, and you won't earn rewards from that spend. Unless you are taking advantage of the card's annual $100 hotel benefit, you're better off booking travel through other sites or direct from the travel provider.  That way you can earn points on that booking while at the same time booking with whatever source offers the best price.  If you want to then use your points to cover that travel purchase, simply redeem points for cash back.
---
If you're interested in taking advantage of the Premier card's $100 hotel benefit or the Prestige card's 4th Night Free benefit, you do have to book through Citi's travel portal, but you do not have to redeem points.  It is better to pay for this travel with your card (so as to earn points) and then you can optionally redeem points for cash back to cover those charges.
Transfer points
---
The best use of Thank You points is to strategically transfer points to airline and hotel partners in order to book high value awards. Your best bet is usually to wait until you find a great hotel or flight award before transferring points. If you have at least one premium card such as the Citi Premier or Prestige card, most points transfer at a ratio of 1:1, but Citi regularly runs promotions where they offer a
transfer bonus
to a specific program.  For example, we've frequently seen 25% bonuses for transfers to Avianca LifeMiles and to Air France / KLM Flying Blue.
---
For a full list of Citi's transfer partners, along with any current transfer bonuses, please see:
Citi Transfer Partners
.  One fantastic option is to transfer points 1 to 2 to Choice Privileges in order to get great value when booking
Preferred Hotels & Resorts
,
Ascend Hotel Collection hotels
,
Cambria Hotels
, and
Nordic Choice Hotels
.
---
For flight awards, our post "
Citi ThankYou points sweet spots for high value redemptions
" details the best value uses of Citi ThankYou points. Either
click here
 or click below to jump to a section of the post:
---
Other ways to redeem points (not recommended)
Through the Thank You portal you can redeem points for gift cards, merchandise, or experiences. With this approach you'll usually get 1 cent per point value.  And just as with paid travel, I don't recommend using points in this way.  Instead, pay for what you want elsewhere and optionally redeem points for cash back in order to cover those charges.  One exception is that Citi occasionally offers gift cards at a discount so you may be able to get better than 1 cent per point value during a gift card sale.
---
You can also use points to pay some merchants directly (Amazon.com for example). Don't do this. These options offer very poor value. Further, they may compromise the security of your account (i.e. if someone hacks into your Amazon account, they might spend your Thank You points - causing you a headache in getting your points reinstated). The only time it is worth using points this way is when Amazon runs a promotion to save when using points: you can sometimes use 1 point to save $15 off of $50 (for example) and in those cases it makes sense to use only 1 point and to pay the rest with your credit card.
---
Citi Premier Manage Points
Combine Points Across Cards
If you are the primary account holder with multiple cards, you can combine ThankYou Rewards accounts.  When your points are combined, they can then automatically be redeemed at the same value as your best card.  For example, if one of your cards is the Premier card, you will be able to transfer points to airline partners even if the points were earned on a card other than the Premier card.  Similarly, if you combine other cards with the Rewards+ card, you'll get a 10% rebate on all award redemptions (up to 10,000 rebated points per year) even if the points originated from a different card.  If you have both the Premier and the Rewards+ card combined together and you transfer 100K points to a partner program, you'll get 10,000 points back.
---
There are some disadvantages to combining points:
You lose the ability to pick and choose which points are used when you redeem awards.
You lose visibility into how many points remain with each card.
The above disadvantages become important when you want to cancel a card: when you cancel a card, all points earned from that account are lost after 60 days.  
I recommend downgrading to a no-fee ThankYou card rather than cancelling outright
.  That way your points are safe.
Share Points Across Cardholders
Citi generously allows people to transfer ThankYou points to 
anyone else
, for free.  There are two "catches" to this:
Shared points expire after 90 days. Make sure you have a specific near-term use in mind before transferring points.
100K limit: Each member may share up to 100,000 points per calendar year.  Each member may receive up to 100,000 points per calendar year.
Why this is valuable:
If you don't have the Premier or Prestige card (the two cards in Citi's lineup that allow full value transfers to partners), you can move your points to a friend who has one of those cards and then they can transfer the points to an airline or hotel program in order to book high value awards.
If a friend has airline elite status with one of Citi's transfer partners with which you want to book an award, you may be better off transferring points to your friend who can then transfer the points to the airline partner and book the award for you (to get free award changes, for example).
How to Keep Points Alive
There are several situations in which you may have Citi ThankYou Rewards points that will expire:
Points earned by a credit card account expire 60 days after cancelling that account.
Points transferred to your account expire after 90 days.
Points earned from some older credit cards expire in a set amount of time after points were earned (e.g. 3 or 5 years after December 31 of the year in which the points were earned).
Points earned from some credit cards expire if your credit card account has no purchase activity in 18 months.
Points earned from Citibank banking products expire 3 years after December 31 of the year in which the points were earned.
Credit card points: how to keep points alive
With most credit card points (except with some older credit cards which are no longer available), points remain alive until you cancel the card from which they were earned.  Once you cancel the card, points expire after 60 days.
---
Combining accounts does not solve the problem
.  When you combine multiple ThankYou accounts, it's natural to assume that as long as you keep any ThankYou Rewards credit card open, your points will be safe.  That's simply 
not
the case.  Citi keeps track of where each ThankYou point came from.  If you cancel a card, the points earned on that card expire after 60 days.  Period. They are 
not
known to reinstate points.
---
The best way to preserve your ThankYou points
 is to keep your credit card account alive.  If you don't want an annual fee, then 
call to downgrade to a no-fee ThankYou card
.  There is a side benefit to this approach too: Your no fee card may be eligible for occasional lucrative retention offers.  See: 
How one call led to a points bonanza and rethought plans
.
Bank product points: how to keep points alive
Points earned from banking products (such as checking accounts) expire 3 years after December 31 of the year in which the points were earned.  Fortunately, when redeeming points combined across multiple accounts, Citi automatically uses first whichever points have the most recent expiration date.  So, in general, your banking product points (which eventually expire) will be used first if you have combined accounts.
---
Citi Premier Card Lifecycle
How to meet minimum spend requirements
Once you are approved for a Citi card, you generally have three months to meet the required spend in order to get the welcome bonus. If your usual spend isn't enough, consider using the Plastiq bill pay service to use your card to pay bills that can't usually be paid by credit card (rent, mortgage, contractors, etc.). Note that Mastercards like the Premier card can be used to pay a greater range of payees than Visa or Amex cards. Click here to find many more options for increasing credit card spend.
Keep, cancel, or product change?
Is this card worth keeping in the long run? The main reason to keep this card around long term is as a way to transfer points to airline and programs. If you want to transfer Thank You points to partners, you'll need the Premier. If you don't need that capability for a while, consider downgrading to a no-fee ThankYou card.
All cards that earn Citi ThankYou Rewards points