There is a targeted upgrade offer appearing on some Amex Gold cards this morning. Nick's wife was targeted with an offer for 25,000 Membership Rewards points after $2,000 in spend along with 6 months of 5x on gas, supermarkets and grocery (up to $15,000).  I'm not sure if that's the standard upgrade offer or if there are other ones out there.
The Deal
Targeted upgrade offer for American Express Gold Cardholders: Upgrade to Platinum and earn 25,000 Membership Rewards points after spending $2,000 in first six months. Plus, earn 5x Membership Rewards on eligible purchases on US supermarkets, US gas stations and restaurants worldwide during your first 6 months of card membership (on up to $15,000 in purchases).
Direct Link to Offer (must log-in)
Quick Thoughts
I've seen this same offer in several places, I'm assuming it's the only one currently out there.  While neither of our cards were targeted, it seems to be fairly common.
At first glance, this doesn't seem like much to write home about. You're on the hook for $450 of additional annual fee, which the 25,000pt upgrade bonus doesn't cover. The Gold already gets 4x on grocery and restaurants, so it's really only an additional 1x on each of those categories…and only for six months.
That said, Nick and Greg talked on this week's podcast about whether or not the Platinum credits were worth the $695 annual fee…and their answer came out as a surprising "probably." (See Greg's post on maximizing the Platinum card's value)
Amex recently made a drastic improvement the $240 entertainment credit, adding Hulu, ESPN+ and Disney+ (and indirectly, HBO Max, Showtime and Starz), drastically increasing the utility of the credit. Upgrading in mid-calendar year will also give you two shots at both the $200 Airline credit and the $200 Fine Hotels and Resorts credit before downgrading back down to the Gold…or perhaps getting a retention offer.
While the dining and grocery improvement is only 1x, 5x at gas for 6 months can put a significant dent in currently astronomical gas prices, even for those who can't/don't take advantage of gift card purchases at gas stations. But, since the increased spending offer is only good for 6 months, it will cause you to lose out on 6 months of the Gold's 4x on both grocery and dining before you're able to downgrade again (it's usually considered best practice to not downgrade within 12 months of accepting an upgrade offer).
This offer should only be considered if you've already had, or currently have, the Platinum card.  Otherwise, upgrading will cause you to become ineligible for new enrollment welcome offers on the card, which currently are huge. If you've already had the Platinum, you can still get this offer.  There is no hard-pull and your card numbers won't change.
I have two Gold cards, so I'd be tempted to upgrade at least one of them if I were targeted. If I were able to max out the $25,000 grocery bonus on the Gold card for 100,000 points in a year, I would be even with maxing out the $15,000 5x Platinum upgrade offer (75,000pts + 25,000pts). Then it would simply be a question of whether or not I'd pay $450 for the first-year Platinum credits…which I probably would.
For someone who doesn't max out their Gold card categories, I think it's even better. Let's say you spend $1000/month on Grocery and Restaurants with the Gold, earning 48,000 pts/year at 4x. Take six months of that spend, or $6,000, at 5x and add the 25,000 pts from the upgrade, you're now at 55,000 pts.  That's 7,000 pts better, not counting any additional earnings on gas.
In the end, though, how worthwhile it is for you probably boils down to how much you can utilize the first-year Platinum bennies…and whether or not you want to even mess around with the "coupon book" to begin with.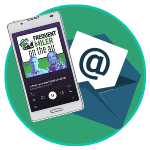 Want to learn more about miles and points?
Subscribe to email updates
 or check out 
our podcast
 on your favorite podcast platform.