The Amex Points Parade Marches On!
American Express has targeted another round of cardholders for No Lifetime Language offers (NLL) on the Business Gold and Business Platinum. I'm now targeted for each card, just in time as I'm just finishing the spend on the current consumer Gold referral offer.
My wife was targeted for both as well, even after getting an NLL Gold in March AND even though she's currently working on the spend for the Business Platinum offer from last month. Neither of us have ever had a hard pull from these offers.
The Business Platinum offer has an expiration date of 7/31, but the Business Gold is 9/30. Either way, if you're targeted, it appears as though there's time to decide or finish off any other spend that you're working on.  That said, I have heard of these offers going away for some folks, so YMMV. If you can make the (significant) spend, these are the best Business Platinum and Business Gold offers in recent memory.
I continue to be absolutely gobsmacked by the frequency of these NLL offers. I keep thinking that we'll reach the end of the yellow brick Membership Rewards road, but they just keep on coming.
The Offer
If you see the message below or a screen with no offer listed, it means you're not targeted:
Quick Thoughts and Key Card Details
The current best public offers for each of these cards are below:
The targeted offer are obviously a huge improvement on the current best available, even without adding the authorized user card.
Keep in mind that both the Business Platinum Dell and airline credits reset on the calendar year.  This means that in the first year of card membership, you can get 3x Dell credits and 2x airline incidentals, adding an additional ~$400 in first year value if you only pay the annual fee once. While the various perks and credits on Amex cards can feel a little "coupon booky," I find it pretty easy to get full advantage of these two and the wireless service credit as well.
These are obviously a terrific welcome offers if you can use the card and make the spend.  Without even considering the additional perks and credits, the Business Platinum offer will end up being around ~$2500 based on our RRV, whereas the Business Gold would be around $1550, both fabulous returns on the minimum spend. Wowza.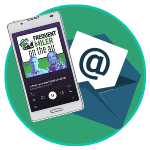 Want to learn more about miles and points?
Subscribe to email updates
 or check out 
our podcast
 on your favorite podcast platform.