Yes, you can continue to march on the Amex point parade even after you've signed up for all the cards. This week on Frequent Miler on the Air, Greg and I discuss the many ways to keep up a steady stream of Membership Rewards points flowing onward long after you thought the river dried up.
Elsewhere on the blog, Greg shares his near-disaster with Marriott so that you can avoid his near-miss, we highlight why the Curve card isn't quite ready for the limelight, Tim and I explore the use of points toward paid travel, and a lot more. Read on for more from this week at Frequent Miler.

00:53 Giant Mailbag: What's the best loyalty program outside of the United States?
4:18 Mattress running the numbers: Magazines.com stacking deals
9:08 What crazy thing did….Curve do this week?
14:25 Main Event: Amex end game
15:52 No Lifetime Language offers (NLL)
19:26 A "lifetime" may be shorter than you think
22:50 Downgrade / Upgrade path
26:11 Ways to earn more points with your existing cards (first up: referrals)
31:11 Authorized user / Additional cardholder bonuses
34:07 Pay Over Time bonuses
41:04 Retention Offers
44:45 Post roast Nick Roasts Marriott
48:21 Greg Roasts Nick
53:09 Question of the Week: I got an Amex authorized user bonus. How long do I need to keep the AU accounts open?
Subscribe to our podcast
We publish Frequent Miler on the Air each week in both video form (above) and as an audio podcast. People love listening to the podcast while driving, working-out, etc. Please check it out and subscribe. Our podcast is available on all popular podcast platforms, including Apple Podcasts, Spotify, and many more.
Alternatively, you can listen to the podcast online here.
This week at Frequent Miler
Unfortunately, the previous dining bonus components of the offers on the Platinum and Gold cards expired earlier this week, The good news is that there are still huge point offers available on both cards. The best offer is once again only available via referral and only some people can generate a link to one of these offers. If you're one of the few who can generate a direct link to one of these offers, this is an example of one of the ways that we've said you can keep the Amex points parade marching on even after you've gotten all of the cards.
I'm including this post in this week in review because it illustrates another one of the ways we discussed to keep the points parade marching on: targeted offers that sometimes have no lifetime language, meaning that in some cases the terms may not have a restriction against getting the bonus again on a card you have or have had before. Indeed, these business Platinum and Gold card offers are often targeted to people who currently have these cards. It's worth keeping an eye out to see if you're targeted for the chance to earn a big bonus.
I think it's easy to look at this from the outside and either say "never take anything free!" or "take every perk of the job you can get!" without any critical thought, but I don't think either perspective serves readers well. Attending events like Marriott's merger party have benefitted our readership: attending that event in 2018 yielded a high-level contact that continues to be an excellent and reliable resource (they recently helped us answer a key reader question definitively). Greg is not going to book 40-60 nights per year in every hotel chain, but readers who wonder which chain they should book for 40-60 nights per year stand to benefit from the comparison of Greg's (gifted) IHG Diamond status versus his (earned) Hyatt Globalist or Marriott Titanium status. Regardless of where you stand on the issue, I enjoy working for a blog where these types of questions are explored and considered rather than ignored.
Greg recently tried to switch an award stay from all-points to instead use soon-to-expire free night certificates. Unfortunately, that didn't go so smoothly. When I first saw the headline, I assumed that a customer service representative had messed things up, but in this case it was Greg's attempt to make the changes on his own that almost backfired. A reader noted in the comments that there is a specific group of agents that could have handled this, but YMMV for sure.
A bunch of us on the Frequent Miler team have been using the Curve card for the past few months. While I still love the concept and I'm rooting strongly for Curve's success, the problems we've collectively faced so far have not led us to forget that Curve is still in its "beta" phase. I was pretty surprised when Curve opened the floodgates to more users this week considering just how glitchy it still is. As I said on this week's Frequent Miler on the Air, Curve is pretty cool, but if you're the kind of person to get worked up over glitchiness and/or poor customer service, you'll want to sit this one out for a while. All of the problems we've had seem highly fixable, but I'd hold off and wait if things like getting notified when you have a payment due seem important to you.
Points transfers come with a cost: you trade flexible points for airline-specific points/miles. If I'm going to make that trade, I should consider that cost and I find it most helpful to consider it in terms of dollars and cents. While transfer bonuses are awesome if they line up with your travel plans, I would almost never recommend transferring speculatively. The cash value of the points at floor level is still enough that you could probably generate the points more cheaply, so if you don't have a need to use those transferred points right away, you're better off preserving all of your options than paying for a currency that you don't yet need.
Tim recently spent some time in Spain and in this post he turned us on to the Spanish Paradores, which sound awesome. I once stayed in a castle for 20,000 Hyatt points per night, but paying just 8,000 Ultimate Rewards points per night sounds like a much better deal. If and when I get back to Spain for an extended stay, I very much look forward to finding a way to make that kind of thing happen. It's great that you can use points at good value toward paid travel in this case.
While Tim's example of the Spanish Paradores sounded awesome, it came during a week in which I was running into my own frustrations about not being able to get 1.5c per point from the Chase Travel portal. In one case, a hotel I wanted to book wasn't available via any of the major credit card portals (yet it was available via Expedia, Priceline, and most other OTAs). In another, I couldn't book the economy class fare type I wanted since Chase was only showing the equivalent of a basic economy fare (whereas I wanted to book a fare that included a checked bag and seat selection). These annoyances on their own were relatively minor, but they illustrate why I hesitate to get too excited about the chance to get 1.5c per point in value toward the credit card portal price.
---
That's it for this week at Frequent Miler. Keep your eye out for this week's last chance deals.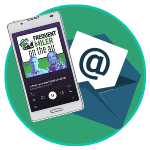 Want to learn more about miles and points?
Subscribe to email updates
 or check out 
our podcast
 on your favorite podcast platform.