When you have to take a bunch of flights to get to remote islands off the coast of Scotland, you have to take a bunch of flights to get back again! That's what much of the last two days has consisted of for me for 3 Cards, 3 Continents, but I'm finally settled in at the hotel on my second continent – Africa.
What is 3 Cards, 3 Continents?
Frequent Miler loves creating fun and competitive team challenges. This year Greg, Nick, and Stephen are competing to
book the most amazing 3-continent dream-trip using 3 credit card welcome bonuses.
Here's what's happened since my last update.
Another Less-Than 2 Minute Flight: Westray To Papa Westray
On Wednesday I took the world's shortest scheduled flight from Papa Westray to Westray which lasted less than two minutes. After staying overnight on Westray, it was time for me to make the journey back down to London before setting off for my next continent as my trip to the Orkney Islands was quite literally only a flying visit.
The great thing is that this allowed me to take that same sub-two minute flight in the other direction from Westray to Papa Westray. Very little of the novelty factor had worn off, plus this second flight had the added benefit of landing on a grass airstrip on Papa Westray – here's a video of that second flight.
Loganair Flight – Papa Westray To Kirkwall
That flight from Westray to Papa Westray was just a quick stop on the way to Kirkwall airport on Orkney.
Kirkwall
I had a six hour layover in Kirkwall and spent a fair bit of that time working at the airport as I had a bunch of stuff I had to catch up on. I did sneak away quickly into Kirkwall itself though as I wanted to stop by the Highland Park Distillery store. They offer tours of their main distillery but they were fully booked during my layover, so getting some miniatures that could be brought along in my carry-on had to suffice.
St Magnus Cathedral was just a few steps away and so I was planning on taking a look inside, but there was a funeral going on at the time and so I could only view it from out front.
Construction on the cathedral began in the 1100s and it apparently has its own dungeon, so I definitely want to return in the future to check it out.
Back at the airport I stopped by the Loganair desk to get my certificate confirming that I'd flown on the world's shortest scheduled flight.
I'd hoped to get two certificates seeing as I'd taken the flight in both directions, but they advised that they're running low on certificates at the moment and so are having to ration them to one per person.
Logainair Flight – Kirkwall To Aberdeen
After that long layover, I took another short flight (albeit not as short as two minutes) from Kirkwall to Aberdeen on mainland Scotland. After heading to the lounge for a quick snack and drink, it was time for my fourth and final flight of the day.
British Airways Flight – Aberdeen To London Heathrow
My next destination was Cairo in Egypt. To get there I'd booked a one-way award flight using American Airlines AAdvantage miles to fly on British Airways. This would take me from Aberdeen to Cairo, with an overnight layover at London Heathrow.
As award bookings go this wasn't great value, but it was my best option to reduce my cash expenditure. During the card draft, one of the cards I picked was the American Airlines AAdvantage Aviator Red which offered 60,000 miles after your first purchase. I picked that because I had plans for 40,000 of those miles for a flight later in my trip, but that meant 20,000 AAdvantage miles were spare and otherwise going to waste.
Getting from the UK to Cairo wasn't as cheap as I'd initially expected. For starters, only British Airways and Egyptair fly between Cairo and the UK. I'd had in mind that a number of budget airlines flew to Egypt and I was, in theory, correct – easyJet, TUI and Wizz Air do indeed all fly there. Unfortunately for my purposes they fly into Sharm El Sheikh – a popular resort destination for British tourists – rather than into Cairo.
One-way cash prices were ~$375 which would almost guarantee that I'd end up going over budget on the trip. That's where the AAdvantage miles that I thought were surplus to requirements turned out to be a plus rather than surplus after all. Booking that one-way flight as an award ticket still came with very high taxes and fees for an economy flight, but redeeming 20,000 AAdvantage miles saved me $200.
Side note – the 42,500 miles + $298.60 required for a "business" class ticket is ludicrous. From what I could tell at a distance, business class on this flight was like the business class you find on most inter-European flights even though Egypt isn't in Europe. Passengers in that "premium" cabin were in economy class seating but with a blocked middle seat. They would've gotten more than the tiny bottle of water and Nutrigrain bar that we received in economy, but the experience certainly wouldn't be worth the extra 22,500 miles + $123.80. As it is, I wouldn't even recommend redeeming miles for economy, but it worked for my budget constraints with this challenge.
Hotel Hoppa
My itinerary to Cairo included an overnight layover at Heathrow airport, so I booked a stay at the Premier Inn London Heathrow Terminal 4. Upon arrival I checked how much Uber, Bolt, etc. would cost to take me to the hotel and they were all in the £20-£25 ($23-$28.50) price range. Having to spend a total of ~$50 to get to the hotel that night and back to the airport the next morning wasn't ideal, so I took a Hotel Hoppa bus instead.
Hotel Hoppa is a network of buses that run on different routes from the airport to hotels all around Heathrow. I'd arrived at Terminal 5, so the particular Premier Inn I was staying at was served that night by route H5A. Ticket prices vary depending on whether you book one-way tickets or round-trips, whether you buy your ticket(s) online or on the bus and if you're traveling solo or as part of a family.
I had enough time before the H5A bus arrived to buy my round-trip ticket online, so that cost me £10.50 ($12) round trip, so about a quarter what it would've cost to take an Uber in both directions.
Premier Inn London Heathrow Terminal 4
Premier Inn is a British hotel chain that has 800+ properties. There's a good chance you won't have heard of them before though because they don't show up on OTAs. I wrote a separate post about why Premier Inn can be such a good option when booking paid stays in the UK – especially for families – so check that out here.
My British Airways flight from Aberdeen to Heathrow had been delayed, so I didn't get to the hotel until just before 9:30pm. Premier Inn properties allow you to check yourself in at a kiosk, but a friendly front desk agent called me over as he said he could get me checked in even faster. Sure enough, within a minute or two I had my key in hand.
I'd had a small snack in the lounge at Aberdeen airport before my flight, but other than that I hadn't eaten anything since lunch. Despite it being so late, I got dinner from the hotel's restaurant and took it back to my room. Their mixed grill with a 4oz steak, a gammon steak, half a chicken breast, sausage, fries, a fried egg, half a fried tomato and some rocket hit the spot. It might not be as exotic as what Greg's been eating on his 3 Cards, 3 Continents trip, but at least it didn't scare the bejeezus out of me like some what he's been dining on.
Plaza Premium Lounge London Heathrow Terminal 5
No sooner had I gone to bed than it was time to get up to catch my morning flight from Heathrow to Cairo. I got through security at a reasonable speed and had a fair bit of time to wait until my flight was due to depart because this British Airways flight got delayed too.
Thankfully I had a comfortable place to wait as I had access to the Plaza Premium Lounge in Terminal 5 courtesy of the Amex Platinum card I picked in the card draft. It's not a very big lounge, but I managed to find a place to sit and work while I waited for my flight.
The food selection was good as there was an English breakfast available (sausage, bacon, eggs and baked beans), along with croissants, pain au chocolat, fruit, cereal, etc. The bar was open and there was a good selection of sodas, tea, water, etc.
British Airways Flight – London Heathrow To Cairo
They finally announced the gate for our delayed flight – A18. It's a bit of a shame this was only notified at the last minute because there's a Priority Pass lounge (Club Aspire) that's right next to gate A18 and so I would've gone there instead. Having said that, I've no idea how good that lounge is, so perhaps I lucked out by spending my time in the Plaza Premium lounge.
Boarding had been delayed by about an hour, then we were delayed by another hour on the tarmac.
Other than the two hour delay, the flight was uneventful. The economy seats were OK – not uncomfortable, but not a particularly comfortable way to spend five hours either. There was no in-flight entertainment system, so I just listened to one of the playlists I'd downloaded on Spotify.
Uber At Cairo Airport
My wife and I visited Cairo last summer as part of a trip to celebrate her 40th birthday. We'd gotten a taxi from the airport to our first hotel – the Ramses Hilton – before realizing that Uber was available in the city.
If you don't want the hassle of haggling a price with taxi drivers before your ride, we found Uber to be cheaper. With Uber, I had to pay 221 EGP (~$11.50) for the ride to my hotel tonight. That was a phenomenally low price when I realized that the ride would take almost an hour. I would've had no clue how much I should expect to pay a regular taxi driver to get from the airport to my hotel and so would've likely far overpaid.
Just FYI, getting picked up by an Uber from Cairo airport can be a little confusing. I arrived at Terminal 2 and the Uber app advised me to walk to the lower parking level. It gave directions to get there which included heading towards this Assembly Point sign and then following the blue signs for the elevator down to the lower parking area.
I ended up at the spot pinpointed in the app, but my first Uber driver seemed to try picking me up from outside Terminal 2. After he drove around a couple of times trying to find me, I cancelled the ride and tried again. The next driver seemed to do the same thing, but he eventually found me and we made our way to the hotel I'd been waiting to stay at for more than a year. In the future though, I'd be more inclined to just wait outside the arrivals hall and assume the Uber driver would pick me up from there.
Hyatt Regency Cairo West
There were two reasons I picked Cairo as the city for my second continent. The first is that flying from Egypt meant I could take advantage of a sweet spot award flight later in my trip. The other is that I really wanted to check out the Hyatt Regency Cairo West.
As mentioned earlier, Shae and I visited Cairo last summer. After booking a three night stay at the Ramses Hilton, I booked a three night stay at the Hyatt Regency Cairo West which was due to open a few weeks before our stay.
Unfortunately the hotel's opening was delayed and they had to cancel our stay. That ended up working out well because we booked a stay at Marriott Mena House instead which is right by the Pyramids and had an amazing time – see my Bottom Line Review here.
Despite having such a great time at Marriott Mena House, I was still curious about what it would've been like to stay at the brand new Hyatt Regency Cairo West. This 3 Cards, 3 Continents trip gave me the opportunity to do that.
The Hyatt Regency Cairo West is a category 2 property and so costs 6,500, 8,000 or 9,500 points per night depending on if your dates are off-peak, standard or peak. As luck would have it, the two nights I needed to book during this challenge were off-peak and so cost a total of 13,000 World of Hyatt points.
During the card draft I'd picked the Chase Ink Business Unlimited card which earns Ultimate Rewards points, but without a premium Ultimate Rewards-earning card I couldn't transfer them to Hyatt. There was a solution though – I could buy the points.
When planning my trip Hyatt was offering 30% bonus points when buying 5,000+ points. That percentage worked perfectly because buying 10,000 points meant I'd get the 3,000 additional points needed for my award stay. For the purposes of this challenge, that means I paid $240 for the points out of my budget. In reality, I just redeemed Hyatt points I already had in my account.
As for the hotel itself, it seems very nice. I have Globalist status and have a number of suite upgrades available in my account, but I didn't redeem one because we'd decided when setting up the challenge that we couldn't proactively use status benefits like that.
However, any status benefits received during our stay were fair game. For example, Greg got an upgrade for his stay at the Le Meridien Saigon and the Hyatt Regency Cairo West gave me an upgrade to a Regency Suite without me asking either.
I'll write a Bottom Line Review of my stay once the challenge is over, but here's a sneak peek at my suite upgrade.
View this post on Instagram
And that's days 3 and 4 in the bag. Stay tuned to find out what I'll be doing next on this trip.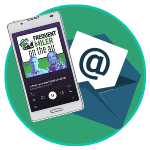 Want to learn more about miles and points?
Subscribe to email updates
 or check out 
our podcast
 on your favorite podcast platform.