I am writing this Week in Review with excitement from Cebu, Philippines! Our 3 Cards, 3 Continents adventure has been in full swing and if you have not been following along on Instagram you have been missing out on some very entertaining highlights. Greg has eaten worms and a zombie elephant fish in Vietnam, gotten a restaurant to open at 1am in Doha, Qatar, and made it to Bulgaria. Stephen has seen an awesome castle atop a cliff and taken the world's shortest scheduled flight (under 2 minutes long!) before continuing on to Cairo, where I began on my first international stop. After Cairo, I flew to Istanbul to visit both Europe and Asia, continued to Muscat to snorkel with whale sharks and sea turtles, spent a day at the Grand Palace in Bangkok, sampled gourmet food in Singapore, end ended up in Cebu — all on a single one-way Air Canada Aeroplan award. Again, you really need to check out the reels / story / highlights on Instagram.
Unfortunately, WiFi here in Cebu hasn't been as strong as I'd like, so it's not possible to get this week's podcast video uploaded, so Youtubers may need to head over to an audio-only platform to hear this week's show (at least until I get to a place with better Internet). Since we recorded this week's show before the trip, we didn't discuss the trip but rather packing tips we for international trips that we have picked up over years of travel. It's a short show this week — but it's been a long week of travel for all of us. We've each got almost a week to go on our trips, so be sure to check out Instagram to see where we are and what we're doing now.
Subscribe to our podcast
We publish Frequent Miler on the Air each week in both video form (above) and as an audio podcast. People love listening to the podcast while driving, working-out, etc. Please check it out and subscribe. Our podcast is available on all popular podcast platforms, including Apple Podcasts, Spotify, and many more.
Alternatively, you can listen to the podcast online here.
This week at Frequent Miler
For this week's content recaps, I'm splitting up links into a section of Stephen's posts, Greg's posts, and my posts. If you are interested in the overall flow of the 3 Cards 3 Continents update, see this post for a more chronological explanation with links:
Stephen
I didn't think that anybody would guess that my first flight would be on Egyptair (and they didn't! I ran a contest on Instagram for about 5.5hrs and had around 200 responses, but nobody got it!), but Stephen's flight on Norse Atlantic Airways had to be the most unexpected initial flight of this challenge. Read more about the premium economy experience on this brand new flight here.
Priority Pass keeps expanding. I don't know whether this Primeclass lounge is a new addition, but it certainly works out to be a good option if you're flying on a Norse Atlantic flight like Stephen.
Stephen built some intrigue with this sneaky preview about what he thought he might need to bring for his 3 Cards 3 Continents trip. You'll have to check out his highlights on Instagram to see what he chose to bring and how it worked out.
After flying a brand new airline, Stephen saw a castle and visited the hallowed grounds of a soccer team that won by a world record margin. Read more about it here.
What is a less-than-two-minutes flight like? Stephen took the world-record shortest scheduled flight in the world. Spend more than two minutes reading about it here :-).
Stephen moved on to visiting the smallest airport I've ever seen and homes that were constructed before the pyramids. There is no doubt his trip is turning out to be fascinating to watch.
Stephen certainly did get a sweet suite upgrade in Cairo, but this post is also host to some solid tips and reviews, including info about the Hotel Hoppa, which I hadn't realized existed before reading this post.
You're right, Stephen, I had no idea that Premier Inn existed no less was a great hotel option in the UK! Stephen mentioned in an update we shared on the podcast that he had booked a hotel chain that isn't available on OTAs, but I had no idea what it would be (since it isn't on OTAs). This really makes me wonder what else we're missing in terms of hotel chains in various countries that don't list with the major online travel agencies.
Greg
Greg finally unveiled his 3 Cards 3 Continents travel companion and it was definitely someone that none of us guessed since (I imagine) few of us were familiar with his culinary concierge, Maisie. This was an incredible idea that I can't believe Greg pulled off that certainly positions his trip to have broad appeal to the foodies among us (and I know there are many of us in that crowd!). I can't wait to see everything they've eaten!
My anticipation was already bubbling from the unveiling of Greg's travel companion, but when I found out that their first destination was Vietnam, my excitement only grew. I discovered a love of Pho when I visited the JW Marriott Phu Quoc several years ago, so I couldn't wait to see what they ate. Then, I saw and wished that I could unsee it. Luckily, reading about it is a very pleasant experience indeed.
Before heading out to Asia, Greg stopped at the United Polaris lounge at San Francisco International Airport. It looks really good. I certainly wouldn't mind having to depart from San Francisco on a Star Alliance carrier sometime.
Greg has added an update to this previous review including more info from his recent stay.
Nick
My first stop on the 3 Cards 3 Continents trip was Cairo, Egypt, where I saw the pyramids of Giza and also went to Memphis and Saqqara with a knowledgeable guide who was able to explain the significance of what I was seeing and answer my many questions throughout the day. Read about it in this post as well as why Egypt was my first stop on this trip.
While I haven't written nearly enough posts about my trip so far (I have been all over Instagram on this trip, so if you've missed you should find the "#3C3CTeamNick highlight reel on Instagram!), I did post this summary of my 6-country 5-airline Aeroplan award ticket. I left out the last couple of legs though because I hadn't yet flown them — so for the 5th and 6th legs of this trip, I flew Bahrain-based Gulf Air from Bangkok to Singapore in their 787 business class and then Singapore Airlines in a throne business class seat on a 737-MAX from Singapore to Cebu, Philippines. That's Egypt, Turkey, Oman, Thailand, Singapore, and Philippines all visited on a single award. It's been a wild ride on a one-way award so far!
---
That's it for this week at Frequent Miler. Keep an eye on our last chance deals to make sure you don't miss any limited-time offers ending this week.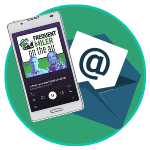 Want to learn more about miles and points?
Subscribe to email updates
 or check out 
our podcast
 on your favorite podcast platform.