After writing up a deep dive into the Virgin Atlantic World Elite Mastercard, I decided to maximize spend on the card by spending exactly $2500 per month for 10 months.  I also have two Club Carlson cards (one business, one personal) that earn a free night at any US property with $10K annual spend.  And I have a Better Balance Rewards card (no longer available to new applicants) from BankAmericard which give me $30 cash back every quarter in which I have a balance and pay it in full each month.
Occasionally I also get offers from banks where they'll reward me for spending a targeted amount each month.  One example is that my wife and I occasionally get targeted by Barclaycard for 15,000 bonus miles after $500+ spend per month after 3 months.
Retention offers (where you call to cancel a card and are offered a bonus to keep it) often require a set amount of spend per month.  The best of these are often from Citibank.
Then there's the American Express Everyday Preferred card that offers a 50% point bonus every time you use your card 30 or more times on purchases in a billing period.  I don't currently have that card, but if/when I get it I'll definitely want to meet that spend requirement every month.
Each of the above are situations where I'd like to automate credit card spend.  The last thing I want to do is to carefully monitor spend on a dozen cards every day.  Is there a way I can "set and forget"?  Following are a number of options I've thought of.  Please comment below if you have other suggestions.
Amazon Auto Reload
Amazon has an option for automatically reloading your gift card balance (Found Here).  If you use Amazon regularly enough, your gift card balance may be almost as good as cash to you.  Minimum load is $5.
Best used for: Small repeated payments.
Example uses:
Load $5 every day with your Amex EveryDay Preferred card in order to ensure always using the card 30 times per billing period.
Load $5 per month with your Better Balance Rewards card to ensure that you have a balance to pay each month.
Automated Direct Bill Payments
Many regular bills can be setup to be paid automatically by credit card.  This includes phone, TV services, internet, many utilities, etc.
Best used for: Small bill payments and those that earn category bonuses
Example uses:
Earn 5X rewards by auto-paying phone, TV, and internet with Chase Ink Cash.
Pay a small monthly bill (Netflix subscription, for example) with your Better Balance Rewards card to ensure that you have a balance to pay each month.
Direct all bill payments to your Amex EveryDay Preferred card in order to get closer to 30 purchases per billing period.  Some billers may even allow you to setup multiple separate payments.
Automated Indirect Bill Payments (Mortgage, Rent, etc.)
The Plastiq bill pay service lets you use credit cards to pay bills that can't usually be paid by credit card.  They do charge a 2.5% fee, but it can be worth it if you earn high enough rewards from your credit card.  Plastiq payments can be setup to repeat weekly, monthly, or yearly.
Best used for: Spend bonuses where the reward value exceeds Plastiq's 2.5% fee
Example uses:
Targeted spend bonus: When you get a targeted spend bonus that requires a set amount of spend for X months, you can use Plastiq to setup payments to repeat for exactly that number of months.  If your targeted bonus requires spending $500+ per month for 3 months, for example, you could setup Plastiq to pay $500 of your rent or mortgage each month for 3 months.  If your rent or mortgage is much higher than $500, then pay the rest directly by check in order to avoid additional 2.5% fees on the rest of the payment.
Annual spend bonus: Many cards offer annual bonuses for high spend (see: Big Spend Bonuses).  Just as with the example above, you could automate rent or mortgage payments to meet your spending goals.  For example, the Delta Reserve credit card offers a total of 30,000 MQMs towards elite status plus 30,000 redeemable miles after $60,000 in annual spend.  If you value Delta elite status, it can be well worth Plastiq's 2.5% fee to pay your $5,000 monthly mortgage this way.
See also: Complete Guide to Plastiq credit card payments.
Kiva Loans
This option isn't fully automated, but it gets you half way there.  Kiva offers the option to auto deposit money by credit card monthly.  That's the automated part.  Once the money is loaded, though, you need to lend it.  If you want to filter to loans that are likely to be paid back and/or to fund many loans at once, your best bet is to use Kivalens.  Full details about filtering to safe loans via Kivalens can be found here: Manufacture Spend (and do good) with Kiva and Kivalens.
Best used for: Any spend where you can float the funds over a number of months and you're willing to take on a small amount of risk.
Example uses:
Any repeated spend: I'll use this technique to spend exactly $2500 per month with my Virgin Atlantic card.
Small repeated spend: If you have the patience, you could setup 25 separate $1 automated payments with your Everyday Preferred card so as to get close to the 30 per billing period requirement.  Kiva loans must be made in $25 increments, so this way you'll just have to make one Kiva loan each month once you've deposited $25.
Other Ideas?
Above I've listed the ideas I have for automating spend, but I'm sure readers have other suggestions.  Please comment below!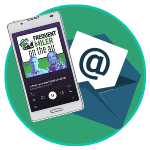 Want to learn more about miles and points?
Subscribe to email updates
 or check out 
our podcast
 on your favorite podcast platform.