Note: On January 8, 2015 American Express sent out a notice to a large number of Bluebird & Serve cardholders informing them that loading capabilities on their accounts had been terminated. For more information, see: Amex kills Bluebird and Serve for manufactured spend
Now that it is possible to set PINs on Visa gift cards, my interest in reloading Bluebird at Walmart has been rekindled.  Until now, I've found it to easier and more rewarding to load my Bluebird account with Vanilla Reload cards.  Now that giftcards have PINs, though, Walmart swipe reloads have become a fantastic way to turn gift card balances into cash (see "Gift card PINs").
On Monday, with four gift-cards and two Bluebird cards in-hand, I headed to Walmart.  I wasn't looking forward to the idea of trying to explain to a cashier what I wanted to do, so I looked for an automated solution.  I decided to try out Walmart's "MoneyCenter Express" ATM (see photo below).
I couldn't find an option to reload Bluebird cards, but I remembered that Bluebird was essentially an upgrade to Walmart's older MoneyCard solution.  So, under the heading "Card Services", I selected "Walmart MoneyCard":
The machine prompted me to swipe my MoneyCard.  I swiped my Bluebird card instead.  I then followed the prompts to reload my card.  I selected to pay by debit card and then swiped my gift card and entered my PIN.  The payment was accepted and a receipt printed out showing the old and new balance on my Bluebird account.  Success!  As expected, no fee was charged for the swipe reload.  I then repeated the process with 3 more gift cards across two Bluebird cards (mine and my wife's).
Keep in mind that swipe reloads are limited to $1000 per day and $5000 per month (across both Vanilla Reloads and swipe reloads).
While I still don't enjoy driving out of my way to Walmart, the ability to reload Bluebird via Walmart's special ATMs makes the process quick and easy.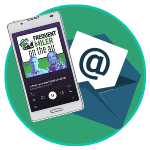 Want to learn more about miles and points?
Subscribe to email updates
 or check out 
our podcast
 on your favorite podcast platform.