Update: This post includes offers that were valid at the time of publication, but have since expired. Please click here to see the best offers currently available.
You already know that I love the Amex Business Platinum 50% pay with points rebate.  If you didn't know, please click here to read about it, then come back to this post to finish reading. I know… that's a lot of homework for a busy person, so if you want the short version, suffice to say that the rebate often makes it possible to get exactly the flights you want, for fewer points, all while earning miles from your flights.  And it's a great way to get 2 cents per point value from your Membership Rewards points.
So, I was happily loving this rebate feature and suddenly Amex announced that, starting March 30th, the Enhanced Business Platinum card would earn 5X when purchasing flights through Amex Travel (you can also earn 5X purchasing prepaid hotels through Amex Travel, but don't do that — you can do better).
And I thought "Great, we can earn 5X when buying flights, but who would ever do that when they can redeem points for great value instead?"  And I realized that, in fact, there are many reasons why you might take advantage of this 5X opportunity:
You might not have enough Membership Rewards points to pay with points for the flight
The flight you want may be in economy with an airline other than the one that you selected as your preferred airline (for review, the 50% rebate only kicks in when you buy business or first class flights with any airline or with economy flights with your selected airline).
You might be traveling for business and need to pay for the flight in order to get reimbursed.
And I'll leave it to the reader to come up with other reasons.  I'm sure there are many.  But, that's not what this post is about.  The point is that I didn't think I'd use the 5X feature to earn points because I'd be too busy using the 50% rebate feature to spend points.  But I may just have stumbled upon a way to have your cake (earn almost 5X rewards) and eat it too (get the 50% rebate)…
My recent points rebate
In my recent post where I declared my love for the 50% rebate, I described purchasing a $632.40 flight with points.  I spent 63,240 Membership Rewards points and got back 31,620.  That's how it is supposed to work, and it did.  But, something else interesting happened…
I earned 2,530 points for "BPlat 4x MR pt in BAU Spnd".  What the heck is that?  Well, if for some reason I earned 4X points on my $632.40 purchase, that would come to… 2,530 points.  Wow!  Even though I paid with points for this flight, I earned 4X rewards on the original purchase price!
Why did I earn 4X rewards for this flight?
In January we wrote that Amex had a targeted offer for Enhanced Business Platinum cardholders to earn 5X for airfare.  Personal Platinum cards already had this as a standard feature, but the Business Platinum card did not.  I was lucky enough to be targeted for this offer.
When you pay with points for airfare through Amex Travel, they first charge your credit card for the full amount and then they post a credit to your account in exchange for the points.
I'm pretty sure that the following happened:  The $632.40 airfare purchase triggered a 4X bonus.  Why 4X?  Normally I'd earn 1X for all purchases, so Amex delivers 5X points by adding a 4X bonus on top of points normally earned.  In the end, I won't earn the base 1X because the credit to my account negates it (as an aside, travel fee reimbursements and Global Entry/TSA-Pre rebates do not negate 1X rewards, but most other credits do).
What this may mean going forward, and why a 54% rebate equals 2.17 cents per point value
I think it is very likely, but not at all guaranteed, that the coding for the new 5X airfare feature coming March 30th will work the same way as the targeted offer (which ends March 29th).  If so, that means that the Amex Enhanced Business Platinum's 50% points rebate will really be a 54% rebate.
A 54% point rebate doesn't sound materially different from a 50% rebate, but let's run the math…
Normally, a 50% rebate results in getting 2 cents per point value from Amex Membership Rewards. Proof:
Point value: $632.40 / (63,240 – 31,620) = $.02
However, a 54% rebate results in 2.17 cents per point value!
Point value: $632.40 / (63,240 – 31,620 – 2,530) = $632.40 / 29,090 =  $0.0217
Or, more simply:
Given that your final point cost after rebates would be 46 points per dollar…
Point value: $1 / 46 = $0.0217
UPDATE: It turns out that this deal can be duplicated today if you have both a personal and business Platinum card.  Please see this post for complete details.  Hat Tip: Topspin 46.
Why 2.17 cents per point value is awesome
While the Business Platinum card has many things going for it, it's not great for everyday spend.  For most purchases, it earns only 1 point per dollar.  With other cards you can do much better.  That said, getting a rebate on spend worth 2.17 cents per dollar is not bad at all.
Where the 2.17 cents per point value really shines is where you can earn more than 1 point per dollar.  The best card for earning Membership Rewards points, in my opinion, is the Amex EveryDay Preferred Card.  The card earns 3x points at US supermarkets on up to $6,000 per year in purchases (then 1X); 2X points at US gas stations; and 1X points on other purchases.  And when you use the card to make 30 or more purchases each billing cycle you get a 50% bonus on all points earned.  In that case, the card's bonus categories become:
4.5 points per dollar at U.S. grocery stores, up to $6K spend per year (then the rate drops to 1.5X)
3 points per dollar at US standalone gas stations
1.5X points per dollar everywhere else.
When I previously modeled a spend scenario in the post "Best credit card combos: Membership Rewards," I found that a person can earn, on average (see assumptions in the post), 2.33 points per dollar with the Amex EveryDay Preferred Card alone. If that same person has the Amex Enhanced Business Platinum Card and uses the points for airfare at a value of 2.17 cents each, that's an average rebate of over 5%!
Future Followup
Until the Business Platinum card's new 5X airfare feature kicks in on March 30th, we won't know for sure if redeeming points for flights will result in earning 4X bonus points as it did for me recently.  My guess is that it will.  And, if so, the Business Platinum Card along with the Amex EveryDay Preferred card may become, for many, the single best credit card duo around.  Stay tuned.
UPDATE: It turns out that this deal can be duplicated today if you have both a personal and business Platinum card.  Please see this post for complete details.  Hat Tip: Topspin 46.  This strongly suggests that I was right: when the 5X airfare feature of the Business Platinum card kicks in on March 30th, it is very likely that 2.17 cents per point value will become standard with that card!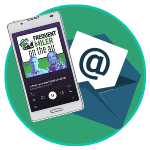 Want to learn more about miles and points?
Subscribe to email updates
 or check out 
our podcast
 on your favorite podcast platform.