Update 11/9/21: Applications are now live. See more in this post.
Capital One's ultra-premium credit card is out now. The Capital One Venture X card opened for applications on November 9th.  Is this the next big thing, or much ado about nothing?
Capital One Venture X Welcome Bonus & Key Details
Key Card Details:
$395 annual fee
Up to $300 back annually as statement credits for bookings through Capital One Travel
10,000 bonus miles every year starting on your first anniversary
10X miles on hotels and rental cars booked through Capital One Travel
5X miles on flights booked through Capital One Travel
2X miles on all other purchases
Unlimited access to all-inclusive amenities at the Capital One Lounge (currently slated to be at Dallas-Fort Worth, Denver, and Washington Dulles airports)
Priority Pass lounge access with up to 2 guests
Up to a $100 credit for Global Entry or TSA PreCheck(R)
No fee for authorized users
Complimentary cell phone insurance
Complimentary Hertz President's Circle status
Quick Analysis
When I first saw the details of the Venture X card, I felt disappointed. It offers the same 2x everywhere that the Capital One Venture Card card already offers, so why tie up an additional $300 per year in travel credits by spending $395 for this card over $95 for the Venture card?
However, Greg knocked some sense into me in discussion and I realize that I was looking at it wrong: the Capital One Venture X Card may actually be the best ultra-premium card on the market. Yes, the same Greg who had Capital One approve him, let him earn the welcome bonus and then mysteriously shut down his account and redeemed his miles for half a cent each was still able to look on the bright side and see what I was missing.
The Venture X card comes with a $300 annual travel credit. Unfortunately, you have to book through Capital One Travel to use this credit, but anyone who spends at least $300 per year on flights (or on hotels through 3rd party OTAs) will probably see that at nearly face value. The addition of 10,000 transferable points each anniversary (that can be redeemed for $100 toward travel at a base level or for more value with transfer partners) makes this card look nearly net-free or maybe even better depending on how you leverage partners.
At first, I was looking at it through the lens of someone who has too many $400+ credit cards already and asking myself why I would want another one that isn't remarkably different from a card I already have (the Capital One Venture Rewards card). I felt like it wasn't worth adding another $400 card to my wallet.
However, when I thought about it more critically, I wondered why I wouldn't want to pay $400 for what is at a base level $400 worth of credits with an even better potential. As an avowed fan of Turkish Miles & Smiles, I know that 10,000 miles are more than enough for a one-way ticket within the US (even to Hawaii or Alaska) on United in economy class now that Capital One miles transfer to most partners 1:1. That can easily be worth far more than $100, making the card an easy win.
I expected that we'd see a bonus category or two on the Venture X, but truthfully 2x miles everywhere is already arguably better than what competitors offer on ultra-premium cards. While some competitor cards bonus travel spend in general (spent directly with providers) and Capital One only bonuses travel booked through them, those with a lot of unbonused spend may come out well ahead with the Venture X since most ultra-premium cards offer only 1 point per dollar as a base rate.
And for someone who wants to hold a single ultra-premium card, the Venture X comes with a lot of the right stuff. Priority Pass with access for two guests, free access to Capital One lounges, cell phone insurance, and free authorized users — the card ticks all of the boxes for a good ultra-premium card. The anniversary miles are particularly attractive, especially since Capital One is beginning to consistently offer transfer bonuses (like the current one to Air France) and partners are now almost entirely 1:1. That means you could turn those miles into 12,000 or more airline miles with the right transfer bonus.
Where Capital One still lags behind competitors is in two major areas. First up is approvals: it continues to be very difficult if not impossible to get approved for Capital One cards if you have opened many other cards and Capital One is the only major issuer to consistently pull reports from all three major bureaus.  The other area where they lag is in an accessible portfolio for a winning combination of cards. While they do have some cards that would make excellent companions to the Venture X (especially since you can transfer cash back to miles, even to other cardholders' cards), once again it is difficult to get even one Capital One card no less multiple (and then there was Greg's experience of getting the card and getting it taken away without explanation shortly thereafter). However, if you already have a good Capital One card or two in your household, you could potentially put together a pretty good combo or trifecta.
The things we don't yet know at this point are about what kind of travel or purchase protections come with the card. If the Venture X will match travel protections found on other ultra-premium cards, that could make it really interesting. Update: View from the Wing reports that the card comes with primary car rental protection; lost luggage reimbursement; trip delay + cancellation/interruption reimbursement; cell phone protection; and extended warranty protection. We're still waiting for more information about those details.
Hertz President's Circle status is a nice little benefit to have. I recently enjoyed driving a Chevy Camaro SS for the mid-size car price on a rental in San Diego.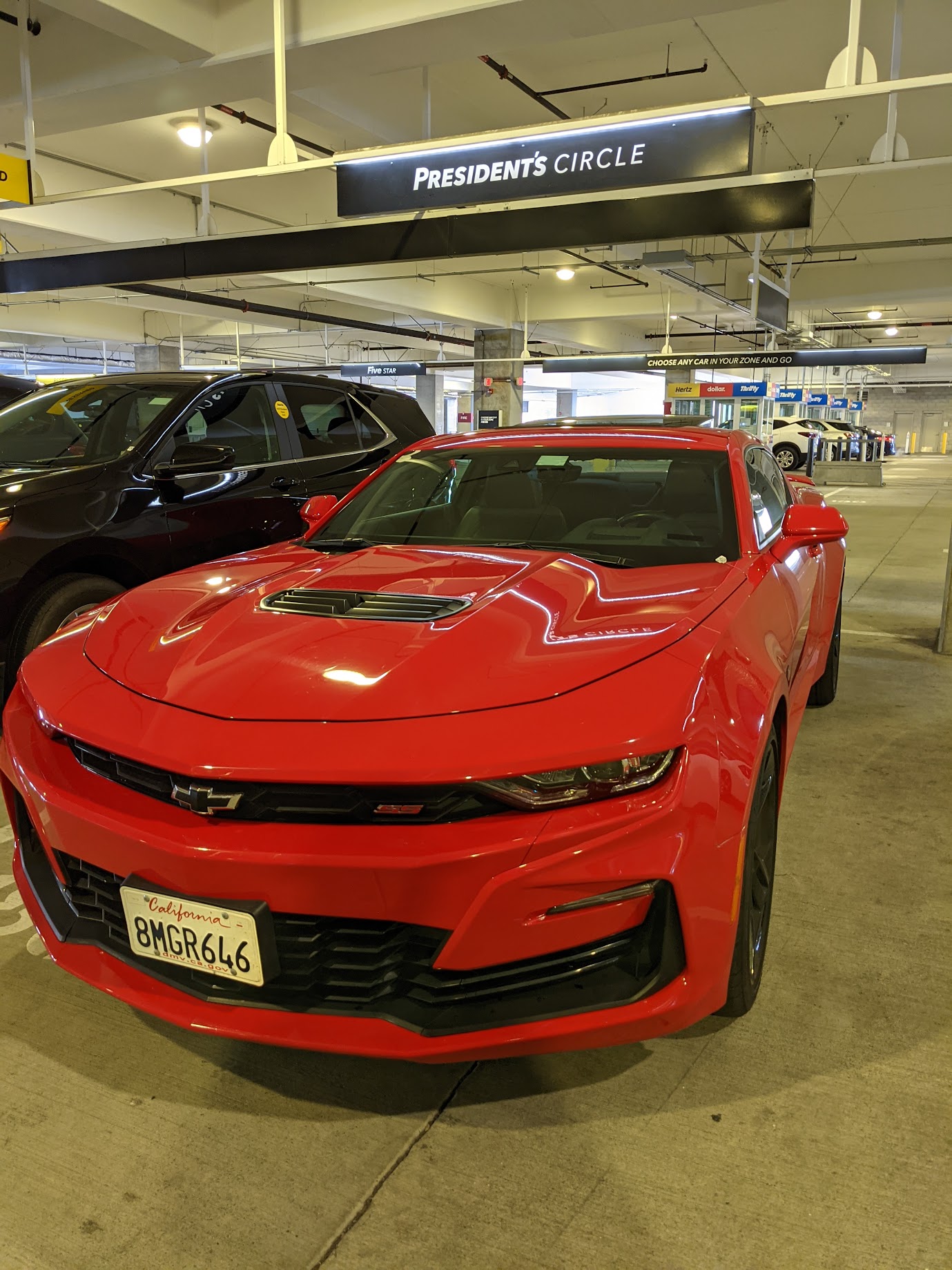 It is worth noting that benefits like Priority Pass, Capital One lounge access, and Hertz President's circle status all apply to the primary cardholder and also to authorized users and account managers. With no additional fee for adding authorized users, that is great.
While I wasn't impressed at first glance, after a closer look I realized that the Venture X card will be worth it for those who can get approved and a reasonable alternative ultra premium card if it can provide travel and purchase protections that are comparable with the other players in the game.