The affiliate offers for the Capital One Spark Miles, Spark Cash, and Venture Rewards cards have expired and those cards are temporarily unavailable through Frequent Miler.
As points-based programs devalue, more and more it makes sense to consider collecting cash instead of points.  I first brought this up a year ago with the post "Giving Cash its Dukedom".  Since then, many points programs have increased award prices and many points collectors are wondering whether cash may be a better option.
I'm not going to give my opinion, in this post, of whether you should collect points or cash, but I will list some of the best current deals available for getting cash instead of points…
5% (or more) Everywhere
There are a number of credit cards that offer 5% (or more) cash back within certain categories:
Amex Blue Cash Preferred.  6% Cash Back at Supermarkets, up to $6K spend per year.
Wells Fargo Cash Back card.  Currently offering 5% cash rewards on gas, grocery, and drugstore purchases for the first 6 months of card ownership.
Chase Ink business cards.  5% cash back (5 points per dollar) for office supplies, phone, cable, and internet charges.  Signup bonuses range from $200 (20K points) to $500 (50K points).  Even though it is often possible to get better than 1 cent per point value from Ultimate Rewards, keep in mind that these points can be converted directly to cash if you so choose.
Amex SimplyCash business card.  5% cash back at U.S. office supply stores & on wireless telephone services.
Citi Dividend Platinum Select.  Rotating 5% categories, up to $6,000 in spend per year.
Chase Freedom.  Rotating 5% categories, up to $1500 in spend per quarter.  When paired with a Chase checking account, you get an additional 10% annual bonus (i.e. 5% cash back becomes 5.5%).
Discover It.  Rotating 5% categories, up to $1500 in spend per quarter.  Currently there is a $150 signup bonus available.
SallieMae World MasterCard.  5% cash back for gas (up to $250 spend per month); 5% cash back for groceries (up to $250 spend per month); and 5% cash back for books (up to $750 spend per month).
US Bank Cash+. 5% cash back (up to $2000 spend per quarter) in two categories that you select from list of available categories (department stores, charities, furniture stores, hotels, etc.).
2% (or more) everywhere else
A number of credit cards offer 2% or better returns for all spend.  Here are some of the best:
JCB's Marukai card for Hawaii and California residents. This card offers 1% cash back on your first $1K of purchases, 2% cash back on the next $1K of purchases, and 3% cash back thereafter each year.  Earn an addition $50 bonus when you spend $5K or more yearly.  This card acts like a Discover card, but is not necessarily accepted everywhere that Discover cards are accepted so don't expect to rely on this card for all purchases.  Limited to residents of Hawaii, California, Nevada, Oregon and Washington.  $15 annual fee + $10 annual membership fee.
Fidelity Investment Rewards American Express.  2% cash back everywhere.  No annual fee.
Capital One Spark Business Card.  2% cash back everywhere.  $59 annual fee.
Note that the above cards are limited to those that reward you with cash.  Some cards have similar benefits when you use rewards to pay for travel.  These include the Barclaycard Arrival World MasterCard (2.2% towards travel), BOA BankAmericard Privileges with Travel Rewards (2.2% towards travel if you pair with a qualifying B of A account), CapitalOne Venture Rewards (2% towards travel), and Discover Escape (2% towards travel).
5%, 10%, or more, online shopping
Online shopping portals offer a terrific way to get extra cash back (in addition to credit card rewards) when shopping online.  Often, cash back rates are better than points or mile earnings on other portals.  I recommend using CashBackMonitor to find the best cash back or points rates for the merchant you want to shop with.
Here's a brief overview of some of the best cash back portals:
The ShopDiscover portal often has the best cash back rates.  If you shop often online, it could be worth getting a Discover card just to get access to this portal.
The uPromise shopping portal also often offers the best cash back rates.  Where it goes from good to great is when you pair it with the uPromise World MasterCard.  By paying with this MasterCard when shopping through the uPromise portal, you'll earn an additional 5% cash back for those purchases.  So, when the uPromise portal offers 5% cash back for a given merchant, you'll earn a total of 10% cash back if you pay with the uPromise credit card.  You can sweeten the pot even more by throwing in a SallieMae savings account to get a 10% annual rewards bonus (e.g. 10% in rewards will become 10% bigger and add up to 11%).
Chase's Ultimate Rewards Mall often has the best rates for certain stores.  Specifically, look to get 10% cash back for shopping at Kohl's.
While BigCrumbs doesn't usually have the best cash back rates, they do have a very well run portal.  And, it has a multi-tiered referral program in which you can earn cash back from purchases made by people you refer and from people they refer.
TopCashBack often has great cash back rates.  Many readers have complained about issues with using this portal, but I've had very few problems.
2% (ish) cash back for buying money
Both BigCrumbs and TopCashBack currently offer 2% cash back on purchases of American Express gift cards.  Buy cards with the highest value in order to reduce fees and shipping as a percentage of the total.  Cash back rates vary regularly, so check current rates before you buy.
Business card rewards
Visa, MasterCard, and American Express all have small business rewards programs in which you can earn cash back for purchases made at certain merchants in addition to cash back earned from your credit card rewards or from portals and other sources.  The business rewards programs are:
American Express Open Savings: When you have an American Express small business card, you are automatically enrolled in this program.  Get cash back from spend at Hertz, Hyatt, and more.
MasterCard Easy Savings:  You must register each of your business MasterCards to qualify for these savings.  Get cash back from spend at Budget, Avis, and more.
Visa SavingsEdge:  You must register each of your business Visa cards to qualify for these savings.  Get cash back from spend at Ramada, Alamo, Wingate, and more.
And many more
Of course, there are countless additional ways to earn cash instead of points and miles, but I think the above is a good start.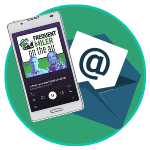 Want to learn more about miles and points?
Subscribe to email updates
 or check out 
our podcast
 on your favorite podcast platform.