By extreme stacking Amazon.com it's possible to earn up to 9X rewards plus fuel rewards with a 15% discount, or up to 4X rewards with a 32% discount. Here's how…
Update: The Amazon / JetBlue partnership will be ending as of 3/27/18 for purchases made on the ground. Purchases via Fly-Fi in-flight wi-fi on JetBlue flights will continue to earn 3x. Read more here.
JetBlue makes it easy to earn bonus points for all Amazon purchases. As long as you start your Amazon shopping from the JetBlue site, you'll earn 3 points per dollar. Sadly, they no longer offer 3X points when buying Amazon.com gift cards, but there are still many ways to stack savings and rewards…
Minimum 4X on All Purchases
By clicking through JetBlue to Amazon.com, you'll earn 3 points per dollar from JetBlue, plus at least 1 point per dollar from any rewards earning credit card you use to pay.
Of course it's possible to do much better…
6X to 8X on all purchases with certain credit cards
If you click through JetBlue to Amazon.com, but make purchases with a credit card that earns more than 1 point per dollar, then you can do better than 4X. A few examples are:
Citi AT&T Access More Card earns 3X ThankYou points for online retail purchases. This card is no longer available for new signups, but you may be able to product change from another Citibank card to this one.
NOTE: There are mixed reports as to whether or not this still works. See Doctor of Credit's Payment Workshop.
Amazon Prime Reward Card or Amazon.com Store Card earns 5% cash back for Prime members
Chase Freedom often offers 5X at Amazon.com as one of their quarterly 5X categories.
Discover It often offers 5% cash back at Amazon.com as one of their quarterly 5% categories.  And, during your first year of card membership all rewards will be doubled, so you'll get a total of 10% back for those purchases!
If you start with a card that earns 3X at Amazon.com, and click through JetBlue, you should earn 3X from your credit card, plus 3X from JetBlue. This results in a total of 6 points per dollar. Similarly, if your card earns 5X at Amazon.com, you'll net 8 points per dollar.
The 8X Option
If you don't have a card that directly earns bonus points at Amazon.com, it is often possible to earn 8 points per dollar instead. The trick is to find a way to earn 5X when buying gift cards…
If you have an Ink Cash card or the SimplyCash Plus Business Card, you'll earn 5X rewards at office supply stores. Many office supply stores carry Amazon gift cards. So, the trick is to buy these gift cards at office supply stores with one of these cards in order to earn 5X rewards. After applying the gift card credit to your Amazon account, you can then start your shopping from the JetBlue site in order to earn another 3X points, for a total of 8 points per dollar.
Similar tricks can be done with cards that offer 5X rewards in rotating categories. Examples of these include Chase Freedom and Discover It. By buying Amazon.com gift cards in a store that fits the current 5X categories for either of these cards, you can earn 5X buying Amazon.com gift cards and another 3X when using them (via JetBlue).
6X to 9X + Fuel Rewards or Hawaiian Airlines Miles
A number of credit cards offer anywhere from 3X to 6X rewards at grocery stores (see: Best Card for Grocery, Gas, Drugstores, Travel, Dining, More…).  Use one of those cards to buy Amazon.com gift cards at a grocery store.  After applying the gift card credit to your Amazon account, you can then start your shopping from the JetBlue site in order to earn another 3X points, for a total of up to 9 points per dollar.
Many grocery stores offer fuel rewards programs that let you save money on gas.  Often they offer extra fuel rewards for merchant gift card purchases. Promotions are common, too, where they'll increase this bonus up to 4X rewards.  This can lead to huge fuel savings!
20% off + 3X rewards
An even better option than those described above, when available, is to enroll your American Express cards in Amex Offers that can be triggered by purchasing Amazon.com gift cards in-store. While the exact details of these offers vary, it is often possible to get 20% back for gift cards. For example, when Amex has an offer to Spend $50, get $10 back at Lowes, it's worth visiting Lowes to buy a $50 gift card. $10 back on a $50 gift card is 20% back.
Even better, if you have multiple cards eligible for such an offer, you can enroll each card (see Complete Guide to Amex Offers for details) and show up at Lowes with a handful of cards. Then, buy gift cards by charging $50 to each of your enrolled Amex cards.
This trick isn't limited to Lowes stores, of course. Anytime there's a similar Amex offer for stores that carry Amazon gift cards, it should be possible to do the same. This includes stores such as Home Depot, Staples, Office Depot, and more.
Of course, once you've bought your Amazon gift cards (and receive 20% back from Amex) you can then load the gift card credit to your Amazon account and then shop at Amazon via the JetBlue site to get 3X additional rewards.
Coupons Too
On top of the stacking options described above, it is sometimes possible to apply a coupon to reduce your costs. One of the best we've seen is the possibility of getting a coupon for 10% to 15% off everything at Amazon (Hat Tip: Doctor of Credit). To get the coupon, you need to register a change of address (if your move is temporary, you can specify dates for the change of address to begin and end).
Start your change of address at My Move
Click "Change of Address" on the top menu. This will redirect you to USPS.
Complete the change of address at USPS.com
You should then be invited to click to return to My Move to claim valuable deals.
Look for an Amazon offer. People have reported offers of 10% to 15% off capped usually at $1,000 in spend, or less. Others did not receive an Amazon offer at all. YMMV.
You may find other valuable coupons at My Move for Lowes, Home Depot, etc.
Ultimate Stacking
When all of the stars align, an ultimate stack may look like the following:
Buy Amazon gift cards for 20% off, earn 1X Amex credit card rewards. Apply gift cards to your account.
Click through JetBlue for 3X rewards
Use Movers coupon to save 15%.
In total, it is theoretically possible to earn 4X rewards and save 32% (the 20% and 15% discounts stack, but aren't additive)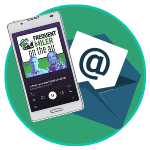 Want to learn more about miles and points?
Subscribe to email updates
 or check out 
our podcast
 on your favorite podcast platform.