If you were in line at the bank and the branch manager came around handing out $100 bills to thank customers for their loyalty, would you take one? How about if you don't even have to go to the branch — what if you could call and be given $50, $100, $150, $250, or even more just for being a customer? Retention bonuses and courtesy credits have long been widely available, though this week Chase has made them even easier than usual. The bank is obviously willing to give some cardholders significant discounts in the form of statement credits, but the catch is that you have to call to ask for yours. There is a chance that they won't have any such offer for you, but if they do it is usually well worth the time it took to call. Retention bonuses is the main event of this week's Frequent Miler on the Air, but listen in for a "What crazy thing did Citi do this week?" triple header, our take on the 70K Choice Privileges promotion, making a tuition payment rewarding and more.
Subscribe to our podcast

We publish Frequent Miler on the Air each week in both video form (above) and as an audio podcast.  People love listening to the podcast while driving, working-out, etc.  Please check it out and subscribe (if we get enough people to subscribe, we might be able to earn some income from this someday. So far, the podcast is just a labor of love).
Our podcast is available on all popular podcast platforms, including:
You can also listen here in the browser:
This week at Frequent Miler
In free money:
How much is your time worth? If your answer is less than a rate of $1,725 per hour, you should probably check this post out and see how you might be able to put some cash back in your pocket with very minimal effort. Spoiler alert: if you watch or listen to the podcast this week and/or read the detail in this post, it won't even take you twenty minutes.
While Greg picked up $575 in about 20 minutes, some readers were far more efficient. Chase is offering many cardholders statement credits just for asking. On the show this week, we talked about whether or not it is ethical to ask for this type of offer even if you're not really considering cancelling your card. In this case, I see no ethical dilemma at all: many folks reported simply calling and asking if there were any statement credits or retention credits available and being given $150 to $250 on the Sapphire Reserve with a total call time of four or five minutes. Let's switch the perspective: if the bank were offering the chance to renew for $300-$400 instead of $550, would you insist on paying the full $550 annual fee? That's essentially what is happening here, but only for those who ask. As noted in the post, I came up empty, though Greg's subsequent report of credits on other cards certainly has me considering a second swing at it.
In credit cards:
Amex officially allows each customer to get the welcome bonus on any particular card once per lifetime. But how long is a lifetime? Surely they don't keep customer information forever as that would be a ridiculous amount of data to hold. It is conventionally believed that after about 7 years, Amex forgets whether you've had a card before or not. Many readers wondered how Greg got approved for the incredible new Platinum card bonus offer given that they expected he would have had the card before.  And that's true, he has indeed had the Platinum card before. It hasn't been 7 years yet since Greg last closed a personal Platinum card, yet he got approved (and earned the bonus) again. Exactly how that happens is a mystery, but see this post for more of Greg's story.
There are many new Platinum cardholders among us. Given a large collection of both ongoing and temporary benefits, it can feel overwhelming as to where to begin once you've finally got that new card in your hands. Of critical importance: don't forget to take advantage of your $200 airline incidental credit for 2020, your $50 Sak's credit for this half of 2020, and your Uber credits (including $35 in December) — all of that re-sets in January, so don't miss using the extra credit available right now. But once you're done with that, don't forget about getting Hilton Gold status, National Executive status, Neiman Marcus Inner Circle, and a host of other things you can get just by having the Platinum card and registering.
Obviously now is a very popular time of year for shopping, whether online or in-store. This post gives you an overview guide for how to stack deals to save big. Don't forget to also consider the value of credit card benefits like price protection or extended warranty. Make sure not to overlook adding card-linked offers as they can be a nice additional bonus — see this post for more.
I ignored the Cash app for quite a while because it seemed like the wins were just too small to matter. That was probably a mistake as the wins can conversely be too easy to ignore. Recently, I've found the app to be useful for meeting bank bonus debit card transaction requirements while putting those transactions to work toward discounts that outpace the value of credit card rewards. It's been a win-win with room for more winning.
The Deal of the Week
If you have Amex credit cards, be sure to log in to check for an offer to earn 8 additional points per dollar at Amazon. You'll only be able to sync this one up on one card, but you won't want to miss this incredible return on spend. It will only be good on up to $375 in purchases, but these points are absolute gravy in my household as we'll easily meet the spending requirement and couldn't possibly beat a total of 9 Membership Rewards points per dollar (or 12 for those with the +3 refer-a-friend bonus!).
---
That's it for this week at Frequent Miler. Don't forget to check out this week's last chance deals.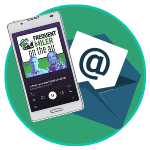 Want to learn more about miles and points?
Subscribe to email updates
 or check out 
our podcast
 on your favorite podcast platform.